Features
Bloggers share their stories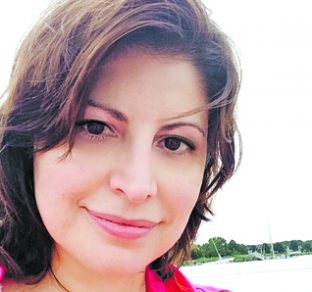 Tina Collins shares her thoughts about caring for her mother, who has dementia, as well as her own mental illness, in two blogs. Bloggers write about what resonates with them — from gardening to grandparenting — and then post it online. You can create a simple blog at no cost on several sites.
Photo courtesy of Tina Collins
"There was a time when people sat around a campfire and told stories," said Tina Collins. "Now they sit [in front of] a computer screen."
The result is the same, though, said the 50-year-old Towson resident: To share a story that connects you with others. For Collins, the way to do that is through blogging.
For the uninitiated, a blog is a personal, chronological log of thoughts published via a website (the term is derived from "web log"). The first website began in the early 1990s, and blogs began soon after. Today, more than 4 million blog entries are posted every day worldwide.
Blogs run the gamut from personal news written primarily for family and friends, to topic-specific blogs (on gardening, travel, reading, etc.; name a subject and there will be a blog), to business-oriented blogs that provide information to customers, clients and patients.
Chronicling your challenges
Collins, who majored in English in college, says she "loves to write and loves to talk," and finds blogging just another way to communicate. She only recently started her blogs, but now has two.
One is called Outlier Mind (https://outliermind.wordpress.com). It deals with the challenges she has faced from schizoaffective disorder — a mental health condition that includes a combination of schizophrenia symptoms, such as hallucinations or delusions, and mood disorder symptoms, such as mania or depression.
Her second blog is called Welcome to Dementialand (welcometodementialand.blogspot.com), which is about her experiences caring for her aging parents.
Outlier Mind resulted from Collins's talk for TEDxBaltimore on how she recovered from mental illness. (TED is a nonprofit organization devoted to publicizing "Ideas Worth Spreading." It started 26 years ago in California as a four-day conference of short talks, and today there are more than 78,000 TED videos of 18-minute presentations on YouTube. TEDx is an offshoot of local, self-organized events and talks.)
Through Collins's talk (available online at www.tedxbaltimore.com/2016/speakers/) and now her blog, Collins said she wants to help erase the stigma of mental illness so those facing similar struggles will not feel so alone.
Collins also finds writing the blog is helpful for her. "I'm not very disciplined, so having a blog is a way for me to develop a focus and hone my skills without too much pressure," she said. "It's also a way for me to get those years of being ill out of my system."
Similarly, she hopes that her caregiving blog will offer helpful information to other adult children looking after their parents, as well as letting them know that others are experiencing some of the same issues.
"Nobody has any idea what caregiving involves until you're in the middle of it," said Collins, who is now the full-time caregiver for her 89-year-old mother.
As the title of her caregiving blog suggests, Collins likes to approach her blogs — despite their serious subject matter — with humor, and offers those undergoing their own challenges a look on the lighter side.
Getting started
For other would-be bloggers, Collins suggests you need not be an expert on a subject, or even on the computer, for that matter.
"Write about what you love," she said. "A blog doesn't have to be about promoting your career (though, of course, it can do that). If you enjoy gardening, you can blog about that. As long as you have something to say and want to connect with others, that's all you need."
Collins tries to do a post a week; some people post daily, some monthly. She set up her blogs on free websites like Blogger and WordPress, and said a blog can be as simple as you like. "You can learn by doing," she said. "It doesn't have to be perfect."
To get some ideas on what type of blog you might want to do, Collins suggests reading other blogs on subjects you're interested in. "By seeing what other people are doing, you can find your own voice," she said."
Advice from a "midlife dude"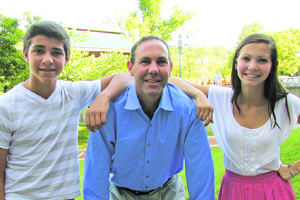 Adam Gordon Sachs blogs as the Midlife Dude about his kids, divorce and career changes, among other topics.
Adam Gordon Sachs thought there would be other "midlife dudes" (which is the name of his blog at https://midlifedude.wordpress.com) who might be interested in reading about a 53-year-old man facing a career change, growing kids, divorce and more.
"I'm familiar with that time of life," said the 53-year-old Columbia resident. "I've got a lot of material to write about."
A former journalist and public relations executive, Sachs is now pursuing a degree in pastoral counseling. He published his first novel last year, titled Three Yards and a Plate of Mullet. It's about a rookie sportswriter, and is based on his own experiences. He plans to publish another book soon, based on a political campaign.
Writing a blog is not only a way for Sachs to build a following as an author, but also to share his thoughts and experiences on growing older, and to hear from others interested in sharing theirs.
"The Internet has really opened up the world to meeting like-minded people," Sachs said. "You no longer have to be limited to a five-mile radius."
Like Collins, Sachs is a self-taught blogger who set up his blog on WordPress. He tries to post consistently, at least once a month, but he doesn't labor over the writing. "I keep the posts short, perhaps 400 to 500 words, and I write them fast," he said. "This shouldn't be painful or stressful."
Though the blog focuses on personal aspects of his life, Sachs is careful about what he posts. "You have to judge how much personal stuff you want to give out," he said.
For example, while he doesn't always ask his kids' permission to write about them, he does take their feelings into consideration, and doesn't post anything that would show them in a bad light.
Writing what resonates
Charlestown resident Ann MacKay, 72, first started blogging in 2003. Her goal then was to write about her travels with her husband in a small camper van, and learn about blogging in the process. That blog ran until 2007.
In 2008, she started another blog, writing about travel, community living, technology and life, which she still continues at http://boylemackay.us.
MacKay commits to writing a post a month, and writes on topics that "resonate" with her, including some serious ones such as end-of-life planning.
For MacKay, blogging is a natural outgrowth of her fascination with computers. "I got my first Mac in 1985, and it was a marriage of mind and fingers," said the retired nurse and association management executive.
To learn more about how to write effectively online, MacKay attended several weekend "word camps," as well as an online community college class in HTML (the computer language used to create websites). She also follows several other blogs related to some of her favorite topics — blogging, Apple products, simplicity and aging.
Some of her favorite blogs are "Time Goes By" (www.timegoesby.net), "A Monk's Chronicle," (https://monkschronicle.wordpress.com), and "Rowdy Kittens," a blog about tiny house living (www.rowdykittens.com).[For more about tiny houses, see "Three great tiny homes for retirees" in this month's Housing Options section, page B-10]
While many bloggers hope to "monetize their brand"— in plainer English, make money from their blog — MacKay has no such aspirations, saying, "Blogging is simply a good way for me to sharpen my writing and reflect on my life and what's important to me."
Sounds like a meaningful pursuit for just about anyone.