Arts
A career reading five presidents' letters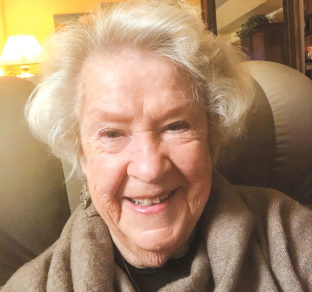 Mary Lou Maddox, who worked in the White House correspondence office from 1975 until 1997, recalls many stories and anecdotes from her career reading presidential mail. At times during the 1980s, she said, "We were knee deep in mail."
Photo courtesy of Mary Lou Maddox
There aren't many retirees who can boast of having the president of the United States stop by her desk to offer a helping hand. But Mary Lou Maddox can.
Maddox, 90, of Clarksville, the former director of the office of mail analysis at the White House, recalled the day President George H. W. Bush visited her office for a tour.
"He stopped at my desk, pulled up a chair and said, 'Get me a box. I'm going to work with you,'" she said. "And he worked with me for an hour. He asked questions. He was curious. He was the only president who took the time to come in" to learn about what she did during her 22-years working in the White House.
Since Maddox served at the pleasure of the president, her biggest fear was the possibility of losing her job after each election. "I would lean against the fence of the building and pray, 'Please, dear God, I can't afford to lose this job.'"
Naturally, every president had his own way of doing things, she said. Jimmy Carter, Maddox reminisced, "thought we read too slow. He thought we should be able to read 300 letters a day."
So, Carter brought in a specialist from Evelyn Wood, a company that helped build reading speed, to teach employees how to pick up the pace. While they registered improvements, Carter still wasn't completely satisfied.
"He brought in someone from Harvard who taught us to read down the middle of the page," Maddox recalled. She understood why Carter was such a stickler. "He was an engineer; he wanted everything orderly."
Upon taking office in 1977, Carter inquired as to why the few African Americans working in the executive mansion were confined to laboring as cleaners, Maddox remembered. "He pulled people out of there" and gave them better jobs, she recalled.
To this day, Maddox credits Jimmy Carter for helping her maintain a vital skill: rapid reading.
"You'd be surprised how I read the paper nowadays," she said, her folksy, down-home intonations bubbling to the surface. "I have to slow up!"
From Ford to Clinton
Maddox was born in the Blue Ridge Mountains of North Carolina, the daughter of a Baptist preacher who later settled in Harford County.
In 1975, Maddox was working for an association in downtown Washington, D.C. When she felt ready for a change, a friend told her the White House was hiring administrative personnel. After passing the required background investigation, she found herself working in the administration of Gerald Ford.
Every day, she received and read hundreds of letters. Before a letter landed on her desk, all incoming mail went through the post office in the executive mansion.
"It's opened and stapled and ready to read. They gave it to us in bundles of 100," Maddox said.
From there, it was Maddox's job to determine what route individual letters would take. For example, if a correspondent was seeking assistance for Social Security, the letter would be forwarded to the appropriate agency.
If a letter writer simply wanted to sound off about abortion or HIV, Maddox would craft a response using parts of a position paper crafted by a legislative specialist who outlined the president's views.
The process became streamlined once computers were introduced, she recalled, but in the early days, "They were terrible! They were archaic."
Each letter the staff read, she said, was marked up using a Number 2 pencil. "No pens, because ink disintegrates," she noted. The annotated correspondences would eventually be stored at the incumbent's presidential library, which at times amassed an extensive collection.
"During Three-Mile Island and the Iran-Contra affair, we had so much going on," Maddox recalled. With as many as 50,000 letters bulging from a 12-foot-long shelf, "We were knee-deep in mail."
Jelly beans, booze and curses
Maddox, who rose to supervisory status before retiring in 1997, met both famous and infamous people during her career. Once she met a young intern named Monica Lewinsky.
"I gave her a job answering the chief of staff's mail. She didn't like reading the mail; she didn't want to stay there."
Reading the mail wasn't always the most pleasant task, Maddox admitted. Frequently, jaw-dropping surprises were sprinkled into the mix.
"Curse words would get filed" permanently, she said, preventing the president from seeing expletive-filled correspondence.
"One man saved his nose-pickings for an entire year and sent it them to the president in a big brown envelope…They sent everything nasty you could think of. Crazy people!"
The White House had strict rules regarding the receipt of food and liquids, Maddox said. When Reagan was in office, his penchant for popping jelly beans inspired many Americans to send him candy.
"We got so many jelly beans, the boss picked every one up and threw them in the garbage. Then she went back and yelled at the mailroom workers."
Maddox remembered a rumor about one man who worked in the mailroom. Knowing the prohibition on receiving liquid at the White House, the story goes, he was snapping up the booze that arrived for the president and taking it home and adding it to his personal inventory.
"People in the office would laugh and say he had the best bar in the state," she recalled.