Arts
A comic send-up of mysteries and critics
With The Real Inspector Hound, celebrated playwright Tom Stoppard has either crafted an incisive deconstruction of society's sense of order and individual identity or, perhaps, just whipped together a sometimes funny lampoon of hidebound murder mysteries.
You can judge for yourself, as performances of the 1968 work continue through most of May at Alexandria's MetroStage.
Oh, by the way, pretentious theater critics, such as one who might have written that comment about the "deconstruction of society's sense of order," are also spoofed.
In this work, two critics gossip and offer pompous commentary on a third-rate murder mystery transpiring before them and us, until they are themselves overtaken by the action onstage.
Rest assured your reviewer here comes down solidly on the "funny lampoon" side of things, while adding that the comic view Stoppard offers of two provincial theater writers is wickedly closer to reality than we in the trade might like to admit.
The Real Inspector Hound is short, coming in at a mere 70 minutes, and performed without intermission. But even then Stoppard has stretched a two-joke show perilously close to the breaking point.
Still, fans of Agatha Christie-style murder mysteries will find laughs aplenty as Stoppard sends up the genre's hackneyed conventions and tosses his little play-within-the-play into a surrealistic swirl.
Stellar ensemble cast
MetroStage has re-assembled one of its more successful past casts, the trio responsible for winning a Helen Hayes Award for Outstanding Ensemble a few seasons back with Heroes, a little gem of a play Stoppard translated from its original French.
Ralph Cosham and Michael Tolaydo portray the critics, Moon and Birdboot, while John Dow is one of the denizens of the secluded English country manor where mystery abounds.
Cosham and Tolaydo are a tart mix. Cosham skillfully underplays the role of the resentful, affected Moon — a second-string critic whose fate is to pinch-hit for his publication's star writer.
By contrast, Tolaydo veers further into parody with his depiction of Birdboot — a pompous hack who uses his position to, er, audition the charms of local actresses.
The duo effectively plays off the foibles of each other's characters, with the disparate approaches keeping their exchanges dimensional and freshly comic.
Unfortunately, director John Vreeke doesn't always take such a measured approach with the six other cast members (plus an alternating line-up of actors playing a silent, immobile corpse).
Dow, as Major Magnus Muldoon, "the wheelchair ridden half-brother of her ladyship's husband," as he's described, is confined by the plot to being something of a cipher, but Vreeke has some of the other actors ham it up as much as possible.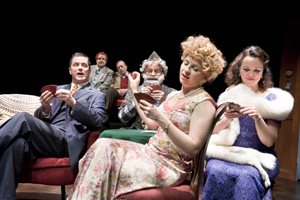 Some go overboard
The play doesn't need that, as Stoppard has made the plot exceedingly silly already by overusing every hackneyed plot contrivance of the murder mystery.
For instance, he skewers clumsy exposition with lines such as the one Mrs. Drudge, the housekeeper (played with brilliant panache by MetroStage favorite Catherine Flye) uses to answer the telephone: "Hello, the drawing room of Lady Muldoon's country residence one morning in early spring."
Flye successfully plays it straight, proving than with farce, less if often more. She wrings far more comedy out of the smallest moments than do other cast members striving mightily for big laughs.
A mere twist of her mouth or roll of her eyes can completely upend the atmosphere on Daniel Pinha's clever "theater stage" set and overpower the flashier work and sight gags of her fellow performers. Flye deftly manages a Cockney accent to hit every hilarious line with flawless timing and emphasis.
Stoppard's satire on the stylized dialogue of the English murder mystery needs little artificial oomph from the actors to tote up comic points. For example, there's not much an actor can or should try to add to this exchange: "I'll phone the police." "You are the police." "Thank God I'm here."
Artificial posturing and energetic overacting do get tiring, and it wears thin at times, especially with cast members whose work here lacks resonance.
Vreeke does good work with the staging, putting critics Moon and Birdboot at the rear of the stage, facing us, the "real" audience, rather than putting them in our midst or in the front row as some directors opt to do.
The latter may be more realistic, but it robs audiences of the opportunity to see the actors' faces, which would be a shame with such delightfully expressive thespians as Cosham and Tolaydo.
Speaking of their interaction, one wonders how much of their dialogue may be rooted in conversations Stoppard either overheard or participated in during his pre-playwright days as a theater reviewer in England.
Some of the comments are so realistically pungent and pompous (present company excluded, let me hasten to say to any colleagues who might be perusing this column) that they seem to be reality-based.
That all dissolves as the "fourth wall" separating actors from audience is completely dispensed with and the critics get sucked into the action onstage. At that point, the plot becomes labored, more melodrama than farce, and the laughs come harder.
It's enjoyable enough until then, however, and Catherine Flye's performance alone is worth the price of admission.
The Real Inspector Hound continues through May 29 at MetroStage, 1201 N. Royal St. in Alexandria, Va. Free, on-site parking is available.
Showtime Thursdays and Fridays is 8 p.m.; Saturdays at 5 and 8 p.m.; and Sundays at 3 and 7 p.m. Tickets are $45 to
$50 (students: $25) and can be reserved
by calling 1-800-494-8497 or visiting www.boxofficetickets.com. For more information, visit www.metrostage.org.