From the Publisher
A town hall meeting to promote health reform

The White House convened a "town hall" meeting on June 11 to answer questions about how the Affordable Care Act, otherwise known as healthcare reform, is helping seniors.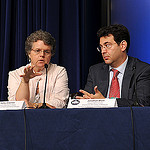 A panel of experts, including Kathy Greenlee, assistant secretary for Aging in the Health and Human Services Dept. and Jonathan Blum, deputy administrator of the Centers for Medicare and Medicaid Services (pictured at left), talked about improvements to Medicare as a result of the legislation. The panel also included Jim Firman, president and CEO of the National Council on Aging and Sandy Markwood, CEO of the National Association of Area Agencies on Aging.
With the passage of the act, Medicare now offers some free preventive services, such as mammograms and colonoscopies, as well as a free annual wellness visit. The infamous "doughnut hole," which left Medicare recipients on the hook for drug costs once they reached a certain threshold is closing gradually. And the law has mandated new efforts to fight fraud, saving the program billions of dollars each year.
At the meeting, questions came from online sources such as Facebook and WebMD, as well as people in the live audience with organizations that work with or promote aging issues, from OWL (the Older Women's League) to the American Bar Association.
The Beacon got in a few questions of our own with Medicare's Blum.
Back when the Affordable Care Act was passed two years ago, some of our readers worried that because $500 million was being shifted from Medicare to pay for other aspects of the law that they would be shortchanged and lose benefits. How would you respond to them?
Blum: Benefits are stronger, and the overall costs of the program are more manageable. We have to do more to ensure the program stays strong for the next generation of beneficiaries. Our strategy to reduce costs is to add more benefits to the program to focus on prevention and to fight fraud.
We have not taken away any benefits. We have added benefits, but also have lowered the overall costs to keep cost-sharing affordable for beneficiaries.
The Supreme Court is expected to decide whether or not to strike down all or parts of the Affordable Care Act by the end of the month. What effect would throwing out the law have on those receiving Medicare?
Blum: It's hard to speculate about what's going to happen. But what's clear is that the Affordable Care Act provides very valuable benefits for beneficiaries. If those benefits were to go away, cost sharing would go up, probably premiums would increase, and our healthcare delivery system would not be as strong.
What's clear is that the Affordable Care Act brings about tremendously affordable benefits and improvements to the Medicare program, and if those were taken away, there would be a number of detrimental effects.
Our June issue included a story about the serious funding concerns for Medicare. What are your thoughts about what will help keep Medicare solvent in the next 15 or 20 years?
Blum: The program faces long-term challenges. But those challenges will be best met by improving the healthcare system, will be met by keeping Medicare beneficiaries healthy for longer periods of time, will be met by making sure taking waste and fraud out of the program.
So it's a multi-faceted approach. And I think if the focus remains and the strategies that seem to be working already continue, that Medicare beneficiaries should feel confident that their benefits will stay strong and those that are becoming eligible for Medicare will have the same strong benefits.
To watch a video of the town hall meeting, go to http://www.youtube.com/watch?v=_IsoZL7KSSg&list=UUYxRlFDqcWM4y7FfpiAN3KQ&index=2&feature=plpp_video.