Travel
A trip back to rural wonders of yesteryear
The "T" intersection of two narrow roads that is the closest thing to the center of Syria, Va. (population 370) is the site of the Syria Mercantile Company. It was there that my recent journey into the countryside, as well as the past, began.
Three gray-haired men rocked on the front porch dishing the local dirt. Tacked to a bulletin board beside them were hand-written notices advertising chain saw repairs, fishing and hunting guides, where to report wild turkey kills, and "Jessie's Equisport Therapy — Therapeutic massage for horses."
Inside, aisles were lined with hunting and fishing gear, bib overalls and a mish-mash of other goods not seen at my local supermarket in Washington, D.C., about 90 miles away.
Stopping at a tiny cubicle near the front of the store that serves as the post office, I paused to chat with the woman inside who was sorting mail. When I inquired what she does about lunch, she replied that she closes up and takes a half-hour break.
"I used to take an hour," she added, "but that didn't last long. After all, what can you do for an hour here?"
After spending a long weekend in the area, I have an answer to that. As a visitor in search of rest and recreation, I found all that I could have wished for — including a rustic, family-owned resort that offers a long list of to-do's along with a central location convenient for sightseeing.
Graves Mountain Lodge combines a magnificent setting overlooking rolling foothills, comfortable and casual surroundings, and a full menu of activities with appeal for every age group.
If you're seeking a place to lounge away a weekend or longer, experience colorful tidbits of the past, or participate in a variety of outdoor activities, this is your place.
Visiting Madison County
Much of Madison County in north central Virginia, a leisurely two-hour drive from Washington, is characterized by rolling fields and valleys that lead to foothills of the Blue Ridge Mountains.
A large portion of its western region is within Shenandoah National Park, where Skyline Drive follows the crest of the mountain chain. The county got its name from the family of James Madison, the fourth president of the United States (1809-1817), which owned land there.
Agriculture is still the dominant industry in the area, with beef and dairy cows, grains and fruit the major products. Some descendants of early settlers from England, Germany and Ireland who still live in the county are farmers like their ancestors.
The tiny town of Madison, which serves as the county seat, offers interesting historical tidbits along with some fun and funky attractions. A number of houses built during the 18th and 19th centuries line a five-block stretch of Main Street.
Even more intriguing to me were businesses with deep roots in the past. At the Madison Drug Company, established in 1856, I paid 10 cents for a Coca Cola and the same for a cup of coffee. While agreeing that she loses money charging those prices, store owner Margie Lamar insisted that she's not going to raise them.
Housed in a somewhat rickety building dating back to 1925, the nearby Feed Store, while not as old, provides an equally colorful trip back to the past in terms of atmosphere. In keeping with its name, the establishment sells a variety of animal food, along with what a sign describes as "Antiques & Collectibles."
That refers to a clutter of items hanging from rafters, stacked on tables, and jammed into every nook and cranny. Bits and pieces of antique decorative glass share space with old-fashioned toys. Clocks and oil lamps stand near a unique hand-carved cider press bearing a $1,500 price tag.
That was one of the few articles I saw whose asking price was marked. When I asked the salesperson on duty about that, he replied, "Well, the owner knows the price of everything."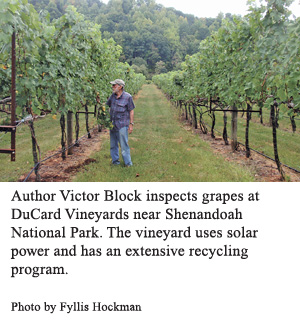 Enjoy grand homes, outdoor sports
If Madison epitomizes the image of a sleepy small town, the surrounding countryside combines a bucolic air with an enticing choice of sightseeing and activities.
Within a convenient car commute are well-known destinations like Skyline Drive, Luray Caverns, Thomas Jefferson's Monticello home and Montpelier, the home of James Madison. Another president, Herbert Hoover, built a fishing retreat along the banks of the Rapidan River that is open to the public.
Oenophiles face an equally inviting selection, with three wineries that offer tours and tastings. Prince Michel Vineyards and Winery is a gracious estate with a "see-through" sampling room that has magnificent views of the surrounding fields and expansive lawns.
Along with the de rigueur hospitality center for tastings, Sweely Estate Winery boasts an attractive boutique and art gallery.
In addition to being Virginia's newest winery, DuCard Vineyards makes other claims to fame. Visitors sample its wines as they take in a vista of vines against the backdrop of Shenandoah National Park. In addition, the operation follows "sustainable" practices, like extensive recycling and the use of solar power.
For those seeking more active pursuits, Graves Mountain Lodge can serve as a convenient home base. For example, both casual walkers and experienced hikers find scenic trails that wind through hemlock forests, pass rushing waterfalls, and lead to spectacular views of the Blue Ridge Mountains.
Those seeking a short stroll may prefer the Doubletop Mountain nature trail through woods on the resort, with the names of trees and plants posted along the way. The more challenging Rose River trail leads to three waterfalls and the remains of an early settler's cabin.
Still more exercise, and more dramatic scenery, await hikers in White Oak Canyon who pass by six waterfalls, and those who accept the challenge of the scramble up 3,291-foot tall Old Rag Mountain.
Rather than walking, wading — or simply casting a line from shore — is likely to appeal to those for whom fishing is exercise enough. Mountain streams are home to both native and stocked trout. Fish-and-pay and catch-and-release ponds teem with trout, bass and bream.
The Hoover Camp on the banks of the Rapidan River combines fishing good enough for a president with a touch of history. Herbert Hoover built his simple fishing cabin near the headwaters of the upper Rapidan. It was known as the "Brown House," and served as a retreat from the White House during his presidency (1929-1933).
An avid fisherman, Hoover selected an outstanding location, as the Rapidan has been ranked among America's best trout streams.
There are other options for those who prefer to experience the outdoors in different ways. Several public golf courses welcome players from low-handicap to duffers.
Bird watchers may look for a variety of nesters in woods, spot bluebirds and other winged residents in boxes located throughout Graves Mountain Lodge property, and sight bald eagles perched near river banks or flying overhead.
Rockhounds can uncover samples of unakite (pyrite), jasper, and blue and rose quartz along the Robinson and Rapidan rivers, or the Rose River which runs through the 1,500 acres of Graves Mountain Lodge land.
Even those who limit their exploration and activities to the resort itself find plenty to fill the hours and days. Guided hourly or full-day horseback rides begin at stables on the property. During warm weather, guests may swim in the large pool or perhaps recapture youthful memories with a dip in a swimming hole in the Rose River.
Enjoy the simple pleasures
If you're looking for a full-service luxury resort with television, a telephone and other in-room amenities, Graves Mountain Lodge may not be for you. Instead, it's a place where you can fill your time with an enticing choice of activities or, as some prefer, simply rocking, reading and relaxing.
Views from the setting look out over expansive groomed lawns, apple orchards and gentle hills. Seasonal apple picking, hay rides and other rural recreation increase the sense of times past.
An educational farm holds interest for city slickers of all ages. Horses, goats, pigs, sheep, cows and other four-legged residents graze contentedly in fenced fields.
My wife Fyllis and I were awed by the size of Monticello, a Holstein that was the third cloned cow in the United States and dwarfs its bovine Black Angus companions. Our attention also was attracted by three very friendly pigs that trotted to the fence surrounding their pen to greet Fyllis and me, hoping for a tasty treat.
Even accommodations at Graves Mountain Lodge become part of the experience. Some houses and cabins that augment traditional motel rooms are perfect for guests who prefer to stay in a bit of history.
Pete's House is an early 1800s two-story cabin, Boxwood is a two-story house built in 1856, and Wild Wind Cottage, perched on a hilltop, was expanded from a one-room schoolhouse.
No matter what their accommodations, guests are immersed in a piece of the past, offered a varied choice of activities, and surrounded by scenery as beautiful as it is restful. What more can one want in a getaway destination so close to Washington?
Nightly rates at Graves Mountain Lodge, including three meals a day, begin at $79 per person in motel rooms for two, and range from $85 to $135 a person in cabins.
Some cabins with a full kitchen can accommodate up to 18 guests, and may be rented without paying extra for meals. These are priced at $255-$335 a night.
For more information, call (540) 923-4231 or log onto www.gravesmountain.com.
Victor Block is a Washington, D.C.- based travel writer.