Arts
An artistic exploration of the Deep South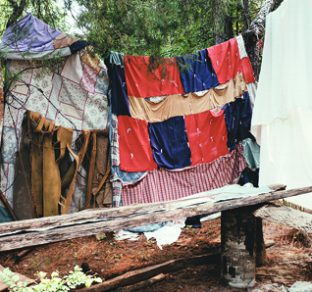 William Christenberry's artwork, focusing on his roots in Alabama, is on exhibit at the Maryland Institute College of Art. This 1993 photo, "Clothesline, Near Morgan Springs, Alabama," evokes a sense of the region he came from. After moving to Washington, D.C., he continued to return to Alabama each summer to visit friends and pursue his photography.
Photo courtesy of MICA
"Laying-by time" is the term used in rural agricultural communities to describe the summer period when farmers have completed their preparation of the crops and anxiously await the harvest.
It is also the name of the current exhibit at the Maryland Institute College of Art (MICA), "Laying-by Time: Revisiting the Works of William Christenberry," a survey of work by the renowned artist that reflects on his upbringing in Hale County, Alabama, and his yearly summer pilgrimages to the area.
In a poignant footnote, Christenberry died Nov. 28 at the age of 80 in a Washington, D.C., nursing home of complications of Alzheimer's disease, just days before the MICA exhibit opened.
Though his work is heavily influenced by his experiences in Alabama, "Laying-by Time" features photography, paintings and sculpture that extend beyond the region, according to Kimberly Gladfelter Graham, exhibition curator and MICA Curatorial Studies faculty.
"Great art is a creative prism through which we can consider our personal and collective experiences," Gladfelter Graham observed. "William Christenberry's masterful work allows us to relate to an important place and time in the shaping of our American story, and to consider our personal choices in its continued unfolding."
Born in 1936 in Tuscaloosa, Alabama, Christenberry received his BFA and MFA degrees from the University of Alabama in Tuscaloosa. For many years he taught painting and drawing at the Corcoran School of the Arts and Design in Washington, D.C.
Christenberry is best known for his works that depict Southern themes and focus on such haunting subjects as crumbling buildings, rusting automobiles, once -iconic advertising signs and graves.
Developed from photography
Christenberry took the photos included in the exhibit with a Kodak Brownie camera. They were initially not intended to be an art form in themselves, but were to be used as color guides for his paintings.
But in 1960, Christenberry's artistic focus shifted after he discovered the photography book Let Us Now Praise Famous Men, by Walker Evans, with text by James Agee. That book was inspired by a trip Evans and Agee took to Christenberry's birthplace, Hale County, Alabama, in 1936, the same year Christenberry was born.
Christenberry spent every summer in Hale County, visiting both sets of grandparents on their farms. Many of the subjects in Evans's book were friends and neighbors of Christenberry's family.
Unlike Evans's photographs, which were in black and white, Christenberry chose to work in color (taking his film to a drugstore to be developed). Though he eventually began to create larger photographs, his subjects and style remained the same since, as he told one interviewer, "The place is my muse."
Christenberry had a long and prestigious career. He received numerous honors, including a Guggenheim Fellowship. Exhibitions of his work have been mounted at museums and academic institutions such as the Smithsonian American Art Museum and the Phillips Collection in Washington, D.C, and as far away as Madrid. His work can also be found in the permanent collections of the Baltimore Museum of Art, the National Gallery of Art, and the Museum of Modern Art in New York, among others.
Response to the KKK
According to Gladfelter Graham, the work on view in "Laying-by Time" explores Christenberry's American South, and is exemplified by the controversial and rarely exhibited "Klan Room Tableau" — a multimedia installation that was the artist's response to the human capacity for hatred and violence that he believed was epitomized by the Ku Klux Klan.
The installation features sketches, figurines, iconography, objects and dioramas that document the pervasiveness of the KKK in Christenberry's home state.
Gladfelter Graham hopes that visitors will see the exhibition as more than a chronicle of the South's dark history. "It is an exploration of the microcosm to reveal the macrocosm, the specific and personal to reflect the general and universal," Gladfelter Graham said.
Upcoming events related to the exhibition include "An Intimate Window: Gallery Walk & Talk with Sandy Christenberry," on Feb. 22 at noon, during which the curator and the artist's widow will reminisce and reflect.
"Generating Conversations: Against a Backdrop of Contemporary Concerns" on Feb. 27, from 7 to 9 p.m., is a panel discussion with Judy Norrell, collector of Southern literature, art and history; Dr. DaMaris Hill, artist, writer, educator and social justice advocate; and Tanya Garcia, artist and community activist.
The exhibition will be on display through March 12 at MICA's Decker Gallery in the Fox Building, 1301 W. Mount Royal Ave. Hours are Monday to Saturday, 10 a.m. to 5 p.m., and Sunday, noon to 5 p.m. Admission is free.
For more information, visit www.mica.edu/laying-by_time or call (410) 669-9200.