Arts
Andy Warhol: another 15 minutes of fame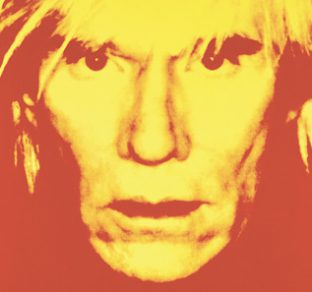 There's still time to catch the Andy Warhol exhibition at the Baltimore Museum of Art (BMA), and it's well worth the visit. On view through Jan. 9, the exhibition features more than 50 works the legendary Pop artist painted during the last decade of his life. Warhol died in 1987.
Having once declared that "painting is old-fashioned," Warhol returned to the medium in the late 1970s. By then, he was already famous worldwide for his experimental films, in addition to his iconic silkscreened Pop art images of soup cans and celebrities, such as Marilyn Monroe.
Warhol, born Andrew Warhola in 1928, was a lifelong artist. He majored in pictorial design at the Carnegie Institute of Technology and moved to New York after graduating.
He had steady work as a commercial artist — as an illustrator for such magazines as Vogue, Harper's Bazaar and The New Yorker, in addition to creating advertising and window displays for stores such as Bonwit Teller.
He had his first individual show in 1952 and his first group show — at the Museum of Modern Art — in 1956. In the 1960s, Warhol began appropriating images from popular culture, creating paintings that are distinctly recognizable for their uniquely modernist approach to familiar objects and personalities, including the Campbell's Soup cans.
During this time, he also made several films that are now underground classics, such as Chelsea Girls and Empire.
In 1968, Warhol was nearly killed when he was shot by the founder (and sole member) of SCUM (Society for Cutting Up Men).
In the 1970s, Warhol returned to painting, and his works were exhibited extensively in museums and galleries around the world. He died in 1987 following routine gall bladder surgery.
First show of its kind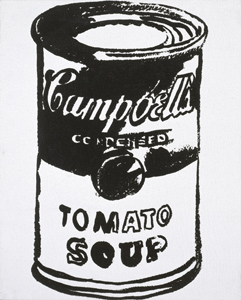 "Andy Warhol: The Last Decade" is the first American museum exhibition that focuses on Warhol's late works. It was organized by the Milwaukee Art Museum and then traveled to the Museum of Modern Art in Fort Worth and the Brooklyn Museum. The BMA is the last stop for the exhibition.
This attractive exhibition is both well-staged and well-mounted. The bright lighting and stark white walls showcase Warhol's clean lines and use of vivid colors, seen in such works as "Eggs," his various self-portraits, and at least one of his versions of "The Last Supper."
In contrast to the brightly colored paintings, but no less attractive, are crisp black and white works. These include another version of "Eggs" and "Repent and Sin No More," which mixes graffiti and street imagery.
Also included in the exhibition are works from the "yarn" paintings that have been called a nod to the "drip" works of abstract artist Jackson Pollack, as well as large-scale "Rorschach" paintings and a group of Pop-influenced "Black & White Ads."
Warhol was also seemingly obsessed with his own image, examples of which abound — from a youthful outlined figure that he then repeated on wallpaper, to the more familiar fright-wig representations done in the year before he died.
Interactive lounge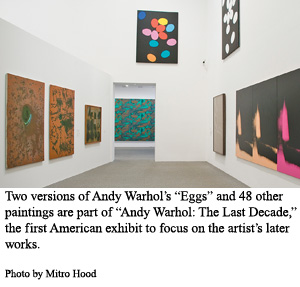 At the end of the exhibition is an interactive lounge that provides a look at Warhol's relationship to pop culture and politics in the late '70s and early '80s.
Here, you can relax on retro furniture, watch an episode of a TV program produced by Warhol, and page through copies of Interview magazine, which Warhol co-founded.
Take some time to spot the celebrities in an enormous photomontage of Warhol's friends, and listen to the popular music of that generation.
"Andy Warhol: The Last Decade" is a special ticketed event with a complimentary audio tour. General admission to the BMA and its collection is free. Tickets for the Warhol exhibition are $15 for adults, $12 for those 65+, $5 for students and children ages 6 to 18, and free for those 5 and under and BMA members.
Tickets may be purchased at the box office in the visitor lobby, online at www.artbma.org, or by phone at 1-800-919-6272.
The BMA is open from 10 a.m. to 5 p.m. Wednesdays through Fridays and from 11 a.m. to 6 p.m. on Saturdays and Sundays. It will close at 3 p.m. on Christmas Eve and remain closed on Christmas Day. Also closed on Jan 1.
The museum is located on Art Museum Drive at N. Charles and 31st Streets. For more information, call (443) 573-1700 or visit www.artbma.org.