Features
Area athletes shoot for the gold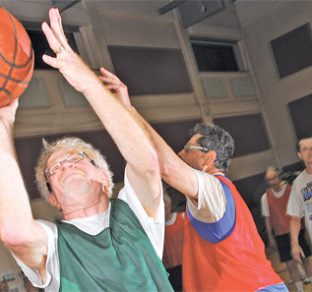 Baltimoreans were justifiably proud of Michael Phelps's historic medal count in the 2008 Summer Olympic Games. But there are other Olympic-level athletes in town who prove that added years don't necessarily mean their medal-winning days are behind them.
At the upcoming Summer National Senior Games, to be held June 16 to 30 in Houston, 230 older athletes from all over Maryland will join thousands of others 50 and over from around the country to compete in sports ranging from archery to volleyball.
Among them is a contingent from the Bykota Senior Center in Towson. Once again, two of its basketball teams will be competing at the national level: the team of 60- to 64-year-olds, and the over-80 team.
The 60-to-64 team, which has seven members, plays at Bykota three mornings a week. Hoopster Charlie Cooper, 63, of Baltimore City, will be making a return trip to the national games, having competed two years ago with the team in Palo Alto. There they won two out of seven games. (The games are held every two years, each time in a different city.)
"We needed taller players!" said Cooper, adding that at the national level of competition, size is a big advantage because the game is played 3-on-3 (rather than the traditional 5-on-5), and from mid-court, rather than using the full court.
Though the team didn't come back to Baltimore with a medal in 2009, Cooper said they all had a "heck of a lot of fun" and "we're hoping to do better this time!"
Exercise and camaraderie
Frank Lastner, 80, plans to be in Houston with many of the nine other members of the "Bykota 80." But not all will be playing, unfortunately, due to recent injuries.
"Buckey [Kimmet] just pulled a hamstring, and Ralph [Piersanti] has a shoulder problem," said Lastner, who is captain of the team.
In 2007, the team "came close" to the medal round, losing by just one point in the last shot of the game. This year, Lastner is optimistic. "We've got a good team for this age group," he said.
Like many of the players, Lastner played basketball when he was younger, and credits his thrice-weekly games at Bykota and competitions like this to "keeping me moving."
The basketball teams not only provide opportunities for exercise, but are a big part of the players' social lives, according to Tom Murtagh, president of the Bykota Senior Center, who has also been in charge of the basketball program since it began in 1999.
"We go to lunch afterward, have holiday celebrations and cookouts," he said. "We always have a good time and there's lots of good-natured kibbitzing during the games and when we get together."
A run at a medal
Basketball isn't the only sport being represented by Baltimore athletes at the national competition.
Towson resident Claudia Simpson, 57, will be taking a break from her practice as a yoga teacher to compete in the 100-, 200- and 400-meter dashes, as well as the high jump, long jump and pole vault. Simpson has competed in every Summer Senior Games since she turned 50.
She medaled at the last national games in both pole vault and high jump — despite the fact that she had been involved in a serious auto accident on her way to the airport for the flight to California.
In high school, Simpson competed on the boys' track team (there was no girls' track team at the time), but then didn't take up the sport again until mid-life.
"My parents were both runners who competed at the state level in Virginia," Simpson said. "They never got to the nationals, so I'm carrying on the family tradition for them."
To qualify for the Senior Games, athletes have to participate in state-level games in the prior year. To meet that requirement, Simpson took part in the Maryland Senior Olympics, as well as in local 5K races, such as "Race for the Cure."
Though Simpson has always been competitive, she said the real joy of the games is seeing how she improves each time.
"I'm out there to be the best that I can be," she said, adding that there is a different "mindset" when you compete at the senior level. "I'm there to have fun, improve my own time, and meet other people who are active and healthy."
Trying the triathlon
Barbara Garner will be competing in the triathlon when she goes to Houston. The Catonsville resident — "let's just say I'm in the 70-to-74 age group" — will, in quick succession, swim, bike and run.
Garner also qualified to compete in the swimming competition, but a family wedding reception may bring her back to Baltimore before those events take place.
Garner, a retired state park ranger, still works as a seasonal ranger in the summer and a ski teacher in the winter. She has been competing in sports events since she was 55.
"It's interesting and invigorating," she said of her participation in competitive meets. To prepare for the Games, Garner bikes with the Baltimore Bicycle Club, runs in local races and swims regularly.
Triathlons are not as intimidating as they may sound, she said, pointing out that the senior triathlon consists of shorter distance events than what a younger elite-level triathlete would face. "We don't overdo," she said.
Like the other athletes, Garner also downplays the importance of medals, though she admits that she has won a few over the years. "They're packed away somewhere," she said.
For Garner, the Senior Games are a way to keep her athletic skills honed and to travel to different cities throughout the country.
"The motto of the games is 'To participate is to win,'" said Garner, "and that's my motto as well. It's nice to win something, but just getting ready and getting there is good, too."
For more information on the National Senior Games, visit www.nsga.com. For more about the Maryland Senior Olympics, whose events run from August through early November, visit www.mdseniorolympics.org.