Arts
Around the world with Jewish music trio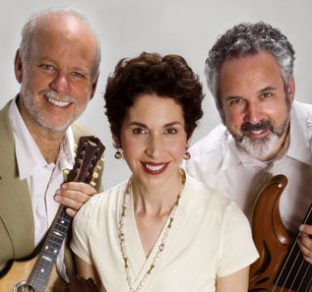 The Robin Helzner Trio will perform Jewish music from many lands on Jan. 12 at the Jim Rouse Theater and Performing Arts Center in Columbia.
Photo Courtesy of the Robin Helzner Trio
You don't have to know Hebrew, Yiddish, Ladino, Luganda, Arabic or even English to sing and swing along with the Robyn Helzner Trio when they present "A Concert of World Jewish Music" in Columbia.
The words — even if foreign to your ears — and the music will draw you in by "the emotion and the celebration" in song of the Jewish experience, said Robyn Helzner, the trio's vocalist and guitarist, who also happens to be a cantor in several synagogues in Washington, D.C.
Helzner noted that the joyous music that the trio will bring to Howard County has been influenced by all countries and cultures where Jews have lived — which means just about all countries and all cultures down through the ages.
The concert, set for Sunday, Jan. 12 at the Jim Rouse Theater and Performing Arts Center in Columbia, is being presented by the Jewish Federation of Howard County.
Folk music of all nations has been a key influence for Helzner, both personally and for the group she leads. No, there won't be any kitschy Yiddish anthems, such as "My Yiddishe Mama," in the program. But there will be a performance of Pete Seeger's "Turn! Turn! Turn! (For Everything There is a Season)," whose lyrics were adapted from verses in the Book of Ecclesiastes.
Helzner was born and bred in the metro area (Langley Park, Silver Spring), and graduated from Northwestern University. Today, she switches from stage to synagogue as a cantor during religious services at Temple Sinai on Military Road, the Sixth & I Historic Synagogue in downtown Washington, D.C., and at Adas Israel on Connecticut Avenue in Cleveland Park.
A Cantonese cantor?
Helzner said she sang at what may have been the first ever bar mitzvah in Beijing, China, in 1996. How did she get there?
Well, she had been invited in 1992 to serve as cantor at a synagogue in Hong Kong for the High Holidays and other occasions. While in Hong Kong, at a meeting there of Hadassah International (the Jewish women's volunteer organization), she met the leader of the Jewish community from the mainland China capital, who invited her to serve as cantor for her son's coming-of-age bar mitzvah.
The very well-traveled Helzner also happened to make both official and unofficial visits to Moscow and Leningrad (now St. Petersburg) in the late 1980s, when the Soviet Union was in the process of unraveling.
In "underground trips" to Russia in 1987, she clandestinely sang Jewish songs in cramped apartments for Soviet Jews, many of whom were "refuseniks" (Russian Jews who sought to emigrate to Israel, but were denied exit visas).
Then in 1988, as perestroika was peaking, she was actually invited back by the Soviet government to give concerts where her Hebrew songs were the first in that language publicly performed in Russia since the 1930s.
Helzner, who is of Russian-Jewish heritage, recalled becoming active in the Movement to Free Soviet Jewry. At the age of 15, in 1971, she sang at the movement's first rally in front of the Soviet Embassy in Washington.
Twenty years later, in 1991, she sang at the movement's final D.C. rally in front of the Russian Embassy. In the intervening years, Jewish protestors appeared in front of the embassy every day. On Jewish holidays, gentiles carried on the protest.
Versatile musicians
The other members of Helzner's trio are Matt Holsen, who plays bass and keyboard, and Dov Weitman, on mandolin and guitar.
Holsen, who grew up in Spain and Chile, is also a singer, composer and arranger. He has played with folk, pop, jazz and classical ensembles, and recorded with Leonard Bernstein.
Weitman's musical styles range from Israeli folk music to down-home bluegrass, as well as klezmer and Spanish dance music.
While some of the songs that will be performed by the trio are in the familiar Jewish languages of Hebrew and Yiddish, other songs will be sung in the less familiar Ladino — a mixture of Hebrew and Cervantes-era Spanish spoken by Sephardic Jews after their expulsion from Spain — and in Luganda, a Ugandan language spoken by the Abayudaya, the Jewish community of that country.
A small number of the indigenous population of that East Africa country began practicing Judaism in 1919. Dictator Idi Amin banned its practice when he came to power in 1971. After he was overthrown in 1979, the Jewish community, about 2,000 members and mostly subsidence farmers, regrouped. Some of their songs will be performed by the trio.
Tickets for the Robyn Helzner Trio concert are $10 in advance and $15 at the door. Children 5 and under are admitted free. Tickets may be purchased at www.jewishhowardcounty.org. For more information, contact Meghann Schwartz at (410) 730-4976, ext.106.