Arts
Art classes to inspire your inner Picasso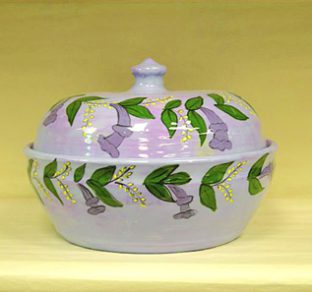 Every Wednesday and Thursday, mornings and afternoons alike, the residents of Keswick Multi-Care Center in Baltimore have the opportunity to participate in a creative arts program that is at once both a form of recreational therapy and an artistic outlet.
The program began in 1997 when local artist and teacher Joan Kelly proposed the idea to Keswick. Kelly began by taking a cart filled with art supplies from room to room. Space was soon made so that group classes could be held, and not long after that, a dedicated art studio was created, one that is still in use today. Classes are currently taught by artist Donna Lansman, with the aid of several volunteers.
In class, the Keswick residents work on painting the pieces made by Landsman, who is also a potter. In addition, numerous special projects are created throughout the year, ranging from silk dying, sand painting and papier mache, to soapmaking, beading, decoupage, mosaics and handmade paper. Drawing paper, charcoal, pastels, acrylic paints and clay are also available at all times.
According to Sharon Gutzmer, Director of Recreational Therapy, the benefits of attending the creative arts classes are many. First, residents are able to express themselves creatively.
"In class, the resident is the boss," Gutzmer, said. "They get to choose what they would like to work on and how they want it to look. The teacher is there to help them create whatever it is that they desire."
Furthermore, they have the opportunity to socialize in a relaxed and fun atmosphere with people from other floors and buildings, often forming lasting friendships, Gutzmer added.
Another perk of the class is that the residents get to make fabulous hand-made gifts for family and friends. There is no extra cost to the residents for attending class.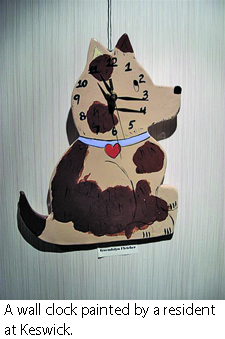 Arts classes around town
While Keswick's classes are for its residents only, there are a number of places throughout the Baltimore area where you can develop your own artistic talents. Here are just a few:
School 33 Art Center, 1427 Light St. – (443) 263-4350 www.school33.org
School 33 offers classes for adults, teens and kids, from beginning to experienced artists.
Maryland Institute College of Art (MICA), 1300 W. Mount Royal Ave. – (410) 669-9200 www.mica.edu
MICA offers both degree and non-degree programs, in a variety of disciplines, from drawing and painting, to ceramics, fibers, sculpture, photography, printmaking and jewelry design.
Renaissance Institute, College of Notre Dame of Maryland, 4701 North Charles St. – (410) 532-3162 www.ndm.edu
The Renaissance Institute is a continuing education program for men and women 50 and older. Fine arts classes may include simple projects for the beginning watercolorist to classes in oil painting and pastels.
Kaleidoscope, Roland Park Country School, 5204 Roland Ave. – (410) 323-5500, ext. 3045 www.rpcs.org
Kaleidoscope is an external learning program offering a variety of classes and programs. Creative arts classes include such pursuits as china painting, jewelry and beading, basket-making, oil painting (from beginner through advanced), plein air painting, and watercolors.
In addition to the programs above, art classes are offered at senior centers throughout Baltimore City and County, at private art schools, at local community colleges and at local art supply stores.