Arts
Arts festival season kicks off in January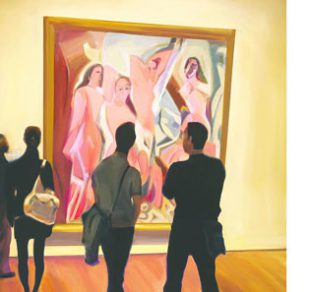 Come rain or shine, every year the Coachella Valley hosts three major outdoor art festivals that attract more than 30,000 visitors.
Scheduled to allow art fans to wander through shows in the desert's most agreeable weather, the festivals benefit art education and local businesses, and offer art pieces for most any taste. All three have dining, places to sit, valet parking, entertainment and volunteer crews to help you on your way.
Here's a summary of the three art shows, in order by show dates, that also explains how they differ a bit from each other.
Southwest Arts Festival
Despite its name, the 28th annual show organized by and benefiting the Indio Chamber of Commerce does not focus on Southwestern art. You'll find some examples there for sure, but over the years the array of art has evolved. The 250 or so participating artists show traditional, contemporary and abstract works in clay, drawing, glass, jewelry, metal, painting, photography, sculpture and textiles.
Spread over several grassy acres at the Empire Polo Club, the artists' booths are arranged in easy-to-explore rows separated by wide aisles. You'll see a wide range of price points, and, if years past are any indication, more craft items than the other two shows.
Parking is close by.
When: 10 a.m.-6 p.m., Jan. 24-26
Where: Empire Polo Club, 81-800 Avenue 51, Indio
Parking: $5 general, $12 valet
Tickets: $8, $12 two-day pass, 16 and under free
Information: (760) 347-0676, www.southwestartsfest.com
La Quinta Arts Festival
Ranked #1 Fine Art Festival in the nation by Art Fair Source Book, the La Quinta Arts Festival has become more competitive to enter. For the 2014 show, the jury selected 234 artists from 1,113 applications, reflecting a 20 percent increase in applicants from 2013.
The invited artists are from 36 states, Canada, Israel and Nicaragua. Fifty-one are new artists to the festival, showing their work in the Coachella Valley for the first time. Art categories include ceramics, drawing and pastel, fiber, glass, jewelry, mixed media, painting, photography, printmaking, sculpture and wood.
While all the shows have pleasant settings, La Quinta's is the prettiest. Booths are set up along wandering paths under trees and around a pond.
The festival has the most concentrated entertainment schedule, with live music hourly. Popular with adults and kids alike, the "living statues" plan to return to the 32nd annual show that benefits the La Quinta Arts Foundation's education and scholarship programs.
For art collectors, it is the priciest of the three shows. You can take a clue from the La Quinta Arts Foundation website: The festival attracts a "large presence of knowledgeable, serious art patrons."
You can park in some nearby neighborhoods or pay for closer-in or valet parking.
When: 10 a.m.-5 p.m., March 6-9
Where: La Quinta Civic Center Campus, 78-495 Calle Tampico
Parking: Self-park $7, valet $10
Tickets: $12, $15 multi-day pass; kids 12 and under free
Information: (760) 564-1244, www.lqaf.com
Indian Wells Art Festival
In this 12th year of the Indian Wells Arts Festival, some 200 juried artists will show, demonstrate and sell paintings, sculpture, pottery, glass, photography, jewelry and crafts.
New this year is a festival-within-a-festival, the first of its kind in the Coachella Valley. The Objet Trouvé Found Art Festival is based on the idea of using everyday objects and "found" materials to create works of art. Fifty artists will exhibit and create objet trouvé artworks for sale. The festival will also construct a 20-foot replica of the Eiffel Tower from found materials.
In years past, this has been the dependable show where you can pick up desert landscape paintings by local artists at prices that don't compete with a mortgage payment. It also has a generous menu of free activities for kids.
Most booths are in rows in grassy, tree-shaded plots separated by wide aisles.
Parking is free, but you'll walk a bit farther than at the La Quinta or Indio shows.
When: April 4-6, 10 a.m.-5 p.m.
Where: Indian Wells Tennis Garden, Miles Avenue between Washington Street and Highway 111
Parking: Free, valet available
Tickets: $12, children under 12 free
Information: (760) 346-0042, www.indianwellsartsfestival.com