Arts
At 90, Dave Brubeck continues to swing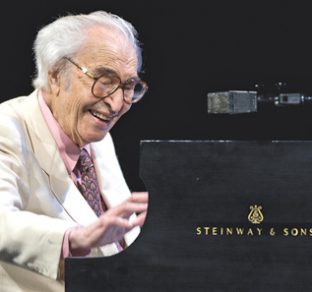 Dave Brubeck gingerly made his way to the bandstand through a packed Blue Note jazz club in New York, and a smile lit up his face after he sat down at the piano and began playing a Duke Ellington medley he dedicated to "my favorite jazz composer, pianist, musician and friend."
Brubeck mixed standards and originals drawn from his nearly 70-year career in a 90-minute set that left time for only a shortened version of "Take Five," the late alto saxophonist Paul Desmond's catchy odd-metered tune that surprisingly put the Brubeck Quartet at the top of the pop charts nearly 50 years ago.
Brubeck, 90, could easily have excused himself from the recent sold-out Blue Note gig: It came just a month after he was discharged from Bridgeport Hospital in Connecticut following heart surgery to install a pacemaker. But he felt a strong motivation to perform with his quartet.
"It's the love of the music and the love of being with the group, because we have such a great time," said Brubeck, speaking by telephone from his home in Wilton, Conn. "I could kind of not work so hard anymore, but that might be a bad thing. My personal doctor said, 'You know, Dave, when you start playing, things start looking up, so I don't advise you to stop. You need to play.'"
Bouncing back from illness
His doctors were concerned that Brubeck might not be able to perform again when the jazz icon checked into the hospital after complaining of dizziness and fatigue. His recovery after surgery hastened when his manager, Russell Gloyd, brought him an electric piano to play, and his doctor noticed an almost instant improvement.
"He said, 'You know, what this does for you is maybe more than I can do for you. I think you'll be able to play again just from hearing you,'" said Brubeck, who thanked hospital staff by playing the standard "Show Me the Way to Go Home" on a piano in the hospital foyer as he was being discharged.
In December, his quartet was voted the best small jazz group in DownBeat magazine's annual Readers Poll — an honor the Brubeck Quartet first received in 1953 and would repeat frequently until the mid-1960s.
"My first reaction to them was, 'this is the longest intermission I've ever taken,'" Brubeck joked. "It's really a triple surprise to have this happen at this time in my life."
Brubeck's current quartet has developed the intuitive interaction that comes from years of playing together. Drummer Randy Jones has been in the band since 1979, alto saxophonist-flutist Bobby Militello since 1982, and bassist Michael Moore since 2001.
Three of his sons — Chris (bass and trombone), Darius (piano) and Dan (drums) — recently completed a "Brubecks Play Brubeck" British concert tour honoring their father's work.
"I love very much to see my sons carrying on the tradition," said Brubeck, who no longer performs outside North America.
In 2009, Brubeck's Dec. 6 birthday fell on the day he was feted at the Kennedy Center Honors with a White House reception hosted by President Barack Obama followed by a gala concert that included a surprise performance by his four sons.
Documentary by Clint Eastwood
Then, in honor of his 90th birthday last December, Turner Classic Movies broadcast Dave Brubeck: In His Own Sweet Way, a new documentary directed by Bruce Ricker and narrated by Alec Baldwin. Its executive producer was Clint Eastwood.
"Dave is an authentic American hero who is grounded in creating beautiful music," said Ricker. "His character is formed by his fingers at the piano and there's no dishonesty when you hear the music."
Eastwood, who also appears on camera interacting with such Brubeck admirers as Star Wars director George Lucas and Sting, enthusiastically backed the project.
"My early love of jazz coincided with Dave Brubeck appearing on the scene in the late 1940s and '50s," Eastwood explained in a statement. "This gave me the opportunity to see Dave in person. And as jazz was developing as a great American art form, this provided an inspiration for artistic achievement as I began pursuing an acting career."
Ricker, who had access to Brubeck family photos and rare BBC performance footage, said the film shows that Brubeck has "this artistic ambition that really transcends jazz," evidenced by his embrace of classical music and his later interest in composing sacred music.
Ricker says a central theme is Brubeck's relationship with his wife and lyricist, Iola, whom he married in 1942 after proposing on their first date.
Brubeck said the final scene of the documentary moved him the most: It's when he is seated at the piano at Eastwood's ranch with Iola, who asks him to perform "All My Love," a ballad he wrote for their 1999 wedding anniversary.
New CD anthologies
The documentary is complemented by two double-CD anthologies, "The Definitive Dave Brubeck on Fantasy, Concord Jazz and Telarc" and "Dave Brubeck: Legacy of a Legend" (Sony Legacy) that together "give a complete picture of Dave Brubeck" with recordings from 1942 through 2004, said Gloyd, who produced both compilations.
"Legacy" includes the two best-known tunes from his classic quartet with Desmond, bassist Eugene Wright, and drummer Joe Morello: "Blue Rondo a la Turk" and "Take Five," from the breakthrough 1959 album "Time Out" which experimented with exotic time signatures.
Brubeck recalled that Columbia executives blocked the album's release for almost a year before the label's president Goddard Lieberson intervened.
"They said we never put out music that people can't dance to, and they can't dance to these rhythms that you're playing," said Brubeck.
"And you broke another rule [they said] when you have all originals on one LP, and also you want a painting on the cover and we've never done that. … I insisted that we go with something new, and to their surprise it became the biggest jazz recording they ever made."
Brubeck based "Blue Rondo" on a 9/8 rhythm that he heard Turkish street musicians playing during a 1958 State Department-tour that also took him to Poland, where he composed the Chopin-inspired "Thank You (Dziekuje)" as a tribute to the freedom-loving Polish people. That tour deepened his belief that jazz could absorb foreign influences like a sponge.
French composer "Darius Milhaud, my teacher, told me, `Dave, travel the world and keep your ears open,'" said Brubeck.
Brubeck continues to compose new works, including the symphonic "Ansel Adams: America," a multi-media project inspired by the photographer's nature images. It had its premiere last April in Stockton, Calif., near the cattle ranch where Brubeck grew up.
Brubeck, who converted to Catholicism in 1980 after composing a Mass, envisions an afterlife where he could see again his parents, brothers and his colleagues — Louis Armstrong, Duke Ellington, Count Basie, Stan Kenton, Woody Herman, Art Tatum and all the great pianists.
"If there's a heaven, let it be a good place for all of us to jam together and have a wonderful, wonderful musical experience," Brubeck said. "We had so many great musicians that contributed so much, and they were all my friends, and that's why I'd like to see them again."
— AP