Money
Avoid scams by checking on businesses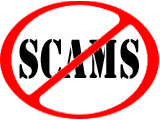 Q. It seems that every day I hear about someone being ripped off. Are there some good resources to help protect myself against scam artists?
A. Although scam artists have been especially busy taking advantage of the economic downturn, there are resources to help you check out a company or an adviser before you become a victim — and help you file a complaint if you have a problem.
Start with your state, county or city government's consumer protection office. Look up their phone number or visit www.consumeraction.gov/state for links or call 1-800-FED-INFO (333-4636).
The websites of these agencies often have databases that allow you to look up complaints against all kinds of businesses. You can also file a complaint to warn others of your problems.
The consumer protection agencies surveyed by the Consumer Federation of America received more than 252,000 complaints last year and obtained more than $208 million in restitution and savings for consumers.
These agencies can also let you know about other agencies that license or regulate specific types of business in your area, such as a state contractor's licensing board.
Look at BBB rating
The Better Business Bureau (www.bbb.org, 703-276-0100) is another good place to look up companies. The BBB assigns letter grades, from A+ to F, based on a business's complaint history, whether the company has responded and worked to resolve complaints, and whether the business holds the appropriate licenses, among other criteria.
You can also file complaints with the BBB, which will often work with the company to help resolve your problem.
Check out investments and advisers with your state securities regulator. The Fraud Center of the North American Securities Administrators Association (www.nasaa.org, 202-737-0900) also has many great resources to help you avoid becoming a victim.
You can look up a broker's or a brokerage firm's licensing, background information and disciplinary history through Finra's BrokerCheck website, www.finra.org/investors/toolscalculators/brokercheck, or call 1-800-289-9999.
Research investment advisers through the Securities and Exchange Commission's Investment Adviser Search website, www.adviserinfo.sec.gov, or call (240) 386-4848.
Review disciplinary actions
Contact your state insurance department to see whether there have been any disciplinary actions against an insurance agent or company, or to file a complaint. You can find contact information for the state regulators at the National Association of Insurance Commissioners website, www.naic.org/state_web_map.htm or call (202) 471-3990.
You can also check out an insurer's complaint record at the NAIC's Consumer Information Source (https://eapps.naic.org/cis), which is a great resource to learn about the type of complaints an insurer has received and how it stacks up against other companies.
For identity-theft resources and information, or to report ID theft, see the Federal Trade Commission's ID Theft website, www.ftc.gov/idtheft.
Kimberly Lankford is a contributing editor to Kiplinger's Personal Finance magazine. Send your questions and comments to moneypower@kiplinger.com. © Kiplinger's Personal Finance