From the Publisher
Blowing in the wind

In the 1930s, dust clouds roiled a mile high and more than 100 miles wide across the Great Plains, visible on the horizon hours before the black blizzards descended on towns and decimated farms.
"It looked like the end of the world," said Cal Crabill of the wall of dust that would plow into his Colorado farm near the Kansas border. "It looked like a mountain range moving toward us."
At age 88, Crabill can recall the taste of grit in his mouth and the constant howl of the wind as if it were yesterday. He also remembers the venom his family encountered when they migrated to California in search of a better life.
This week, Crabill talked about the Dust Bowl and the Depression at an event at George Washington University previewing the new Ken Burns PBS documentary on the topic that will air Nov. 18 and 19.
More than two dozen Dust Bowl survivors tell their stories in the two-part, four-hour film that chronicles the decade-long environmental catastrophe that destroyed Great Plains farmlands and caused thousands to flee to what they hoped would be greener pastures in California.
Documentary filmmaker extraordinaire Burns also participated in the discussion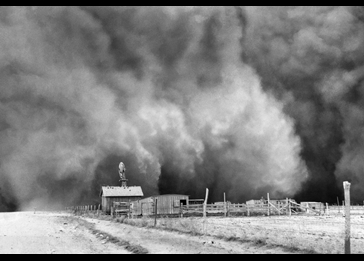 promoting "The Dust Bowl." He said he felt an urgency to capture the survivors' stories because fewer and fewer of those who lived through the worst manmade ecological disaster in American history remain. Already five of those in the film have passed away.
The film premiers, coincidentally, during the worst drought since 1956, and at a time when dust clouds are back in the news. Yesterday, a dust storm closed miles of Oklahoma highway after 16 people were injured in a blinding whirlwind that turned day to night.
While the wholesale destruction of millions of acres of prairie to plant wheat caused the dust storms of the 1930s, better farming practices and thousands of acres turned back to grasslands by the federal government have helped avert another disaster on the scale of the Dust Bowl. But the nexus of warming temperatures and recent drought have raised the specter of a Dust Bowl 2.0 in this century.
"The Dust Bowl" airs during the centennial of folksinger Woody Guthrie's birth, and the Oklahoma native, who died in 1967, figures prominently in the film, singing about the unwelcome "Okies" in California and their deplorable working conditions.
Guthrie was also feted by modern-day troubadours, including Jackson Browne and Roseanne Cash, at a birthday celebration at the Kennedy Center this week. At the end of the 3 ½-hour concert, dozens of musicians gathered on stage to sing Guthrie's most enduring song, "This Land is Your Land."
We can only hope that a new generation will not have to experience that land once again blowing in the wind.
To see a preview of "The Dust Bowl" and read more about the film, visit http://www.pbs.org/kenburns/dustbowl.