Arts
Boxer drama shows real fight is internal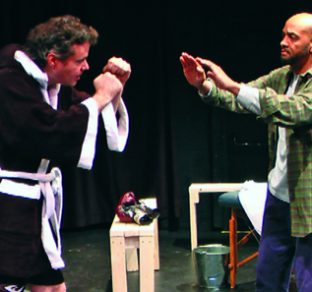 Rod Serling was one of the best writers television has ever had. His keen eye for unique characters and situations, combined with sharp and incisive dialogue, was first put to good use in what is often called the "golden age" of television.
Those were the early years of the medium, the 1950s, when much of the programming was live and featured original, New York-based drama.
Those broadcasts were often produced by and featured top theater talent, adding a literary element that eventually disappeared as production shifted to Los Angeles, and film and videotape became the preferred style of presentation.
Our only records of those live performances are through grainy, low-quality kinescopes (filmed off black-and-white TV monitors). We can see via these flickering relics that sponsors and networks at the time treated their audience like adults. They assumed those watching had healthy attention spans and would sit still for full-length, absorbing stories.
Serling churned out more than 200 television plays over the years. One of the most memorable was Requiem for a Heavyweight, broadcast on the CBS anthology show "Playhouse 90" in 1956.
This look at a washed-up boxer (played by Jack Palance) won him a mantel full of awards, including a Peabody. It is often described as "the best sports drama ever."
Serling later went on to create and write the best episodes of the iconic TV series "The Twilight Zone." That thought-provoking and eerie series can still be found in endless cable TV reruns after half a century, but most of his other work has disappeared into the ether, along with television's golden luster.
On stage in Silver Spring
That's why I jumped at the chance to see the currently running local production of the rarely staged live theater adaptation Serling did of Requiem. I have seen and enjoyed the kinescope of the original TV broadcast, and have a dim memory of the 1962 movie version starring Anthony Quinn.
But it seemed that a stage version might be the best incarnation of all. Serling might have felt freed from any constraints imposed by sponsors, censors, and network and studio suits. Well, the results are mixed.
The Heritage-O'Neill Theatre Company in Silver Spring deserves much credit for taking on the project — part of their mission to revive American classics (concentrating on the work of Eugene O'Neill). But both the script and this production have flaws.
Serling's boxer is Mountain McClintock (Sean Coe), a battered-faced giant from the hills of Tennessee. At one time a contender ("I was almost the heavyweight champion of the world," he says over and over), he's now facing forced medical retirement from the ring, his 14-year career over.
But his long-time manager Maish (Frank Vince) — broke and facing a mobster's looming deadline for money owed — sees further exploitation of the boxer as his only way out. It is as much Maish's story as it is Mountain's, perhaps even more so.
Maish, after all, is more aware of both the choices available and their ramifications than is the punchy fighter. It is Maish's battle with his innate sense of decency and loyalty where the real dramatic tension is found, at least as performed here.
We feel sorry for the boxer, who is ill-equipped for a new career or for life in general. But Maish's soul is up for grabs.
Some weaknesses
It's been reported that Serling never saw his stage version produced. If that's true, it's easy to imagine him paring back some of the material he used to pad out the story, if only he had seen how weakly it plays.
The first act sags in places, burdened with exposition and with the repetition of several points. Director Karey Faulkner's pacing is sometimes lethargic in this act, although the energy does begin to ramp up to more tension-inducing speeds as the play progresses.
Sean Coe does a nice job displaying the boxer's pitiable condition. But it is a low-key, gentle performance, and the occasional flashes of anger are not as frightening as they should be.
Mountain is supposed to be a giant of a man, a loping ape with a wrecked face that is frightening to behold. But Coe is neither a giant nor battered, and he plays it all so gently that so we don't fear the volatility.
When Mountain lets out what should be the primal scream, "I am not a bum," the moment is underplayed, the impact diminished.
Coe sparks to life mostly in scenes with Amy Rauch, who plays Grace Miller — a woman approaching spinsterhood who takes an interest in the fighter. Coe's Mountain, it seems, may be more lover than fighter.
Stronger performances
Vince is more successful in the role of the tormented manager. In Vince's nuanced, dynamic performance, Maish is not the snake we're expecting.
He's not necessarily a bad guy; he may just have to do some bad things to survive. That's even scarier than Mountain's situation because it's something we can all imagine having to face.
Dexter Hamlett turns in high-energy work as Army, Mountain's friend and handler, often keeping the momentum of scenes churning by himself.
Faulkner makes good use of the performance space, moving her 11 actors about efficiently for the multiple scene changes. It's played with just a few props and a neutral background, but the bare bones are less notable as the pacing ratchets up.
The murky, spotty lighting from Benjamin Fan is unfortunate, though. It manages to be both boring and distracting simultaneously, as the actors mill about in pools of dim light.
There is much pleasure to be found in most of Serling's incisive dialogue, and the energetic second act should hold audiences' attention fully.
What we come away with is that it's what happens outside the ring that is brutal. That's where the truly agonizing and suspenseful fight takes place: in a man's heart.
Requiem for a Heavyweight continues through Feb. 19, performed by the Heritage-O'Neill Theatre Company at the Randolph Road Theatre, 4010 Randolph Rd., in Silver Spring, Md.
Performances are Thursdays, Fridays and Saturdays at 8 p.m., with Saturday matinees at 2 p.m. Ticket prices range from $25 to $30, with a $2 to $3 discount for seniors depending on date of show.
For tickets and more information, visit www.theheritagetheatre.org or call (301) 770-9080.