Features
Buying into a 2nd (or 3rd) career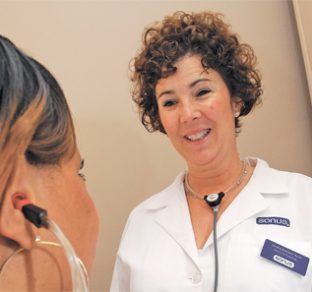 Earl Reed's wide-ranging career took him from flying fighter planes in Vietnam, to setting up a chain of drug stores in Moscow, to advising the Department of Homeland Security on how to prevent nuclear weapon components from entering the country.
But last year, at the age of 67 — a time when some other people might start counting the days until retirement — Reed took his entire nest egg and moved his career in a new direction.
Reed, who in his youth planned to be a physician until he started flying in the military, bought an urgent care franchise called Doctors Express.
"I enjoyed the challenge of my other jobs, but all you had to show for it was a paycheck. I wanted to build something that hopefully will be permanent," Reed said of his new business in Alexandria, Va.
Franchising 101
From Dunkin' Donuts to the UPS Store to Embassy Suites, thousands of companies are franchised. Generally, a franchisee will pay a fee (ranging from about $10,000 to over $500,000 depending on the business) to own a branch of the company in exchange for using the brand and getting help from headquarters with everything from accounting to marketing.
Buying franchises is becoming more popular among those over age 50, said Matt Haller, spokesperson for the International Franchise Association, whose members includes more than 1,100 companies that offer franchises.
"Anecdotally, it's definitely a trend," he said. "A lot of folks are exiting the civilian workforce, who maybe have worked for a corporation for 20 or 30 years, have a nice nest egg, and want to get out of that 9-to-5 grind and get into something new. [Often] married couples decide to go into franchising as a sort of second phase of their career."
Franchises have done better in the recession than other start-up businesses, Haller said. In fact, franchising grew by 40 percent over the last decade versus 24 percent for other businesses, according to Haller. And 90 percent of franchisees renew their contracts.
"The important thing to keep in mind is it's not 'one size fits all,' Haller said. "The same franchisee who would commit to a Subway may not be right for a Marriott or a healthcare franchise. That's one of the great things about it, but also why it's important to do an exhaustive amount of research."
Finding a niche
That's exactly what Reed found. To be sure he made the right decision, he worked with a company that helps buyers select an appropriate franchise opportunity.
Reed knew he didn't want to be involved with franchises selling food. And he couldn't imagine himself in one that did mobile pet grooming.
But when urgent care was mentioned, his eyes lit up.
What caught Reed's attention was the fact that although there were more than 100 doctors' offices near Reed's home, the only choice for injuries or illnesses that needed attention at night or on the weekends was the local emergency room.
"Having spent half my life in the emergency room as my children grew up, knowing it was about a six-hour turnaround, I said, 'Hey, that's exactly what we need here,'" Reed said.
Doctors Express is open 80 hours a week and treats all but life-threatening injuries and illnesses. The average wait time at a Doctor's Express is 15 to 20 minutes, according to company spokesperson Stacey Hilton.
While Reed didn't want to cite an exact figure, it costs between $526,000 and $715,500 to invest in a Doctors Express franchise, according to Hilton.
"This is our retirement plan, if you will," said Reed. "We ended up putting all of our retirement funds into this."
Adding additional pressure to the gamble was the fact that Doctor's Express is a relatively new company, founded in 2005 in Baltimore. There are currently 40 franchises of the company across the country.
Despite the dearth of competitors in his neighborhood, it hasn't been all smooth sailing, Reed said.
The first challenge has been to bring in patients, many of whom aren't familiar with urgent care or don't know that the Alexandria Doctors Express opened in April. And he is also trying to find his way in the labyrinth of insurance reimbursements.
"You lose a lot of sleep in the early stages," Reed admitted.
But he said, "Feeling good about doing something in the community and for the community, that's a win-win for everybody."
Being your own boss
Audiologist Sandra Romano, 50, feels the same way. When the hearing aid company Sonus Hearing converted to a franchise model earlier this year, she decided to buy the office in which she worked, in Arlington, Va.
"I said, 'If I'm here doing all the work, I might as well own the place,'" Romano said.
She likes being her own boss and the fact that Sonus helps her out when she has questions.
"I think the challenges are financial, like the accounting aspect of it. I have my doctorate in audiology. I'm a whiz at hearing tests, hearing aids, patient interaction," Romano said.
"But I really wasn't taught too much business. That's where I'm thankful I have my corporation that supports me. If I need any help in anything, they are there for me."
Romano hired a person to run the front office and hopes to be able to employ another audiologist in the future.
Though she still works in the same office, it feels different being the boss. "It's not just a job any more. I've always done the best I can, of course. But it's not just 'go home and don't think about it.' It's now like a lifestyle," she said.
Sonus franchises cost between $80,000 and $120,000 depending on the size of the office, Romano said.
Making the transition

Jared Fast, like Earl Reed, has also had a multi-faceted career. He owned his own advertising agency for 25 years, but decided he wanted to give back to the community. So he became an art teacher in the D.C. public schools.
One day while he was teaching, his cell phone kept vibrating insistently. He finally excused himself to check his phone and found a two-word text message: "Dad died."
Fast, 61, was faced with the need to help his elderly mother move out of the New York City apartment she had lived in for 56 years with his father.
While in New York, his wife cut an article out of the Daily News about a company called Caring Transitions, which helps older adults downsize and prepare their homes for sale.
Not only was it relevant to the services he needed, but he became intrigued by the company itself. While he loved teaching, Fast felt he had little job security.
So after six months of research he decided to purchase the Montgomery County office of Caring Transitions.
"I felt a deep need inside me to do something meaningful the rest of my life and not just worry about the buck. I wanted to feel like I was contributing and making a difference," he said.
"I felt that way teaching in an inner city school, and I feel it as well in this business — to really be able to contribute, to be able to help seniors and their families, often in dramatic times of need, often under very, very stressful conditions."
The initial franchise fee for Caring Transitions is $31,000 to $37,000, and franchisees generally need additional funds (from $10,000 to $33,000) to get the business off the ground, according to Jennifer Heilman, a Caring Transitions spokesperson.
Like Reed, he has had to find customers and build name recognition. He said that daunting task has been easier because of his background in marketing and demographics — and because he's older.
"Starting all over again at 60 is very different than at 35," said Fast, who lives in Clarksville, Md. "You're smarter, you're wiser, and I think you learn to cut to the chase a lot faster. It's a little bit easier to make certain decisions because you've got a lot of experience."
But the first few months were tough going. "Because you start a business at ground zero, day one means you don't have any business…. So there's a long stretch of time before you get business," he said.
Fast does a lot of networking with groups that work with older adults. He also developed a pool of resources to whom he can refer clients. And he has no regrets about his decision.
"I consider myself blessed to have found a fourth career at this stage in my life and that I'm so excited about going to work," he said.