Features
Centenarians club growing fast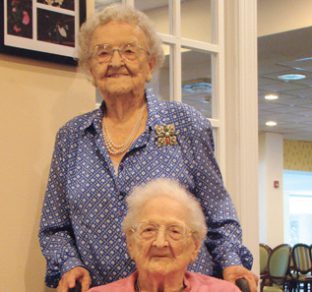 Lois Leyda turns 108 next month, and yet she is only the second-oldest person living in the District of Columbia.
Born in Saskatchewan two years before it became a Canadian province, Leyda's roots in Washington go back almost 70 years, to her job as social director of Washington's Wardman Park Hotel in the 1940s. There, she met political figures like Winston Churchill and Mamie Eisenhower, and helped a shy Bess Truman navigate social functions at the White House.
In 1952, she took a volunteer position with Eisenhower's presidential campaign, and was quickly elevated to assistant press secretary and speech writer, becoming one of only a few women on Eisenhower's staff.
"Working on the Eisenhower campaign was one of the most exciting times of my life," she said in her memoir, recorded three years ago. "It was hard work and long hours, but it was fun, and I gained a thorough education about American politics and our country," she recalled.
Leyda went on to work on the campaigns for Presidents Gerald Ford, Ronald Reagan and George H.W. Bush, not retiring until the age of 87, and even then only because of poor eyesight.
Leyda's memory remained sharp until very recently, and, of course, she's had some memorable life experiences.
She remembers taking one of the first train tours offered through the Canadian West in the 1920s, as well as traveling to Europe as a tour company employee when it was on the cusp of war in 1938 and hearing both Hitler and Mussolini speak.
More reach and pass 100
While Leyda is one of our area's oldest residents, she is only one among hundreds of centenarians living in the Washington region.
The Census Bureau estimates there were 71,991 centenarians in the United States as of Dec. 1, up from 37,306 two decades earlier. While predicting longevity and population growth is difficult, the census' low-end estimate for 2050 is 265,000 centenarians. Its highest projection puts the number at well over a million.
The rising number of centenarians is not just a byproduct of the nation's growing population. They make up a bigger chunk of it. In 1990, about 15 in every 100,000 Americans had reached 100; in 2010, it was more than 23 per 100,000, according to census figures.
In fact, centenarians "have been the fastest-growing segment of our population in terms of age," said Thomas Perls, director of the New England Centenarian Study at Boston University.
Perls said the rise in 100-year-olds can be attributed largely to better medical care and the dramatic drop in childhood mortality rates since the early 1900s.
Centenarians also have good genes on their side, he added, and have made common-sense health decisions, such as not smoking and keeping their weight down. "It's very clearly a combination of genes and environment," Perls said.
According to the Social Security Administration, just under 1 percent of people born in 1910 survived to their 100th birthday. Some have speculated that as many as half of girls born today could live to 100.
Lynn Peters Adler, a former lawyer, founded the National Centenarian Awareness Project (www.adlercentenarians.org) in 1989. The project recognizes active centenarians as role models for the future of aging.
She points out just how much the world has changed since 1903, when Leyda was born: Life expectancy was just 47. Theodore Roosevelt was in his third year of his two-term presidency. Only 8 percent of U.S. homes had telephones and just 14 percent had bathtubs.
In her 22 years of contact with centenarians, Adler has culled some similarities among them. These include a positive but realistic attitude, a love of life and sense of humor, spirituality, courage, and a remarkable ability to accept the losses that come with age but not be stopped by them.
"Centenarians are not quitters," she said.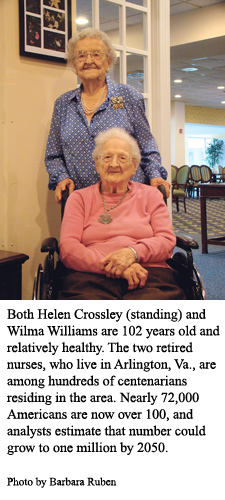 Many are independent, healthy
Both Wilma C. Williams and Helen Crossley will celebrate their 103rd birthdays this summer. They live in Culpepper Garden retirement community in Arlington, Va., and both are retired nurses.
In fact, Crossley, who has lived in the independent living section of Culpepper Garden for 30 years, continued working as a nurse until she was 95, getting paid to care for another resident.
Born in Richmond County in Virginia's northern neck, Crossley began her career as a nurse for the Department of the Interior, working with Seminole Native Americans in North Carolina.
She then became a nurse anesthetist, taking jobs in New York City, Philadelphia and Poughkeepsie, N.Y. before moving to the Washington area.
"I never thought I'd live to be 100. It's just nothing you thought would happen when you were younger," she said.
Crossley said she attributes her longevity to her faith in God. "Really, you don't need anything but faith. That keeps us living," she said.
Unlike Crossley, Williams doesn't have any explanation for how she's lived so long. "I have no idea," she said. "I just take it one day at a time — and there have been a lot days!"
The most important piece of wisdom she has gleaned over the years is that "people should be more tolerant of one another. Families, neighbors, they need to be more tolerant."
Maybe rubbing elbows with presidents helps extend life. Like Leyda, Williams has helped her share. As a nurse for the attending physician of the U.S. Capitol, she counted both Lyndon Johnson and Richard Nixon among her patients, along with numerous members of Congress.
Williams grew up in Cleveland, Ohio, and moved to Maryland for nursing school. She moved to Culpepper Garden when her son died in 2003. His loss is one of the hardest things she's had to deal with, Williams said.
She says she keeps her mind sharp by participating in trivia games. "During the day I'm very active. I think that's an important thing in staying healthy," said Williams, who uses a wheelchair, but said she generally feels pretty healthy.
Crossley, too, said she is in good health. When she started losing weight last year, she insisted it was because nothing tasted good anymore. But her doctor ordered $5,000 worth of tests, which found nothing seriously wrong.
"I told him, 'How come you think I don't know what's going on in there?' It's things like that that drive you to drink. I haven't seen [that doctor] since," she declared with her trademark acerbic humor.
"They always say, what do you contribute to your longevity, and I say 'This lassie took care of her chassis…It's been hooked up to me for 102 years!'"
And she stays active. Crossley points out she still does her own laundry and cooks breakfast each morning.
Looking back
As for Leyda, she lived on her own in an apartment in the District until she moved into Sunrise on Connecticut Avenue, an assisted living community, on her 104th birthday. Shortly thereafter, she recorded her memoirs.
Looking back over her long and interesting life, she said there, "All in all, I feel that I have lived a charmed life. I have to say that so many times in my life, I have just happened to be in the right place at the right time to reap benefits that probably would never have come at another time."
While she noted her hearing and eyesight had deteriorated, and she had lost much of her sense of smell and taste, "I am most proud that I take no prescription medications and still do light exercise," she said.
Unfortunately, her memory began to decline about six months ago, making her unavailable for an interview for this story. While it remains good on some days, on others she is forgetful.
"If you live to be 107 ½ and it doesn't happen until then, you're pretty lucky," said Eleanor Kass, who along with her husband Bob have helped care for Leyda. Eleanor is a geriatric care manager, while Leyda hired Bob as her financial adviser at age 103.
"She seems to thrive on Boost and a little scotch two times a week," Bob quipped.
Like many centenarians, Leyda has outlived just about everyone from her past. She never had children, and her youngest brother died in March — at age 95.
"She told me the hardest thing she's had to deal with was outliving everyone who was important to her," Eleanor said.
Another problem is that Leyda is outliving her money. She may not be able to remain at Sunrise. The Kasses are now trying to raise funds for her and are accepting donations on the Friends of Lois Leyda Facebook page.
"She really is an extraordinary woman," Eleanor said. "We need to have better ways to take care of the very oldest people in our community."
It's a problem that will only grow.
— with additional reporting from the Associated Press