Arts
Ceramics artists like to 'play in the mud'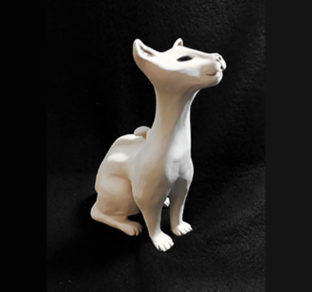 Cat Sculpture by Leigh Partington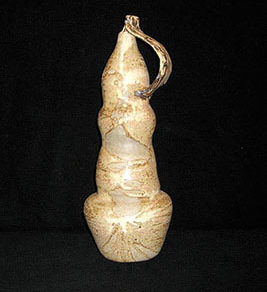 Decorative pot by Barbara Frey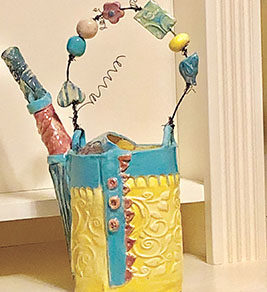 Laila's Whimsical Watering Can by Janet Mazor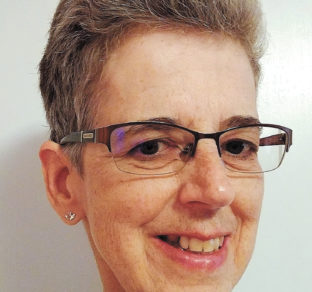 Leigh Partington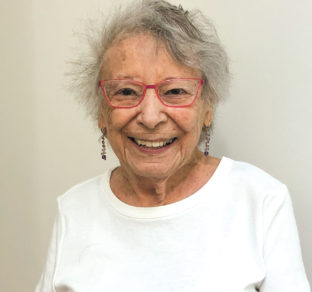 Barbara Frey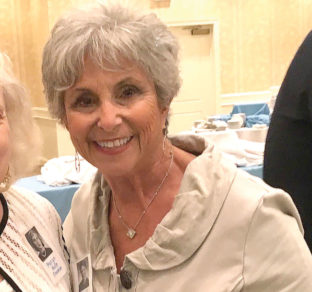 Janet Mazor
To make pottery or ceramic work, artists become very familiar with the concept of transformation.
First they transform a gray lump of clay into a shape — which is easier said than done. Next the work gains color, or glaze. Finally, the work is dried and transformed by heat.
After years of experience, the winners of this year's Ceramics/Pottery category are accustomed to experimenting with clay.
First Place
Leigh Partington
Washington Grove, Md.
Leigh Partington, who attended the Rhode Island School of Design, has a background in illustration and design. But "hand-building and sculpting is my thing," she said.
She first "got into ceramics" at Glen Echo Park, where, on a whim, she took a pottery class. "I said, what the heck — it's for us fuddy-duddies. I wasn't expecting anything."
It was more difficult than she expected, but in a good way. She got hooked.
During the long days of the pandemic, Partington has kept busy by making animals out of clay. "It's one of my saviors with this pandemic. I'm just nonstop," she said.
Partington launched her own art class tutoring business, which she called Playin' in the Mud, more than two decades ago. She has been teaching art classes to children for 25 years, most recently at the Gaithersburg Arts Barn.
"The kids are the ones that sustain me," she said, noting that two of her former students went on to study fine art in college. For kids, "everything is new; everything is amazing."
Her winning porcelain piece, "Cat Sculpture," was one of a series of sculptures of cats and owls. The whimsical piece wasn't based on her two pets, however; she created it spontaneously. "I just made that one up because it's obviously not anatomically correct," she said.
Juror Joan Ulrich chose the work because, she wrote in a juror's statement, "The artist exhibits a deft hand with porcelain, a famously unforgiving clay body. Stance and expression are well considered, the temptation to over-stylize is avoided."
Partington also won an honorable mention for her work titled "Petri Platter."
Second Place
Barbara Frey
Potomac, Md.
Barbara Frey, 85, has had a busy life — and she's still remarkably busy, creating dozens of decorative pots each month.
"In my younger days, I skied in the Rockies, did hot air ballooning, did parasailing and also did open-ocean sailing in the Atlantic Ocean and the Gulf of Mexico in 38-foot sailboats," Frey said in an email. The wife of a brain research scientist, Frey has two children and four grandchildren.
Frey creates pottery from her home in Potomac. She has a fully equipped studio at her house, complete with a motorized wheel, an electric kiln and a pug mill — a machine for mixing and working clay and other materials.
"I'm an artist who throws pots on a wheel and usually alters them. I generally make them out of porcelain," Frey said. "Most of my pots are intended for display."
Frey's winning piece is wheel-thrown stoneware. To make her decorative pots, she first puts clay through a pug mill to achieve the consistency she wants. Then she throws clay on a wheel, a refined skill that takes hours of practice.
She alters and trims the pot when it's partially dry. When the piece is completely dry, she puts it in the kiln. The next day, she glazes the pot and sometimes returns it to the kiln to fire at a higher temperature to get the look she wants.
"Many of the pots I then alter to create unique effects that have occurred to me. That [winning] pot I altered to give it an interesting shape, and glazed it to create an unusual surface pattern and color."
Third Place
Janet Mazor
Baltimore, Md.
Baltimore resident Janet Mazor didn't find her passion until she retired more than 15 years ago and happened to take a pottery course at the JCC.
"I had never done it before and was looking for something to do," she said. "As soon as I walked through the class and made my first piece — which was horrible — I loved it. It's so relaxing. I zone out when I make my pottery. I just really concentrate on it."
Since that first "horrible" snowman piece, her style has evolved over the years. Lately, Mazor has been making woven ceramic bread baskets for friends. She also creates ceramic clocks that keep the time.
Mazor's winning piece, "Laila's Whimsical Watering Can," was based on a decorative watering can she saw in a store. "I put my own twist on it," she said, adding beads and wire.
Her teacher was a tremendous help, Mazor said. "The teacher I had at the JCC is very encouraging, and he will critique for me. He's taught me a lot. When I made this piece, he said, 'I think that's the best piece you've ever made.' It meant a lot."
Ulrich noted that the work required the assembly of many parts, "representing dozens of decisions with attention to color, scale and shape in space," she wrote in her juror's statement.
"When I started this [watering can]. I had no idea what I was doing or if I would even like it," Mazor said. "Sometimes when I make a piece, I start making it and it doesn't come out the way I see it — but I like it better.
"When I won [this] award, I was so happy because it took me a long time to get there."
After 15 years, Mazor still gets excited about each new creation. She urges others to experiment with clay, too.
"My passion is to get a piece of clay in my hand and start working with it," she said. "People should try it. If you're good with your hands, I'd just go for it. Just try it."
Honorable Mention
Leigh Partington, Gaithersburg, Md.