Features
Cerphing with rock's royalty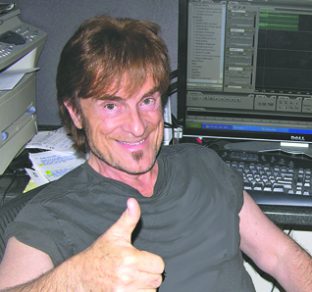 Cerphe Colwell, a former DJ at the legendary independent rock station WHFS and many others in the Washington area, now hosts four daily shows online at Music Planet Radio. His new memoir, Cerphe's Up, recounts his career, and describes many of his interviews with rock stars — from Bruce Springsteen to Jerry Garcia to George Harrison.
Photo courtesy of Cerphe Colwell
One winter night in 1969, Cerphe Colwell hitchhiked up Wisconsin Avenue to the Bethesda office of radio station WHFS to pass the time with his roommate, who was an overnight DJ.
He enjoyed that so much that soon he was a regular visitor, bringing with him armfuls of records by such groups as Buffalo Springfield and Jefferson Airplane, and bantering with his roommate on the air.
A few weeks later, he, too, had a job at the legendary radio station — known for its eclectic rock playlist, not fettered by the usual mandate to play top 40 hits.
"It was a happy accident," he recalled in a recent interview. "WHFS was a community-minded station where the inmates ran the asylum.
"The counterculture fostered the birth of great music, a mosaic of creative drama. And we radio DJs got to satisfy our relentless, inventive impulses by playing whatever we wanted," Colwell recalled of his eight years at the station that launched his 45-year (and counting) radio career.
Colwell, who is 67 and lives in Leesburg, Va. with his wife Susan, recounts his life on and off the air in a new memoir, Cerphe's Up.
Subtitled "A Musical Life with Bruce Springsteen, Little Feat, Frank Zappa, Tom Waits, CSNY and Many More," Colwell recalls the dozens of on-air interviews and backstage visits he has had with rock's biggest stars of the last half century.
Colwell has always gone by his middle name, Cerphe (pronounced "surf"), a family name, and uses only that name as a DJ.
He followed his high school girlfriend from his hometown outside Boston to American University in Washington for college and has never left.
"The D.C. scene, with music clubs like the Cellar Door and Childe Harold, were attracting major acts like Neil Young and Miles Davis, and then also showcasing local musicians like Emmylou Harris, Nils Lofgren and virtuoso guitarists, Danny Gatton and Roy Buchanan. On WHFS I had the opportunity to introduce unknown artists to local audiences and watch them develop," he recalled.
Introducing the Boss
Take Bruce Springsteen in his D.C. debut at the Dupont Circle bar Childe Harold in 1973. Springsteen came onto Colwell's show for an interview, a "bearded and skinny" guy who was "shy and unassuming."
Two years later, Colwell emceed a Springsteen show at Carter Baron Amphitheatre in Rock Creek Park on a rain-soaked night. By 1978, Springsteen was selling out shows at huge arenas, and Colwell was still announcing him.
His favorite interview was with George Harrison. Colwell felt like a fish out of water with his long hair and "hippie jacket" at a Harrison press conference in 1976 with music critics from the Washington Post and Washington Star.
But as he describes in his memoir, "As I talked to one of the suits, I noticed George looking at the tantric yoga button pinned to my jean jacket. He looked at the button, up at me, and back at the button.
"Then something crazy happened. With his eyes fixed on me, he wrapped up the conversation and walked over. He said, 'Hi, would you care to have a cup of tea?'"
"Here was a Beatle asking me if I would like to have tea with him! And it was the Beatle I most closely identified with," Colwell writes.
He's also interviewed numerous other musicians whose stratospheric careers meant their albums were best sellers around the world. They include: Stevie Nicks, Robert Plant, John Prine, Frank Zappa, Bonnie Raitt, the Rolling Stones, Lowell George of Little Feat, Tom Waits, Jerry Garcia of the Grateful Dead and Roger Waters of Pink Floyd. Most of his conversations with them are recounted in Cerphe's Up.
Moving on
But Colwell's career at WHFS came to an abrupt halt in 1977, when the station's owner fired him. The reasons are a little murky, but Colwell says the station owner didn't like the way he was promoting artists on the air. The firing of the popular DJ made headlines in both the Washington Post and Washington Star.
"I felt terrible. It was my first and only job for eight years. Getting fired shook my faith in radio," Colwell said.
WHFS itself went off the air in its rock format in 2005 when it abruptly changed to a Latin music format.
But Colwell went on to spin records at numerous Washington stations. He landed on his feet at WAVA for the next five years, where he helped the station transition from soft rock to a more album-oriented rock format. Listeners have also heard him on DC101, WJFK, WARW and WVRX.
In the last decade or so, the Internet has reshaped the listening landscape. Streaming music from around the globe means that listeners now have seemingly infinite choice at their fingertips if they tire of the same FM music playlists.
Since 2009, Colwell has had an online show, "Cerphe's Progressive Show," at Music Planet Radio that airs in both the mornings and evenings at 7 and 10. He plays lesser-known classic rock tracks as well as new music by favorite artists, such as Paul McCartney, Tom Petty and Bonnie Raitt.
He also tries to mix in some local musicians like Todd Wright, Stilson Greene, Patrick Thornton, Kim Pittinger and Jon Carrol, since his shows, while available worldwide, focus on Washington.
"The songs I play aren't dictated by a corporate music executive a thousand miles away, so it's much like my time at WHFS. I can play and say what I want. It's spontaneous, improvisational and free-wheeling," he said of his online show.
Beyond radio, he helps with fundraising events, such as one for the Juvenile Diabetes Research Foundation. He recently worked with Sting and Paul Simon, raising $1.2 million for the Duke Ellington School of the Arts in Washington. He's also a member of the Global Advisory Committee at Earth Day Network.
Surprisingly clean living
Fans might be surprised to learn that in an industry rife with drugs and hard living, Colwell doesn't imbibe. He's also a vegetarian and meditates.
Between playing soccer when he was younger and having asthma, Colwell said he never had an interest in drugs.
"I think many listeners found me disappointing in person because they had in their mind that I was 'Cerphe, the party guy,'" he said. "I've been this way for over four decades. That's why they call me the Guru of Tofu, Sultan of Soy, Vicar of Vegan, Maharaja of Meatless!"
Colwell said he enjoyed unspooling the years as he recounted his adventures for the book, which he wrote with coauthor Stephen Moore, who plays in the Bethesda, Md., rock cover band the Razors.
The idea for the book took shape during a 2013 reunion with fellow WHFS DJs, which led to the genesis of a documentary film, Feast Your Ears, about the station. The film is still in production.
"I've been very fortunate, and I'm fine with the changes in the radio biz. That super-creative, freeform underground format that was WHFS has pretty much vanished," he said. "Streaming radio and what we do now on MusicPlanetRadio.com is making music more exciting again for the adult audience, the way we felt about it 25 or 30 years ago."
Listen to some of Colwell's interviews with rock musicians at http://talkplanetradio.com/cerphes-audio-vault. Listen to Music Planet Radio at http://musicplanetradio.com, or download its app to your smartphone, free from iTunes or Google Play.
Colwell and Moore will be speaking about and signing Cerphe's Up on Dec. 9 from 6 to 9 p.m. at the Tryst Gallery, 312 E. Market St., Leesburg, Va., and on Jan. 4 at 7 p.m. at Politics and Prose bookstore, 5015 Connecticut Ave. NW, Washington, D.C.