Arts
Cirque du Soleil plays under the big top
Cirque du Soleil will bring its unique blend of music, dance, acrobatics and visual effects to Baltimore when its new traveling show, Totem, sets up under the characteristic blue and yellow big top on April 7 at Westport Waterfront.
The waterfront is located about 2 miles south of the Inner Harbor, along the Middle Branch of the Patapsco River, and is under development. The show runs through April 24.
Totem premiered in April 2010, in Montreal, home of Cirque du Soleil, and has since played in Quebec City, Amsterdam and London. It had its U.S. premiere in Charlotte earlier this month, and will move on to Pittsburgh after it closes here.
One of the company's five big-top shows, Totem traces the journey of the human species from its original amphibian state to its ultimate desire to fly. The characters evolve on a stage that evokes a giant turtle — the symbol of origin for many ancient civilizations.
Inspired by many founding myths, Totem illustrates, through a visual and acrobatic language, the evolutionary progress of species. Somewhere between science and legend, Totem explores the ties that bind humans to other species, our dreams and our potential.
A circus without animals
Totem is made up of 11 acts, with cast members performing with bars, rings, hoops, trapeze, roller skates and more. It's like a circus, but without animals, said Cirque spokesperson Amelie Hamel.
Totem is director Robert Lepage's second Cirque du Soleil show. "Inspired by the foundation narratives of the first peoples, Totem explores the birth and evolution of the world, the relentless curiosity of human beings and their constant desire to excel," he said.
"The word 'totem' suggests that human beings carry in their bodies the full potential of all living species, even the Thunderbird's desire to fly to the top of the totem," Lepage said.
While all Cirque shows are different from one another because they each have different creators, Totem is unique, according to Hamel, because this show is "very realistic and natural."
"Unlike other shows, Totem is not set in a fantasy world," she said, adding that while the production traces human evolution, it is not promoting any philosophy or belief system. Instead it incorporates myths, symbols, signs and dreams to tell the story of mankind.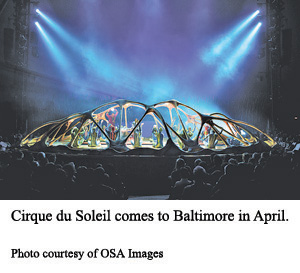 Spectacular visual effects
Another distinguishing characteristic, according to Hamel, is the production's visual effects, which give audience members the distinct sensation of traveling to different worlds, be it in a volcano, under water and so on.
"The main objective is to simply experience the magic…to be amazed and entertained. That is what a Cirque show is all about," she said.
Totem took a team of 12, led by director Lepage, about three years to create. The team worked together on not only the original concept, but details such as make-up, lighting and set design. "It evolves, both creatively and logistically, from these brainstorming sessions," said Hamel.
Cirque du Solei's "raison d'etre," she added, is the creation of shows, to be presented under big tops, in theaters or arenas around the world. Nearly 200 creators have contributed to the 21 shows created since 1984.
Tickets for Totem range from $55 to $190 for adults. Senior discounts of about 9 percent are available for those 65+ for non-peak performances (Sunday to Thursday, and Friday at 4 p.m.). Seniors will be required to provide verification of age through valid I.D. at the time of the show.
Tickets are available online at cirquedusoleil.com/Totem or by phone at 1-800-450-1480. Tickets are also available at the box office at 2001 Kloman St., Baltimore, starting April 6.