Arts
Comedy/drama pits hope vs. resignation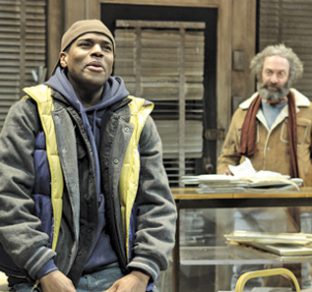 The work of playwright Tracy Letts is subversively complex. And with his latest work, Superior Donuts, now onstage at Studio Theatre, he proves himself stylistically adept, as well.
All of us who thoroughly enjoyed his scathingly witty August: Osage County, the Pulitzer Prize and Tony Award (best play) winner that came to the Kennedy Center last year, might have thought we had a handle on Letts.
But while August: Osage County is an acerbic, at times lacerating, autopsy of a dysfunctional Oklahoma family, Superior Donuts is a much warmer and gentler comedy.
The characters in the new play are just as well-sketched as in the previous work, and the portraits are just as intimate, but the interplay is much more subtle. Superior Donuts may be less flashy, but its characters make an impression that is every bit as striking in this thoughtful and emotionally resonant play.
Arthur Przybyszewski (Richard Cotovsky) is the proprietor of Superior Donuts, a faded shop in an old Chicago neighborhood that may just be starting to turn around after decades of decay. The story opens with a crime: Somebody has broken into the shop and vandalized it.
But Arthur shrugs off the invasion, barely expressing any reaction. He's a sixtyish hippie, still sporting an unkempt and graying ponytail and beard, and he seems either content or resigned to drift along in a quiet existence.
A man of shambling routine, he minimally runs the shop he inherited from his immigrant father, his neglect allowing the business to crumble and go stale even as a Starbucks opens up in the neighborhood.
More than a sit-com
A burst of new energy soon comes through the front door in the form of 21-year-old Franco Wicks (Johnny Ramey). Franco needs a job and he talks Arthur into hiring him.
Soon, he is pestering the older man about fixing up the place and expanding its offerings. It's a seemingly formulaic, sitcom-style pairing: the crusty, old man, set in his declining ways, and the young, brash and street-wise protégé.
And, indeed, much of the dialogue does have the rhythm and bounce of a sitcom, the rat-a-tat of set-up and punch line. But under the gentle direction of Serge Seiden, Cotovsky and Ramey minimize the Chico and the Man composition and concentrate, instead, on larger issues.
The pair always seem on guard with each other as they circle around the gap between the idealism of youth and the resignation of experience.
But Letts has layered in more complexity than seems apparent at first, and Studio's excellent cast exploits it fully. By the time the lights come up, the gaps between old and young, black and white, are mere doors leading to richer themes.
The effort is considerably enhanced by the fine work of Cotovsky and Ramey, as well as the seven supporting players who help populate this scruffy Chicago nook. There is sincerity and muted empathy between the two leads, following a period of mutual testing and emotional reserve.
Actor inspired his character
If the role of Arthur seems perfect for Cotovsky, it may be because playwright Letts has said the actor, who understudied the role in the original production at Chicago's Steppenwolf Theatre, was an inspiration for the character.
Cotovsky brilliantly displays Arthur's ironic awareness of his marginal life, his eyes occasionally flickering with what may be embarrassment.
Looking like a slimmer Jerry Garcia, Cotovsky perfectly captures the aura of a faded romantic, a man whose bright ideals about changing the world have washed out by late middle age into gray inertia.
Ramey plays Franco with jaunty charisma, his strong personality like fresh air entering a mausoleum. His energy is an important element in the play's success, especially in act one, which is not as tightly constructed as one might like. It shambles along with a number of subplots introduced until one begins to fear a lack of focus.
But Ramey's vigor finally shakes things up, and an element of danger is introduced late in the act, concentrating the story and our attention.
Act two moves along with a higher level of dramatic intensity until a rather contrived bit of theatrical plotting shakes Arthur out of his lethargy and puts his dormant romantic ideals to the test.
Seiden's low-key direction maintains a focus on character, and each of the shop's visitors is given the time and space to make an impression.
Gregor Paslawsky is particularly notable as Max Tarasov, the Russian-immigrant owner of next door's DVD store, who wants to buy the donut place and expand his business in it. Tarasov embodies the new life an immigrant (like Arthur's own father) can bring to the American dream, as he seeks to capitalize on a projected turn-around in the shabby neighborhood. Like many in the supporting cast, Paslawsky walks a line between comedy and drama to pleasing effect.
There is a definite Chicago ambiance here. Gil Thompson's evocative sound design smoothes over each scene transition with the sound of a Windy City el train passing by.
But while the set-up seems like something from Chicago's David Mamet, Letts has a softer, subtler edge to his work here. There is a glimmer of hope in the bleak place.
Arthur may say he now thinks that dreams are dangerous, that life is a "derailment," but in the end, it seems that there is a clash between hope and hopelessness in the shop called Superior Donuts. Guess which one wins.
Superior Donuts continues through at least Dec. 19 at Studio Theatre's Metheny Theatre, located at 1501 14th St., N.W., Washington, DC. Evening performances: Wednesday through Saturday at 8 p.m. and Sunday at 7 p.m. Matinees: Saturday and Sunday at 2 p.m. There are also Tuesday performances Dec. 7 and 14 at 8 p.m
Ticket prices are $44 to $65, with a $5 discount for those 62+ and military personnel (except for the Saturday evening performances). For tickets, call (202) 332-3300. (V/TTY: 202-667-8436). For further information, visit www.studiotheatre.org.
Michael Toscano is the Beacon's theatre critic.