Housing
Communities feature fur, fins and feathers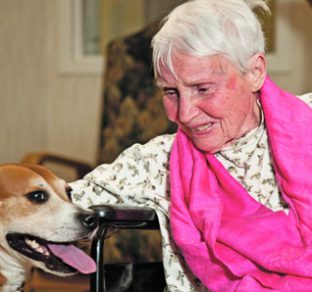 Through the nonprofit Pets on Wheels program, volunteers bring therapy dogs — dogs that enjoy human contact and have been trained to be at ease in all situations — to interact with residents of hospitals, nursing homes, schools, retirement communities and more.
"My stress and anxiety just disappear when I'm playing with one of the dogs," said Linda Schoene, a 73-year-old resident of Weinberg House, an independent living apartment community in Pikesville that welcomes Pets on Wheels.
"People tell me my eyes brighten and I smile more when I'm with the dogs. I can't explain how much they do for me," Schoene said.
The program is especially valuable to her since her beloved dog, Prince, died recently at the age of 14. Schoene said she misses him every day. "He was loving, giving and forgiving."
Prince not only gave Schoene "unconditional love," but helped her socialize more with the other residents and become more active, as she walked him three to four times a day.
The beneficial relationship between older adults and animals is so well known that more and more senior residences — from independent apartments to continuing care retirement communities (CCRCs) to nursing homes — have some kind of pet program in place.
Every Sunrise Senior Living community, for example, has a resident cat and dog. At Sunrise of Pikesville, Janie, the residential pooch, lives in the assisted living neighborhood, while kitty Max lives in the memory care neighborhood, according to Kate Skelton, activities and volunteer coordinator.
"Both are wonderful companions and bring smiles to all the residents' faces," said Skelton.
The community also has a pet therapy program come to the community twice a month. Speaking of a particular dog that visits, one resident said, "I eagerly await his monthly arrival, and it helps brighten my day. I always have treats in my pocket waiting for him."
Physical and emotional benefits
According to the American Animal Hospital Association, meeting, walking, playing with, and even cleaning up after a pet gives us a sense of purpose and keeps us active.
Talking to or cuddling a pet has also been shown to ease chronic pain from arthritis and migraines, and to increase brain activity, which helps prevent or ease the effects of depression.
The Centers for Disease Control and Prevention report that pet companionship can even help lower cholesterol and triglyceride levels and encourage healthier heart rates. Pets also protect against isolation and provide older adults with more opportunities for socialization.
At pet-friendly Oak Crest, a continuing care community in Parkville, residents are allowed to have dogs of any size, as long as common sense rules of ownership are followed, e.g., cleaning up after them, not walking them through the clubhouse areas, etc. The senior living community provides ample space for residents to walk their dogs along the community's loop road and nature trail.
Oak Crest also celebrates its pets. Later this year, the community will host its 5th Canine Cup, an annual dog show, with categories such as Best in Show, Best Costume and Best Trick, with prizes and celebrity judges. And its Pastoral Ministries department hosts a blessing of the pets each October.
"Pets provide unconditional love and affection, which can help ease the losses [a person] is going through, whether it is loss of a loved one, loss of functioning, or loss of roles," said Catherine Cohen, Oak Crest's director of resident life. "Even visiting pets can have added benefits to those who live here. It is not just those who own pets who have benefits."
At Levindale Hebrew Geriatric Center and Hospital, pets are all about "motivation, companionship and compassion," said John Ottena, manager of therapeutic recreation.
There are resident cats, birds and fish. At the moment, there are no live-in dogs, though visitors are encouraged to bring their own dogs to visit as long as the animal has a form signed by a veterinarian and has passed a temperament test.
Part of a larger care trend
The animals are part of the "Eden Alternative" philosophy being adopted by a growing number of senior residences and long-term care facilities, including Levindale.
The nonprofit Eden Alternative organization is part of a movement toward "culture change" in caregiving settings. It promotes efforts — including close and continuing contact with plants, animals and children — to enhance well-being and eliminate feelings of loneliness, helplessness and boredom among both residents and workers.
At Levindale, the residents, patients and staff members on each hall decide which pet they would like to live with them. Together, the group considers factors such as who will feed, clean up after and walk the animals.
The animals brighten everyone's days because many people grow up with animals and miss them when they aren't around. "The residents just light up when they see the animals," said Ottena, observing that the animals are especially soothing to patients with dementia.
Ottena, who used to bring his own dog to work, enjoyed seeing how excited the residents were. It went both ways: "He never wanted to be in my office," Ottena said of his dog. "He just wanted to go visit everyone…That might have had something to do with all the treats he got! All in all, it was a win-win for everyone."
If you have a pet, or love pets, be sure to ask about the pet policy of any senior living communities you are considering moving to.
For more information about Pets on Wheels, including how to volunteer, contact Cathy Mazzotta, central Maryland coordinator, at (410) 294-8501 or visit www.petsonwheels.org.
For more information about the Eden Alternative, see www.edenalt.org.