Housing
Communities that provide memory care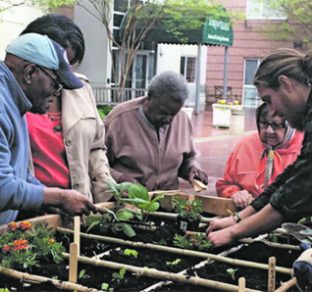 Residents of the memory care community at The Atrium in Owings Mills tend to their new outdoor garden together.
Photo courtesy of The Atrium
As our population continues to age, the demand for housing for residents with serious memory issues or dementia is growing, and with it, an emphasis on making such communities more welcoming and home-like for residents and family alike.
"We want our residents and their loved ones to know that they are not forgotten," said Amber Knab, of Symphony Manor in Baltimore.
Memory care is a type of long-term skilled nursing specifically geared to patients with Alzheimer's disease, dementia and other types of memory problems. Memory care units usually provide 24-hour supervised care within a separate wing or floor of an assisted living or nursing home setting.
Residents may live in semi-private apartments or private rooms, and have structured activities that are designed specifically for those with memory impairment.
Because memory care requires specially trained staff and a larger staff-to-resident ratio, monthly fees are usually higher than in other residential communities. Costs may vary, depending on such factors as level of care needed, size of room, whether a room is private or semi-private, and geographical location of the community.
A new report by the senior housing referral service A Place for Mom found that the average monthly cost for a memory care facility is $6,033 in Maryland, compared with $4,757 for assisted living.
In general, memory care offers 24-hour supervised care with meals, activities and health management for residents. The basic services usually offered include:
• Private or semi-private rooms
• Daily meals
• Housekeeping and laundry service
• Medication management
• Exercise and physical therapy programs
• Social programs and activities
• 24-hour staffing and personal assistance
Among the options for residential memory care in Baltimore are the following four communities:
Atrium Village
4730 Atrium Ct.
Owings Mills, MD 21117
(410) 504-6442
www.seniorlifestyle.com/property/atrium-village
Atrium Village offers several levels of care, from independent living, to care for those with Alzheimer's and other dementias. Memory care offers private rooms, studio and one-bedroom apartments, as well as companion suites.
The memory care community is divided into "neighborhoods." Within these neighborhoods, residents have access to common areas and exterior courtyards while accompanied by staff. The Walk With Me program helps ease transition for residents with memory loss by connecting each family with a care partner.
To ensure safety and a high level of care, Atrium Village uses a monitoring, tracking and reporting system called QuietCare technology. When new residents move, they are introduced to the QuietCare system, which will track and report certain living patterns, thereby giving both clinical staff and families the ability to make sure residents are receiving the care they need.
For instance, monitors can see if a resident has fallen, or if they make frequent trips to the bathroom, which could indicate a problem.
Peregrine's Landing at Tudor Heights
7218 Park Heights Ave.
Baltimore, MD 21208
(410) 318-8000
www.peregrineseniorliving.com
Peregrine's Landing at Tudor Heights is part of Peregrine Senior Living, whose philosophy is dedicated to providing assisted living and memory care in a less institutional environment. It is built around three fundamental principles: a commitment to a renewal of the individual growth process, a deepening of the spiritual experience, and the furthering of one's intellectual pursuits, recognizing the value of lifelong learning.
"Our objective is that every resident is treated with dignity, respect and freedom," said administrator Sherri Zaslow. "We're not an institution….We're just another house in the neighborhood, and we're an integral part of Pikesville."
Amenities and services include:
• Private suites with private bath. Double suites can accommodate couples.
• Restaurant-style service with three well-balanced meals served daily, featuring a variety of menu choices; Peregrine's Landing is the only kosher Jewish memory care facility in Baltimore.
• Weekly housekeeping and daily trash removal
• Weekly personal laundry and linens (except dry cleaning)
• Social, spiritual, educational and recreational programs daily, many of which integrate the surrounding neighborhood
• Scheduled group transportation to appointments, social events and cultural programs
• Concierge service
• Trained staff available 24-hours a day
• In-house medical services that include a physician, podiatrist, psychiatrist and nurse practitioner.
• Physical, occupational and speech therapy
• Medication management and continence management
• Assistance with all activities of daily living
• Support groups for caregivers
Symphony Manor
4301 Roland Ave.
Baltimore, MD 21210
(410) 415-9020
www.symphony-manor.com
Symphony Manor caters to early-onset memory-impaired residents. Symphony Manor is part of Compass Pointe Healthcare, and is one of the organization's Beacon Place Memory Care communities [no connection to the Beacon newspapers].
Among the features of the specially designed environment are: supportive paint colors and accent walls to help create way-finding points, memory stations designed to promote independent purposeful engagement, low-glare residential style flooring to reduce visual disturbance, and personal memory boxes to help residents find their way around the facility.
The Beacon Place program focuses on five aspects of life to address the needs of the residents, caregivers and families within the community. These include physical wellness, social well-being, spirituality, supportive community and engagement. For those who aren't ready for a residential facility, Symphony Manor also offers a drop-in social club.
"We make sure our residents are actively engaged in their daily lives," said Knab.
Symphony Manor's Memory Care Program includes:
• Private studio apartments
• Personalized care services
• Special memory care programming
• Life enrichment activities
• Weekly housekeeping and linen services
• Three nutritious meals per day and snacks
• All utilities (except phone and cable)
• 24-hour access to caregivers
Woodholme Gardens
1700 Woodholme Ave.
Pikesville, MD 21208
(410) 415-9022
www.woodholmegardens.com
Woodholme Gardens is another Beacon Place Memory Care community that features home-like common spaces, individual care plans and purposeful engagement activities.
"Every resident has a personalized care plan," said Steven Gale, sales and marketing director. The residents are also involved in planning the various activities available, from trips to entertainment to visiting speakers. "This is a very empowering environment," Gale said.
Woodholme Gardens features amenities similar to those at Symphony Manor, including private studio apartments, personalized care services, special memory care programming, life enrichment activities like gardening, and 24-hour access to caregivers.
Prices start at $3,910 and go up to $6,800, depending on level of care.