Arts
Conference explores music's effect on brain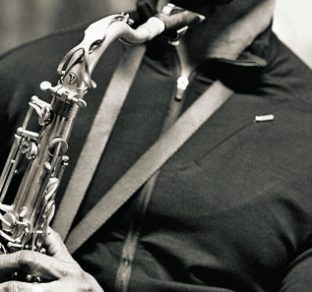 Saxophonist Gary Thomas, chair of jazz studies at the Peabody Institute, will perform at the school's conference, "Music, Mind, Meaning," on Jan 30 and 31.
Photo courtesy of Baltimore Reads
Most of us enjoy listening to music. But did you know that what is a pleasurable pastime — whether you're listening to Bach or Bieber — can also be a boon to our brains? The Peabody Institute of the Johns Hopkins University is going to explore just that topic at a two-day international conference on Thursday and Friday, Jan.30-31.
Open to the public, "Music, Mind, Meaning" will feature both lectures and performances, including a special duo performance by Grammy-nominated jazz pianist Vijay Iyer and tenor saxophonist Gary Thomas, chair of jazz studies at Peabody, as well as a keynote address by David Huron, distinguished professor of arts and humanities at Ohio State University and author of Sweet Anticipation: Music and the Psychology of Expectation.
Other lectures will be offered by music cognition scientists Aniruddh Patel, author of Music, Language and the Brain, and Isabelle Peretz, founding co-director of the International Laboratory for Brain, Music and Sound Research. Additional speakers will include Charles Limb, associate professor at the Johns Hopkins School of Medicine and a faculty member at Peabody Conservatory.
The closing performance will be given by experimental electronic music duo Matmos.
According to Susan Weiss, Peabody chair of musicology, the conference will explore the relationship between music and science by examining issues of expectation, creativity, evolution, culture, language, emotion and memory through the lenses of cognitive psychology, musicology and auditory neuroscience.
"There are so many connections between music and medicine," said Weiss, who was inspired to organize this conference by a similar one she attended several years ago at Yale University.
"Music not only brings us pleasure," she went on to say, "but also helps enhance the parts of our brain that are working, compensating for — in the case of stroke victims, for example — parts of the brain that are not."
Music and memory
Music also aids in learning, and has been found to be especially helpful for students with learning disabilities. While memorizing a two-page poem, for example, might be difficult for almost anyone, memorizing two pages of song lyrics is easy, said Clay Kaufman, head of the Siena School in Silver Spring, which teaches college-bound students with language-based learning differences. "The music helps us all remember the words," he explained.
"So rather than simply memorizing the quadratic formula in math, by singing it to the tune of "Pop Goes the Weasel," it becomes easy to remember." (If you don't need to know the quadratic formula anymore, try singing that phone number you want to remember.)
Listening and playing music can benefit our memory and our cognitive abilities, said Weiss, a claim that has been anecdotal in the past but is now garnering research support.
Recent studies have shown, for example, that patients listening to music before surgery had lower anxiety levels, and that areas of the brain involved in movement, attention, planning and memory consistently showed activity when study participants listened to music.
Can music inspire medication?
On the research horizon are explorations of which chemicals in the brain are stimulated in listening to and performing music, and in which parts of the brain they are active (neurochemicals can have different functions depending on which area of the brain they are associated with).
Researchers hope that studying the effect of music on the brain may give a greater understanding of neurological and psychiatric illnesses and give rise to new and more effective therapies.
The Peabody conference is being supported by a grant from Hopkins' Brain Science Institute, whose mission is to solve fundamental questions about brain development and function and use these insights to understand the mechanisms of brain disease.
"The study of music and the brain is a new field of research, but it's one that's growing in importance," said Weiss.
All conference events will take place in the George Peabody Library and Leith Symington Griswold Hall on the Peabody campus. There is a conference registration fee of $100. For more information, visit www.mmmbaltimore2014.org.