Arts
Contemporary black women artists showcased
Reflections of family traditions and African heritage are explored in the works of eight black women artists being showcased in the special exhibition, "Material Girls: Contemporary Black Women Artists," on view at the Reginald F. Lewis Museum through Oct. 16.
Thirty-eight three-dimensional works of art celebrate the traditions of skill, innovation and creativity practiced by black women, both past and present.
"Material Girls" is curated by Dr. Michelle Joan Wilkinson, the Museum's Director of Collections and Exhibitions, and explores the artists' use of different media, from the traditional — such as wood, clay, paper and glass — to the unconventional — including rubber tires, plastic bags, model cars and human hair.
The works range from intimate, handcrafted beadwork to monumental-sized sculptures constructed of industrial materials and weighing more than 1,000 pounds.
"The caliber and creativity of these artists is astounding," said Wilkinson. "Their sculptural works have a highly sensory appeal, ranging from the gleaming visual surfaces of hand-blown glass to the coarse textures of volcanic stone."
Area artists in exhibit
Among the artists are several with regional connections. One of the most well-known artists living and working in Baltimore today, Joyce J. Scott is a sculptor, jeweler, printmaker, installation artist, performance artist and educator.
She draws on influences as wide-ranging as her media: from African and Native American traditions, to popular
culture and racial stereotypes.
Maya Freelon Asante's work has been exhibited internationally and is included in the collections of the Reginald F. Lewis Museum and the U.S. State Department. "African-American traditions of creative ingenuity are a constant source of inspiration in my work," said Asante.
Renée Stout grew up in Pittsburgh and in 1985 moved to Washington, where she began to explore the roots of her African American heritage. She looks to the culture and belief systems of African peoples and their descendants for the inspiration to create works that encourage self-examination, self-empowerment and self-healing.
For Maren Hassinger, "sculpture has become a way of orienting myself to the world." Hassinger, a native of Los Angeles, is currently director of the Rinehard School of Sculpture at the Maryland Institute College of Art in Baltimore.
In her most well-known works, Hassinger sculpturally transforms industrial materials, such as wire cable, newspaper and plastic bags, into natural objects resembling trees and bushes.
Martha Jackson Jarvis has been a professional artist for more than three decades. She works with natural materials, including clay, glass, wood and stone ("If materials could talk, what would they say?").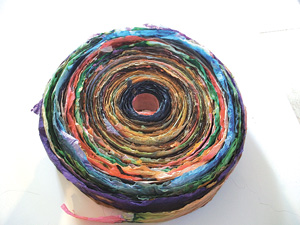 Family inspirations
Many of the artists in "Material Girls" were inspired at an early age from seeing their mothers and other family members sewing, quilting and shaping simple pieces of fabric into items both functional and visually impressive.
Textile traditions are visible in works by Asante, who unites fragments of tissue paper in sculptures reminiscent of her grandmother's quilts, while Sonya Clark, who learned to thread a needle from her maternal grandmother, creates sculptural works patterned to resemble West African kente cloth.
Family relationships also play into the artists' work, as they celebrate their ancestral connections to Africa. Scott, Stout and Jarvis, for example, create objects with spiritual and ritual functions, while Asante, Booker and Clark incorporate seeds, stones, clay and glass into sculptures and installations that reference rituals practiced in Central Africa and the American South.
The Reginald F. Lewis Museum is located near Baltimore's Inner Harbor at 830 E. Pratt St. The museum is also accessible on Baltimore's Charm City Circulator Orange and Green Routes. The museum is open Wednesday to Saturday 10 a.m. to 5 p.m., Sunday, noon to 5 p.m., and Thursday (June to August), until 8 p.m.
Admission is free for members, children 6 and under, and Maryland public school teachers; $8 for general admission; $6 for those 65 and older or between the ages of 7 and 17.
For more information, call (443) 263-1800 or visit https://www.lewismuseum.org.