Housing
Cottages bring caregiving to the backyard
Virginia minister Ken Dupin heard the worries over and over again from parishioners. There were older church members wondering how they could remain independent when their daily living needs increased with age, and younger members concerned about frail loved ones living on their own.
So he envisioned a high-tech, fully-furnished diminutive modular home that could be placed in a caregiver's backyard for an aging loved one. After years of planning and work with innovative thinkers at Virginia Tech University, the first 12 by 25-foot prefab MedCottage was unveiled in May.
Protects residents and privacy
The MedCottage features three distinct spaces: A kitchen — with a small refrigerator, microwave, washer-dryer combination and medication dispenser; a bedroom — with what the company terms "an attractive hospital-caliber bed" and additional accommodation for a caregiver's visit, and a wheelchair-accessible bathroom.
The standard cottage features innovative flooring designed to absorb about 40 percent of the impact from a fall. A video system can be placed to monitor the floor at ankle level permitting privacy for the resident, but allowing the caregiver to see if their loved one has fallen.
The MedCottage also includes a "virtual companion" computer that reminds the resident when it's time to take medications and reports to the caregiver's cell phone or computer if a dosage is missed.
Additional customized features can be added as needed, including a lift to transport a patient from bed to bathroom, and a high-tech toilet that measures and analyzes urine.
Dupin, 56, formerly led a congregation in Falls Church, Va. He is now pastor of Salem Wesleyan Church in Salem, Va.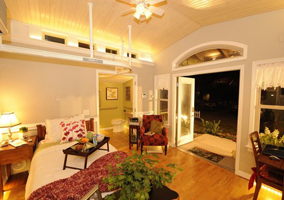 He developed the MedCottage concept after spending years abroad on humanitarian missions and more recently while working toward a doctorate in international business development that included courses at schools in Paris and Tokyo.
"I was struck how other cultures in the world were taking care of their elderly relatives within their own families," Dupin recalled. "We used to do that in this country, too, but we have moved away from that."
During visits to congregation members over the years, he noted, "I have seen first-hand how people fear the isolation that comes with growing older. All of my energy comes out of that reality. My passion is to keep the family involved as its members age, especially if they need medical assistance.
"The MedCottage is not designed to do away with any of the existing eldercare industries, but to offer another option," he said.
The company, N2Care, with Dupin as CEO, was formed to produce and market the MedCottage. Based in Salem, Va., N2Care has helped pass a Virginia state law to ease the zoning requirements for placing a MedCottage in a yard. It has also opened several distributorships in Virginia.
Maryland is on the short list for future distribution centers as well, but right now the closest one to the Baltimore area is the MedCare Systems distributorship that Chris Cummins recently opened in Mechanicsville, north of Richmond, Va.
Will be for rent or sale
While there isn't an official cost for the MedCottage yet, Cummins said the latest estimates indicate the MedCottage could be marketed in the neighborhood of $85,000 as a sale with a buy back option, or leased monthly for around $1,600. But he cautions that nothing is set in stone yet.
"There are just so many considerations — utilities hookup with the main house, the character of the terrain at the location," he said. "That's why we plan to send our eldercare advisers to check out not only the health needs of the applicant, but the physical requirements of the proposed site as well."
Cummins has been active for many years in the assisted living field. He is executive vice president of Haven Assisted Living, Inc., with 14 licensed facilities in central Virginia, and serves on the board of directors of the Virginia Assisted Living Association.
Initially there will be a "controlled release" of 10 cottages near the manufacturing headquarters in Virginia, Cummins said, so that technicians can quickly assess and complete any adjustments needed by the cottage users.
However, the cottage still remains very much a work in progress. N2Care is now discussing the possibility of a similar unit without all the medical equipment.
There is also talk of adapting the basic design of the unit to fit in a garage rather than requiring yard space, accommodating families who have smaller yards or live in jurisdictions where zoning laws regulate additional structures on a property.
Veterans groups, hospice organizations and nursing homes are showing interest in adapting the concept to their constituents as well, perhaps creating MedCottage mini-villages, with several units linked electronically to a central care supervisor.
"Everyone needs their own space and privacy," N2Care Director of Operations Susan Conn said. "With the cottage, family can get together for meals and happy times. And then have their separate lives so the cottager doesn't have to witness or get involved in parent/kids arguments," she added with a laugh.
For more information on the MedCottage, visit www.medcottage.com or call 1- 888-797-5818.
MedCare Systems, which sells the cottages, can be reached at (804) 516-3291 or www.medcaresystemsva.com.