Features
Crafts knit enthusiasts together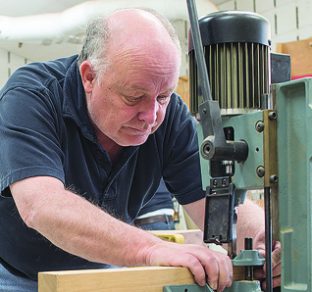 In addition to selling yarn, Woolworks offers knitting classes, and invites customers to hang out at the store to knit and converse with their fellow enthusiasts.
Photo courtesy of Amy Legg
Grandmas have long been associated with knitting, but it's more than doting grannies who are part of the craft movement that has been sweeping the country in recent years.
From teens, to millennials, to — yes — grandmothers, do-it-yourselfers are re-discovering, or in some cases, discovering for the first time, the satisfaction of making by hand something that is both beautiful and functional.
The arts and crafts market first saw an uptick in popularity during the Great Recession of 2008, as consumers sought ways to cut spending during the plummeting economy. But even as the economy has gradually improved, the popularity of arts and crafts has remained steady.
A driving force for the growth in do-it-yourself crafts is the number of online communities that are now available to inspire crafters as well as to teach them new techniques, according to Dana Macke, lifestyles and leisure analyst for the market research firm Mintel.
Social networking platforms like Pinterest and Instagram, and online retail sites like Etsy, have increased the awareness of crafting — whether it's knitting, jewelry-making, quilting or carpentry, to name just a few.
Bricks-and-mortar specialty craft chains, such as Michael's and Jo-Ann Fabrics, have also added store locations in response to the enthusiasm of their customers. And while many crafters sell their wares online, enthusiasts, not professionals, are the largest segment of the arts and crafts market, according to Macke.
Knitting appeals to all ages
Barbara Steinhardt is one of those enthusiasts. The 78-year-old Pikesville resident is a regular customer of Woolworks, a cozy yarn-filled shop on Falls Road.
"I live here," Steinhardt laughed, adding that she visits the store once or twice a week. "It doesn't matter what level of knitter you are or what age you are," she said. "It's the friendliest place, and you meet so many different people.
Steinhardt, who knits for her grandchildren and daughters-in-law, and prefers working with lightweight yarn for a lacy effect, sometimes visits the store just to "sit and knit." There's also a Friday morning "knit and nosh," and monthly "knit-a-longs," with a theme that all participants work on. There are individual and group classes available as well.
"Knitters don't come here for a quick in-and-out visit," said co-owner Amy Legg, who's 57 and recalls that, as a fine arts major in college, she was "always making something."
"Visitors to the shop are looking at samples, deciding on a project, and getting advice," said Legg of Woolworks' loyal clientele. "It's an interactive community of like-minded people.
"We're definitely a retail store," Legg continued, "but we provide a lot of opportunities to be with other people who all enjoy doing the same thing."
Legg said Woolworks' customers range from pre-teens to 90-year-olds, though most fall in the 40 to 70 age range. And contrary to popular belief, they're not all women either.
Needle arts in general — from knitting and crocheting to sewing, embroidery and quilting — are enjoying the spotlight these days for a number of reasons, from fashion designers using yarn in new ways, to the critically acclaimed documentary Yarn, to exhibits such as the New York Museum of Arts and Design's exhibit of a crocheted coral reef. In January, Vogue Knitting magazine will hold a live symposium in Times Square that is expected to draw 8,000 enthusiastic knitters.
"Knitting offers so much potential," said Legg. "It's a creative endeavor that has a wide appeal to both newcomers and those — like Barbara Steinhardt, who began knitting at the age of 15 — with a lifetime of experience."
Working with wood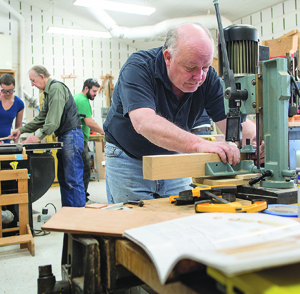 Tom Castonguay, with the Howard County Woodworkers Guild, works on a project at the Bain Senior Center in Columbia. Do-it-yourself projects and crafts, including knitting and pottery, are enjoying a resurgence. The area offers numerous opportunities to try your hand at one or more.
Photo by Christopher Myers
Men have been getting into the crafting movement in a big way too. The Howard County Woodworkers Guild, for example, has seen its membership jump from around 70 members eight years ago to 198 at the moment.
The majority of members are men, according to Guild president Rick Munzer, 63, who lives in Glenelg. Munzer was a carpenter when he was younger but is now a civil engineer.
He joined the organization about 16 years ago and has been president for the last eight. It was his wife who suggested he get involved with woodworking.
"I bought one tool, then another, then another…every saw you can think of," he chuckled.
The Guild's members range from novices who start out with simple projects, such as jewelry boxes or cutting boards, to expert craftsmen who design and build large pieces of furniture and exhibit at craft shows throughout the country.
The Guild meets the first Saturday of every month in Columbia for a show-and-tell of members' projects, a demonstration by a guest speaker, and Guild business.
The members also exhibit at the annual Timonium Woodworking Show, this year being held Jan. 6 to 8 at the Timonium Fairgrounds.
While most of the Guild members work in their home shops, there is a workshop at the Florence Bain Senior Center in Howard County where the men can work on their projects and get advice from others.
"We help each other out," said Munzer. "There's something really satisfying about being able to make something beautiful out of a simple piece of wood."
Getting their hands dirty
At Charlestown retirement community, a resident-run pottery group finds crafts are not only a productive creative outlet, but also a great way to socialize and stay connected with friends.
Eugenia High, a former social worker, had never made pottery before she moved to Charlestown two years ago. But that didn't stop her from signing up for an eight-week course through Baltimore County Community College, where she learned how to mold and shape clay into beautiful works of art.
"At the end of the course, some of us wanted to continue on," said High. "A small group of us still get together once a week. We make plates, ornaments, jewelry — all kinds of things — by hand. Some people are serious about their work and even sell the items they make. I really just do it for the fun of it."
Sondra Tucker, the group's facilitator, learned the art of pottery-making a few years ago from fellow Charlestown resident and retired high school art teacher Stephanie Weiss. Now, Tucker shares the practices she learned from Weiss in the community's art studio every Wednesday morning.
"Everyone does her own thing," said Tucker. "I give tips and suggestions, but most people are being creative in their own way."
There are two methods of making pottery — hand-built and wheel-thrown. Hand-built pottery, the method of choice for Tucker and the Charlestown pottery group, uses three different techniques: the pinch pot method, which uses your thumb and forefinger to thin and mold the clay; the coil method, which rolls clay into thin ropes to be used as a base or rim; and the slab method, in which a rolling pin is used to flatten the clay, similar to rolling out a pie crust.
"I really enjoy the creativity of [potting] and getting my hands in the clay," said Tucker. "I've done mostly plates for the last few months, but I also do plaques, sculptures and vases.
"Some of the things I make I give away as gifts, some things I use myself, and others I have for sale in one of the display cases outside the studio."
The potters recently had the opportunity to sell their crafts in Charlestown's annual craft show, a two-day holiday season event showcasing the community's artisans.
"It's one of our most popular events," said Mary Evans, community resources manager at Charlestown. "We've got such a talented group of people living here. The craft show allows them to showcase their talents and share their creativity."
— Additional reporting by Danielle Rexroad