Health
Creamy lasagna soup with vegetables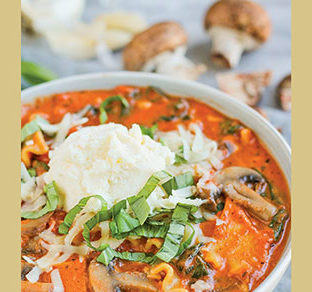 Photo courtesy of Zen and Spice
Lasagna is often a family favorite, a kind of comfort food with an Italian vibe. But depending on the recipe, the process of making it can be onerous.
First, you prepare and season the sauce and mix together the cheeses. Then you part-cook the lasagna noodles and trim them to fit the dish. You might even need to pre-cook some mushrooms and other vegetables.
Finally, you have to line the whole thing up, and hope you don't run out of ingredients before you've reached the last layer.
Here comes a lasagna soup recipe that keeps all the same ingredients, but lets you make it all in one pot with a minimum of fuss. And when done, you have a meal in a bowl, perfect served with some crusty bread and a side salad.
Give it a try.
Creamy Spinach, Mushroom and Lasagna Soup
Recipe courtesy of Emily Weeks of "Zen and Spice"
Cook time: 30 minutes; Total time: 40 minutes
Servings: 4
Ingredients:
1 tablespoon extra-virgin olive oil
2 cloves garlic, minced
1 medium onion, small diced
8 ounces crimini mushrooms, sliced
1 jar (24 ounces) marinara sauce
1 can (15 ounces) diced tomatoes
2 tablespoons tomato paste
2 teaspoons balsamic vinegar
1 teaspoon granulated sugar
1 tablespoon dried basil
½ teaspoon salt
1 teaspoon oregano
½ teaspoon black pepper
1 bay leaf
3 cups vegetable broth
6 lasagna noodles, broken into pieces
½ cup heavy cream
5 ounces fresh baby spinach
1 cup whole-milk ricotta cheese
½ cup shredded mozzarella cheese, for topping
Directions:
Heat large pot over medium heat. Add olive oil, garlic, onion and mushrooms. Cook, stirring occasionally, until onions and mushrooms soften, 4 to 5 minutes.
Add marinara, diced tomatoes, tomato paste, vinegar, sugar, basil, salt, oregano, pepper, bay leaf and broth. Bring to boil over high heat then reduce heat to low and simmer.
Add lasagna noodles and cook, stirring often, until softened, about 15 minutes. Remove from heat and remove bay leaf.
Stir in heavy cream and spinach until wilted, 2 to 3 minutes.
Divide between bowls and top with dollop of ricotta and sprinkle of mozzarella.