From the Publisher
Creating a show about aging parents

Soon after my last blog post about the dearth of older characters on TV and realistic story lines for them, I interviewed Am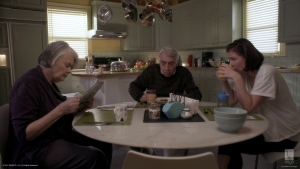 y Lippman, creator o the YouTube show, "Ruth and Erica." The show, which is presented in seven-minute snippets, follows 40-something Erica, played by Maura Tierney (currently also in the CBS hit "The Good Wife"), who is grappling with caring for her increasingly frail mother and father, who is in the early stages of Alzheimer's disease.
The show tackles questions large and small, from how do you take away a parent's car keys to how do you refuse to eat food that's well beyond it's sell-by date proffered by your mom?
"Ruth and Erica" has attracted some well-known actors, in addition to Tierney. Ruth is played by Lois Smith, 84, who appeared with Tierney in "ER," as well as this summer's movie "The Odd Life of Timothy Green, not to mention three seasons of the TV show "Route 66" in the early 1960s and dozens of other programs.
Michael C. Hall, who plays a serial killer on Showtime's
"Dexter," is Ruth's love interest, and there are cameos from Rosalind Chao, Jane Kaczmarek and Steven Weber.
Lippman is best known as the co-creator of the critically acclaimed TV series "Party of Five," (1994-2000) about five siblings raised by their older brother after their parents are killed by a drunk driver.
In our conversation, we talked about her parents, who worked into their 80s, the surprisingly rise of YouTube as a provider of original scripted dramas — and her next project, a Showtime program based on the life of legendary sex researchers Masters and Johnson.
You can watch episodes of "Ruth and Erica" at http://www.youtube.com/playlist?list=PLCTP481uj2b8w0s-5_iN42I8C0NXv3Xxa&feature=plcp
What led you to write about the relationship between adult children and their aging parents?
Amy Lippman: I felt that the topic of conversation among my friends had shifted from a focus on our kids to a focus on our parents. I have parents that retired in their 80s, so they were super active and in great health. But I began to realize that they had some decisions to make about how they were going to manage in a house, how they were going to deal with the next chapter in their lives. I felt that concern echoed in every conversation I had with my friends.
I think they refer to us as the sandwich generation, where we have children still at home needing caretaking and parents who are now aging who need our attention as well. It seemed to me to be a topic that was in the zeitgeist or at least in my circle.
How autobiographical is "Ruth and Erica"?
A.L.: I extrapolated from my own experience. It's inspired in some ways by my parents, who sold their long-term house. But in other respects I took a huge amount of dramatic license.
For example, I made Erica a woman who has no other obligations but for dealing with the fact that her parents demand more of her than she's able to give willingly. That's not my situation. I'm a married woman with a child. I have siblings.
My parents' situation isn't nearly as fraught and dramatic as I created. But the conflict feels very close to me, the conflict of what is my obligation? What can I happily give? What demands too much of me? These are questions I've certainly grappled with.
How did the show come about?
A.L.: What Jon Avnet and Rodrigo Garcia [who created the WIGS channel on YouTube, which features scripted dramas with female leads] approached me with was so completely tantalizing for a writer who's interested in small stories that are based in reality.
They asked, "What do you want to do?" That kind of carte blanche just doesn't exist, particularly in a world where as a writer you're up against huge concepts and things that explode and super heroes. And the stories you can relate your own life to are tiny, niche independent movies or programs that are just way off network television.
So their proposal was write about what you care about, direct it, cast whomever you want and it will look incredibly professional so it doesn't look like it was shot in someone's garage, that's how I found my way to "Ruth and Erica."
How is creating and producing an online show different than doing so for traditional media?
A.L.: I anticipated we would need to be initially apologetic about the scale of it to the actors. But what I found particularly surprising that someone like Lois [Smith, who plays Ruth], a real veteran, working professionally for maybe 65 years. She was incredibly intrigued by a new medium. She said, "People's viewing habits are changing, and I'm interested in how this is going to fit into all of that."
I'm so phobic about changing mediums and all that, watching movies on my iPhone or my computer. I'm such a traditionalist. I was really impressed that a generation or two above me was completely open to the fact. Lois and Philip [Baker Hall, who plays the father, Harry] were really interested in that it has the potential to change the way stories are told.
In some ways, it has the intimacy of the Web, where it is immediately accepted, where it's not necessarily 60 minutes in length is really well suited to material like this, like seeing little snippets of a life you could recognize.
Maura Tierney was less concerned about the medium it was in, and more interested that it was a role that let her do a lot of things.
A year ago I don't' think this was even written and now it's out in the world shows that the process of getting it to people is much more immediate than film or television. That's really appealing to a filmmaker or a writer.