Travel
Creepy but captivating Carlsbad Caverns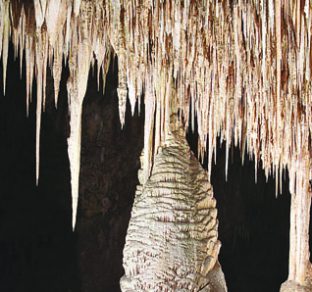 As visitors descend to Carlsbad Cavern's 25-story Big Room, largest underground room in the world, they pass several spectacular speleotherms (mineral deposits), including this one, named the Temple of the Sun.
NPS photo by Peter Jones
Drip…drip…drip… The slow-motion drip is mesmerizing. For millions of years, dripping, seeping, condensing, flowing, and ponding water has performed nature's artistry in the depths of southeastern New Mexico's Carlsbad Caverns National Park under the Guadalupe Mountains.
It's a persistent and powerful force — though it takes between 17 and 34 years for one drop of water to reach the bottom.
Carlsbad Caverns are a subterranean maze where water steadily shapes otherworldly cave formations — bearing names like icicles, icebergs, draperies, witch's finger and lion's tail (and which look uncannily like their monikers). Carlsbad has all of those, plus frozen waterfalls, strands of pearls, organ pipes, cookies, sponges, totem poles, miniature castles, bulging veins and more.
Carlsbad Caverns National Park is a netherworld of ghostly stalactites and stalagmites; glistening, glazed formations; "puffy" popcorn; soda straws; and flowstone resembling molasses — plus 45,000-year-old bat guano.
It's is a geological wonderland for speleologists, spelunkers and amateurs, with 120 caves in a park of over 46,766 acres. Will Rogers called it the "Grand Canyon with a roof on it."
Its spooky allure attracted the filmmakers who produced the 1959 flickJourney to the Center of the Earth, based on the Jules Verne novel and filmed in the caverns with actors Pat Boone, James Mason and Diane Baker.
Carlsbad's 400,000 visitors per year start in the headquarters at 4,400 feet and descend. There are eight tours, with the lowest dropping to what's called the Lower Cavern, 800 feet below the entrance, the deepest part of the cavern open to the public.
Of the park's 120 known caves, with 185 "cave miles" surveyed, Carlsbad Cavern is the most accessible and famous. Visitors can explore about 10 percent of the underground acreage. (For comparison, Kentucky's Mammoth Cave system is the longest known cave system in the world. Around 400 cave miles have been mapped.)
If New Mexico is the "Land of Enchantment," as its license plates tout, Carlsbad enchants underground.
Ancient origins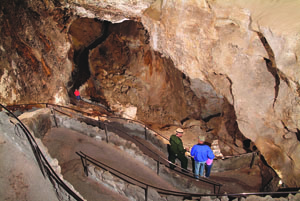 A park ranger discusses the geological features of Devil's Den in Carlsbad Cavern. Visitors may take either an elevator or this 1.25-mile paved trail to descend 800 feet to the Big Room, where many of the cavern's largest formations are found.
NPS photo by Peter Jones
Scientists say the caves of Carlsbad are actually a fossil reef laid down by an inland sea 250 to 280 million years ago.
They believe Paleo-Indians inhabited the Guadalupe Mountains 12,000 to 14,000 years ago. More recently, Spanish explorers, then U.S. Army surveyors and cattle ranchers combed the area.
Around the turn of the 20th century, locals extracted bat guano from the cave and hauled it up 170 feet in buckets for shipment to southern California to fertilize citrus groves.
In 1923, the federal government made Carlsbad Caverns a national monument, and in 1930 Congress designated it a national park. It became a World Heritage Site in 1995.
It was discovered quite by accident. In 1898, a local ranchhand, Jim White, was repairing a fence and saw what he thought was smoke rising from a gaping hole in the earth.
He held a lantern over the opening, tossed in a rock and did not hear a sound. He had happened upon a vast underworld. Today, visitors can see the ladder he used to probe the depths.
The smoke? It was a cloud of bats swirling out of the caverns to feast on nighttime insects. Today, at least seven bat species use the caves, most as a nursery for bat pups, one per mom.
The most common bats are Brazilian or Mexican free-tailed bats that fly from Mexico to summer in the cave, congregate and have their young. Free-tailed bats have been in Carlsbad for thousands of years. They produce so many droppings they've been called "guano bats."
Today, 250,000-400,000 bats sleep during the day in the caverns, and spiral up at sunset like a whirlwind to catch mosquitoes, flies, ants, beetles and other insects. Freetails, which weigh only half an ounce, consume at least half their weight in insects every night.
From May to October, rangers hold educational programs about the bats 30 to 60 minutes before sunset, when bats depart, and on some mornings as early as 5 a.m., when the bats return.
A final bat note: Some people fear and malign bats. But they are an important component of our natural environment. They do not attack people, and perform valuable ecological services, such as eating insects and pollinating flowers.
Touring the caverns
Visitors can take several guided and unguided tours of the caverns, and rent audio guides. Carlsbad Cavern, Spider Cave, and Slaughter Canyon Cave are open to the public, and nine caves are open for skilled, recreational cavers with the proper equipment.
A favorite destination in the Carlsbad Cavern is the largest underground room in the world, the 8.2-acre Big Room, 25 stories high. The self-guided walking tour to the Big Room descends on a 1.25-mile paved trail, mostly level but with a few steep slants — a descent equivalent to 79 stories.
You can also reach the Big Room by elevator, recommended for people not in good physical condition. But then you'll miss the sights walkers get on the way down, including Bottomless Pit, Rock of Ages, the Lion's Tail, the six-stories-tall Hall of Giants, and the Giant Dome, a 62-foot high stalagmite. Allow at least an hour and a half to absorb the enormity of it all.
The self-guided tour starting at the natural entrance drops about 800 feet in one mile, winds around in switchbacks, and offers good views of Devil's Spring, Whale's Mouth and Iceberg Rock. In the mouth of the cave, you might see nesting or roosting cave swallows, and you can study red and black thousand-year-old pictographs high up on the walls.
The guided King's Palace tour shows off ornate cave rooms, including giant draperies formed by water trickling from a slanted ceiling. Park rangers briefly turn off the lights to show the natural darkness of the caves.
The caverns may seem bare of life, but keen observers could spot a horsehair worm, water fleas, sow bugs and pillbugs, for example. Ask a ranger.
Carlsbad is the only cave in the park with paved walkways, handrails and lights. Enthusiastic cavers might also want to explore ranger-led tours in Spider Cave and Slaughter Canyon Cave.
Protecting the fragile formations
Caves have very delicate environments, posing special challenges to managers and visitors alike.
To preserve the caves' pristine and fragile environment, park staff use Formula 409 cleanser to decontaminate shoes if a visitor's been in a cave in the last seven years. That's because people can inadvertently bring in harmful spores, fungi and other materials.
A major concern today is a bat disease called white nose syndrome, a fungus spread among bats that has killed millions of them — in fact, 80 percent of the bats in the northeastern U.S. The disease is spreading throughout North America, though it had not been found in New Mexico or Carlsbad as of August.
Then there's lint from visitors' clothing — so much that volunteers with tweezers and special tools pick over 32 pounds of lint off the formations each year. Lint changes the ecology. To confine lint in the underground gift shop, T-shirts are kept in plastic bags.
Lights installed to accommodate the public change what otherwise would be a dark habitat. Lights and the heat they generate encourage photosynthesis and algae growth, so staffers must bleach some formations monthly to remove the algae.
In addition, camera lights and high frequency sounds from digital devices can disturb bats. Oil from human skin can discolor rocks.
"Caves have unique and rare qualities," said Chuck Burton, Carlsbad's acting superintendent. "The formations that are so spectacular and awe-inspiring have taken millions of years to create. Caves are very special environments, ecosystems that people do not know much about."
Caves served as shelter to our Paleo-Indian ancestors. They are still home to microorganisms and troglobites, animals that live in the dark. And caves preserve the geologic and climactic record of an area.
David VonSeggern, an amateur caver, commented, "Caves often contain remains and relics of early mankind and of now extinct wildlife. They are the last frontier for exploration on Earth. Many deep and difficult passages remain to be explored, while a vast, unknown realm of caves has not even been discovered."
Then there's medicine: The National Park Service website says, "Studying [caves] has already revealed a food chain that begins with minerals in the rock, and has shown that some of the organisms may help serious human diseases, such as cancer."
If you go
Park officials recommend reservations for guided tours by visiting www.Recreation.gov or calling 1-877-444-6777.
Wear sturdy footwear and inquire about physical requirements. Some trails are strenuous; some are not.
Underground, it's a consistent 56 degrees Fahrenheit year round. Aboveground, summer temperatures can reach 100 degrees Fahrenheit; winter highs are in the 50s and 60s, with lows in the 20s and 30s.
The visitor center is at 727 Carlsbad Caverns Highway, Carlsbad, New Mexico 88220. The only entrance is from New Mexico Highway 7, 20 miles southwest of Carlsbad by way of U.S. 62/180.
For lodging, try Best Western, http://bestwesternnewmexico.com/hotels/best-western-stevens-inn, (575) 887-2851, $162 a night, or Days Inn http://daysinncarlsbadnm.com, (575) 887-7800, $189 a night.
For accommodations with a little more personality, check out the Trinity Hotel, built in 1892 as a bank, www.thetrinityhotel.com, (575) 234-9891, $239 a night.
No airport is very close. Albuquerque is 304 miles from Carlsbad, while Roswell, N.M. is 103 miles away. In Texas: Lubbock, 206 miles; Midland, 194 miles; El Paso, 151 miles.
Carlsbad is served by Greyhound bus.
More information is available from:
National Park Service, www.nps.gov/cave, (575) 785-2232
Carlsbad Caverns-Guadalupe Mountains Association, www.ccgma.org, (575) 785-2484
Chamber of Commerce, www.carlsbadchamber.com, (575) 887-6516