Money
Cut cable connection to watch TV for less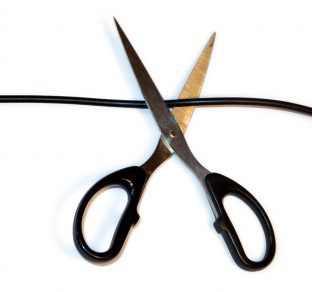 Thanks to new offerings via the Internet, viewers are increasingly catching their favorite shows free or for a fraction of what their cable company charges. And going online to view TV shows doesn't mean you're stuck watching programs on your computer or tablet screen.
The Apple TV box ($99), for example, streams iTunes, Netflix, YouTube and some sports programming to your TV. Or you may be able to use a video-game console or a device designed to stream TV shows and movies from the Web to television, such as a Roku box ($60 to $100) or Boxee ($200).
Plus, some Blu-ray players and HDTVs have built-in connections for receiving shows online. Using either a cable or a wireless device, you can connect your PC to your TV and view anything that's streaming to your laptop on your big screen.
An HDMI cable, for HDTVs, offers the best-quality picture, and you can find one for $15 or less. For about $100 to $200, you can buy a wireless device, such as the Warpia StreamHD, to do the same job.
Watch TV online
Check Hulu.com to see whether you can watch your favorite shows free. Hulu has partnerships with many network and cable channels. A lot of prime-time shows appear on Hulu the morning after they air, although you won't find popular shows from premium cable channels.
With Hulu's free service, you can typically watch only the five most recent episodes in the current season. The subscription service, Hulu Plus ($7.99 per month), provides access to full seasons and the ability to stream programs to your TV.
Also explore the websites of networks and cable channels to see what's available. Many have partnerships with Hulu to aggregate content.
Fans of Fox TV shows, take note: If you don't pay for participating cable or satellite services, you now must wait eight days after episodes air before you can watch them free with Hulu's regular service or at Fox.com. Hulu Plus subscribers can watch them the next day.
Some services offer TV shows to rent or buy. With iTunes, you can rent single episodes for 99 cents, and Amazon Instant Video sells discounted episodes if you sign up for a TV pass.
Full seasons of shows are also available for purchase. These services may be most useful if you've missed most of a current season and want to catch up, if you'd like to buy previous seasons of shows, or if you prefer to own episodes so that you can watch them repeatedly. Otherwise, find out whether you can view new episodes free on Hulu or on the network's website.
Stream new movies
Some Internet services allow you to stream the newest movies to your living room. Vudu, for example, has a wide selection of high-definition movies available to stream the day they are released on Blu-ray. (You can also watch Vudu movies at Walmart.com.) Amazon Instant Video, CinemaNow, iTunes and Zune also stream new movies that you can watch on your computer or TV.
Most of the services also offer a selection of movies (and TV shows) in HD, usually for an additional price. You may not be able to watch HD programming on all your screens. Amazon Instant Video, for example, currently streams HD movies to your TV through compatible devices, but not to your computer.
Many online services limit the amount of time you have to watch a rental to one to two days after you begin to play it. But Netflix — which has split off its DVD rental service to a new company called Qwikster — still lets you keep discs as long as you wish, and its streaming content is available to view anytime.
Netflix/Qwikster is getting heat from customers for requiring them to pay separately (and more) for disc-rental and streaming subscriptions. But if you watch several movies in a month, a subscription service could still save you money.
If you're primarily interested in newer, popular movies, stick with disc rental. If you'd rather browse for less-current movies, documentaries and TV shows, Netflix's streaming service has a broad selection.
You can search elsewhere for lesser-known or older movies at a discount. Look for 99-cent movie specials from CinemaNow and iTunes. Vudu offers a different 99-cent special every day, and you can choose from thousands of movies to rent for $2 for two nights.
Amazon Instant Video has special deals on movies and TV shows, and it compiles movies into price categories. Recently, for example, the first six movies in the Harry Potter series were available to rent for $2.99 each. Hulu has a collection of free movies and documentaries but no new releases.
High-speed Internet needed
One caveat: You'll need a fast Internet connection. (To test the speed of your current connection, use the tool at http://www.speedtest.net.)
Some services list minimum requirements to stream video. Vudu, for example, suggests a connection speed of at least 1 megabit per second for standard-definition movies (480p), 2.25 Mbps for HD (720p) and 4.5 Mbps for HDX movies (1080p). Netflix automatically chooses the level of video quality you'll stream based on your connection speed.
Willing to get up from the couch? Aside from visiting a standard movie-rental store, you can go to Redbox or Blockbuster Express kiosks to rent new movies on DVD or Blu-ray for $3 or less per night. And renting films from the local library is free.
© Kiplinger's Personal Finance