Housing
D.C. expands intergenerational housing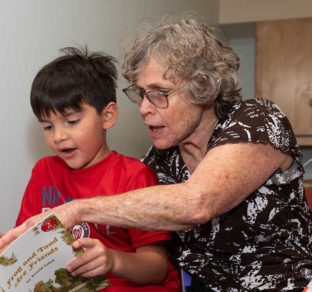 At Genesis, an intergenerational housing community in Washington, D.C., residents stand in as grandparents for the children.
Photo by Frank Gallagher
On a typical day in the first "grandfamily" apartment building in Washington, D.C., grandmothers are cooking comfort food, staffers are helping haul furniture, and children of different ages are fingerpainting or taking a college readiness class.
"It's always all hands on deck. We help each other here," said Jamarl Clark, program manager at Plaza West. The new apartment building at 4th and K Streets NW has set aside 50 units designated for grandfamilies — older adults who care for their younger relatives full-time.
Intergenerational housing communities of several types have opened in the D.C. area in recent years. Together, they demonstrate the strength that comes from older adults living close to young people.
Plaza West, which opened in September 2018, has 173 traditional apartments and a separate entrance for its 50 grandfamilies. It's one of only nine such grandfamily housing concepts in the country.
"We're hoping this could be a model — as we've grown from other models — that can work in other neighborhoods," said Becky Lang Staffieri, spokesperson for Mission First Housing Group, which built Plaza West.
The unique community was the brainchild of Bible Way Church founder Bishop Smallwood Williams, who built five affordable housing buildings near the current site of Plaza West. Williams approached landowner Mission First with his idea.
"He had this vision years ago during the 80s crack epidemic about intergenerational housing and how it would work," Staffieri said. "We said, 'How can we make this happen?'"
To help grandfamilies thrive, Mission First hired Clark, a full-time, on-site program manager. Clark coordinates the building's programs, such as a partnership with Howard University School of Social Work, in which students meet with Plaza West's kids.
But there's plenty of programming for older adults, too, such as Connect DC — free monthly technology workshops for older adults arranged by the D.C. Department of Aging and Community Living.
"We haven't forced community; we've allowed it to happen," Clark said. Because all the children in the units are being raised by older adults rather than parents, they can create strong friendships.
"It's the norm now for them; they're not the only ones living with their grandparents. They're all in the same boat."
Adopted grandparents at Genesis
In springtime, an urban garden on Georgia Avenue in Washington, D.C., comes alive. On a typical afternoon, you'll see children and gray-haired adults there together, digging, planting and pulling weeds outside Genesis — a 27-unit affordable apartment building established in 2015 for a unique population: young mothers who have aged out of the foster care system and need support to raise their children, and older adults.
It's a symbiotic lifestyle: the older adults are expected to help out the younger families for a set number of hours a week, and vice versa.
"The relationship between the children and the seniors is really special in this building. You definitely see the trust that has been built over the years," said Elin Zurbrigg, deputy director of Mi Casa, Inc., the developer that built Genesis through a partnership with Generations of Hope, D.C. Child and Family Services Agency and the D.C. Department of Aging and Community Living.
Genesis offers plenty of places for kids and grandparent-figures to mingle. There's a 2,000-square-foot common room with a piano and other instruments, a multi-purpose room used for yoga and exercise or art class, and even a library stocked with everything from Seuss to Steinbeck.
"You will often see children run to hug [the older residents], and it's a lovely ongoing relationship. And their mothers are very trusting of the elders in their community and trust them with their children," Zurbrigg said.
Young at heart in the new Shaw
In the nearby gentrified neighborhood of Shaw, also in Northwest D.C., a slightly different housing model juxtaposes older adults with younger neighbors — though not in the same building.
The Hodge on 7th is a 90-unit apartment building for adults 55 and older. Developer Bozzuto Group was able to make the building affordable for low-income residents with the aid of federal and city tax credits.
One resident, Bernard Johnson, has lived in the Shaw neighborhood for more than a dozen years. As the area has changed and millennials have moved in, Shaw hasn't pushed out older people like Johnson, thanks to the Hodge.
Surrounded by hipster restaurants and bars, the area is a perfect fit for active retirees like Johnson, who's typically first in line to try out a new eatery.
"I don't feel awkward with younger people at all. I participate in the same things they do," he said.
A few years ago, Johnson was looking for a new apartment. He spotted a newspaper ad about a building for older adults who made no more than 60 percent of the area's median income. He secured a spot on the Hodge wait list and moved in when it opened in 2014.
"I like my neighbors," Johnson said. "I interact with folks here. You're close to everything, and I like to walk. I'm very much a walker, so what else can I ask for?"
The Hodge is located across the street from the Kennedy Recreation Center, where grandparents can watch visiting grandkids play.
More senior housing projects are planned in D.C., including 200 units for veterans and older adults at the former Walter Reed National Military Medical Center.