Housing
Decluttering frees space, lifts the soul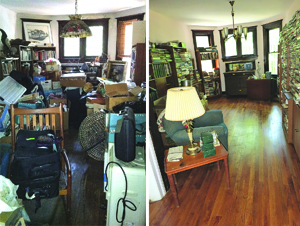 You don't need to be facing retirement or a move to decide it's time to create more breathing room in your life. The practice is liberating at any age, according to Virginia Onufer, 52, of Chevy Chase, Md., a writer who works from home.
Recently, Onufer, with the help of a professional organizer, cleared her 1,800-square-foot house of 30 tall kitchen bags stuffed with kitchen equipment, Christmas decorations, linens and clothing.
"Acknowledging that outer order contributes to inner calm gives me the commitment to keep going," Onufer said. With her daughters away at school, she and her husband are contemplating a house move, and they don't want to bring their unneeded stuff along.
While a professional organizer can be expensive, Onufer said hiring one saved her time and aggravation. Ellen Delap, president of the National Association of Productivity & Organizing Professionals, said that many professional organizers will cart off your items at the end of a session, help you donate and sell items, and "give you a gentle push to get rid of more." About half of Delap's clients at Professional-Organizer.com, based in Kingwood, Tex., are 50 or older.
Professionals also supply stamina. "Most people can declutter on their own for [only] an hour or two before running out of steam. It involves a lot of decision-making," Delap said.
Costs vary by region and job, but hourly fees typically range from $75 to $150, said Delap, who charges $225 for three hours. Lisa Mark, of The Time Butler in Los Altos, Calif., charges $125 an hour, and $50 to $75 an hour for her assistants. She says 80 percent of her clients are 50 or older, and most of those are 55 to 70.
Divide and conquer
For a typical home, decluttering takes at least 10 to 20 hours. Mark estimates that a three-bedroom, 1,600-square-foot house with an average amount of clutter will take five to 10 sessions lasting three to six hours each.
Delap, who works in three-hour chunks, said a closet may take two sessions, while a garage may take three or four sessions.
Many organizers start by dividing items by category, starting with big objects, such as exercise equipment and furniture, to gain momentum. Small sentimental items, such as letters and photos, take a long time to sort through and should be done last.
It helps to envision the end result, such as closets you can open without an avalanche.
"There's a lot of guilt in throwing out unused stuff, but take the lesson from it," Onufer said. "I threw away a lot of clothing I bought in outlets. Lesson: I want fewer, lovelier things."
She and her daughters each have a clear plastic "memory box" to preserve the most important mementos, such as report cards, art projects and letters.
If you are decluttering by yourself, Mark advises setting a timer for 20 to 30 minutes. Decluttering gets easier every time "because it's reinforcing, and you realize you don't miss what's gone," Onufer said.
Among the many rewards of decluttering is clearing out mental space. "Clutter is delayed decisions. How does that serve your life goals?" said Mark.
After a good session, "a client will often tell me she feels like she lost 100 pounds. There's a mental weight to clutter. Without it, you can focus on whatever is most meaningful to you."
All contents © 2018, The Kiplinger Washington Editors, Inc. Distributed by Tribune Content Agency, LLC.