Travel
Dick Van Dyke's lucky life and funny times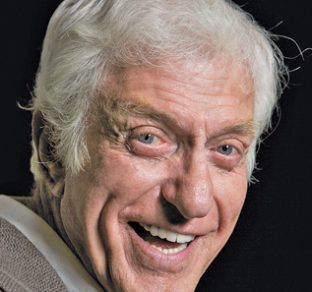 Dick Van Dyke looks back and marvels.
The way he sizes up his 85-and-counting years is summarized by the title of his new memoir, My Lucky Life In and Out of Show Business: dumb luck.
Luckily, he had a lot of talent, too.
Van Dyke writes proudly of his roles in one of television's most beloved sitcoms ("The Dick Van Dyke Show") as well as a classic film musical (Mary Poppins). But he characterizes those hits, along with the rest of his career, as lucky breaks that fell into his lap.
So don't come to this breezy but heartfelt book expecting Van Dyke to crow about his many accomplishments. Or bellyache about the low points.
Or dish dirt: In his preface, he posts a consumer alert that "there is nothing salacious here." He makes good on that promise.
The book's very creation seems a surprise to him, judging from a recent interview. "It never occurred to me to write a book," he said.
"My life seemed kind of pedestrian to me. I auditioned for a few things, but for the most part, I just happened to be in the right place at the right time, just going with the flow."
He paused. Reconsidered. "So it is a kind of interesting story from that standpoint," he conceded, as if trying to rationalize telling it.
Inspired by his kids
But what about the years of setbacks and struggles before he scored his first big success, starring in the 1960 Broadway musical Bye Bye Birdie?
Van Dyke credits his tenacity to his four kids — Chris, Barry, Stacy and Carrie — who are now grown and "truly admirable people. "
"I had to keep working in order to support them," he explained, flashing his familiar grin. "I never had a lot of drive, not much vision or goals. It was them that kept me going. And God."
Van Dyke grew up in Danville, Ill., a small town in America's heartland, the son of a stenographer and a salesman for the Sunshine Cookie Co. (He had a younger brother, Jerry, who followed him into show business and is best known from the 1990s sitcom "Coach.")
His involvement in the high school drama club led to a job as an announcer on a Danville radio station.
Then, in his early 20s, Van Dyke hooked up with a former chum, Phil Erickson, who needed a partner for his comedy duo. It already had a booking in California. Van Dyke signed on without even asking what he was supposed to do.
Their act called for the pair to comically mime records, and the Merry Mutes weathered obstacles and money shortages, as well as car troubles that seemed to put every crucial audition and club date in peril.
Meanwhile, Van Dyke brought his fiancée, Margie, from Danville to Los Angeles, where they were married before an audience of millions on the radio program "Bride and Groom." That gave the money-strapped lovebirds a cost-free way to get hitched, with a honeymoon thrown in.
A year later, in 1949, the Merry Mutes (and the newlyweds) moved to Atlanta, where club bookings awaited, as well as local TV gigs for Van Dyke. Then in 1955 he set off for New York, where he had been hired for the "CBS Morning Show" alongside anchor Walter Cronkite. But within a year, Van Dyke was reassigned to a grab bag of other shows. Then CBS let him go.
Van Dyke's prospects brightened when he was cast in Bye Bye Birdie. The director wasn't put off when Van Dyke cautioned him, "I can't really dance." The director soon proved him wrong. And Van Dyke won himself a Tony.
In luck with two Marys
In January 1961 came an audition for Carl Reiner, who was cooking up a series based on his own life as a comedy writer and family man.
Van Dyke's eponymous sitcom, on which he was paired with an effervescent unknown named Mary Tyler Moore, premiered that October. Van Dyke depicts those five seasons as a creative lovefest for all concerned, during which he and Moore shared a chaste but palpable crush. He said he stays in touch with her to this day, describing her warmly as "a wonderful gal."
The 1964 Mary Poppins brought him another made-in-heaven pairing, as he played a Cockney chimney sweep to Julie Andrews' flying nanny.
By then, Van Dyke had proved himself not only as an actor, singer and dancer, but also as affable everyguy with equal skill for light comedy and rubber-jointed slapstick.
"When I was a kid, I loved all the silent comedians — Buster Keaton, Laurel and Hardy, Chaplin," he said. "And I used to imitate them. I'd go to see a Buster Keaton movie and come home and try things out I'd seen. I learned to do pratfalls when I was very young."
As he speaks, Van Dyke seems youthful still. The full head of hair is silver, but the blue eyes are clear and bright, and his smile retains its boyishness.
He is slightly stooped, but "a month ago I had spinal surgery," he said. "I'm still recovering from it. I had pinched nerves." With all those pratfalls, "I beat myself up pretty good."
Though avoiding self-pity, Van Dyke — in his book and in conversation — doesn't shy from discussing obstacles that cluttered his path. His battle with alcoholism, for example.
"I worked nightclubs all through my 20s and I was a teetotaler," he said. "But in my 30s, I finally discovered that a martini lowered my inhibitions a little bit and made me a little more sociable and garrulous, and I found myself hooked on it. I would go home and drink too many. I got worried." (He has been sober for years.)
His marriage came unraveled as he and his wife grew apart. They were divorced in 1984 after a long separation.
By that time, he had begun a relationship that lasted nearly 35 years with Michelle Triola (well-known as the ex-companion of actor Lee Marvin, whom she sued for what was dubbed "palimony"). She died of cancer two years ago.
After the mid-1960s, Van Dyke's career was laden with short-lived TV shows and "a lot of really bad movies" — Van Dyke laughs in gratitude that no one remembers them.
Recent TV and stage work
Even so, the 1990s signaled an unexpected show-biz comeback with "Diagnosis Murder," his best-received project in decades. In that lighthearted mystery series, Van Dyke played physician-sleuth Dr. Mark Sloan, while his son Barry co-starred as an LAPD detective. It aired on CBS through 2001.
Today he stays as busy he wants to, he said. He performs favorite songs in a quartet called The Vantastix. And he just finished a brief run in Los Angeles in an adaptation of The Sunshine Boys, joining 79-year-old brother Jerry Van Dyke as two aged ex-vaudevillians who reunite for a TV special despite their longtime feud.
Now there is talk — especially from Jerry — of bringing this comedy to Broadway. How about it, Dick?
"Well, yeah," he agreed, while voicing concerns about doing eight performances a week — and about continuing to work with his brother. "I have trouble, because he breaks me up. My brother just kills me, and I can't keep a straight face."
A man who can't stop laughing. Some luck!
— AP