Travel
Dutch heritage colors Caribbean Curacao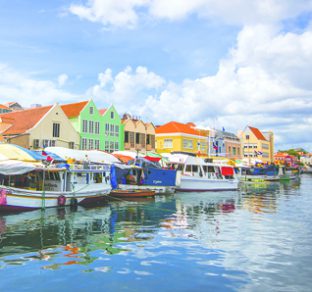 Boats line a pier in Willemstad, Curacao, forming a "floating market" that delivers fresh produce and other goods from Venezuela to the arid but lovely Caribbean island.
© Fotos593
I knew that the Caribbean island of Curacao is unfamiliar to many people from the United States, but the flight attendant's announcement still caught me by surprise.
As the plane prepared to land in Miami, she read a list of connections but stumbled over the name of my final destination. Then she admitted, "I don't know how to say the name of that island."
A similar thought was expressed by a fellow American during my stay. She described Curacao as "one of the best-kept secrets in the Caribbean."
Maybe the challenging pronunciation of its name — cure-a-sow — is a turn-off. Perhaps the fact that it lacks as many long stretches of magnificent beach as some other islands convinces sun-seekers to head elsewhere.
But the relatively small number of vacationers from the United States who join a larger influx from South America and Europe are richly rewarded.
Begin with the island's intriguing history and rich cultural tapestry. Add some of the best diving and snorkeling in the area. Throw in an architectural gem of a mini-city that combines tropical touches with European flair.
My wife Fyllis and I augmented the list with an enticing choice of outdoor activities, a sprinkling of casinos for those who enjoy testing their luck, and extremely friendly people.
Furthermore, we concluded that the beaches deserve a better reputation than they sometimes get. The three dozen-plus on Curacao include both those expansive enough to satisfy most sun bathers as well as tiny swatches perched in little coves protected on both sides by craggy cliffs.
Knip Bay has two beaches, Grote (Big) Knip and Kleine (Little) Knip. Both offer soft white sand, shade provided by large trees, and are lapped by stunning turquoise waters. The nearby Playa Lagun, tucked in a small inlet, shelters fishing boats whose owners return to clean their catch at a small stand near one end of the beach.
Dutch history
Grote and Klein Knip are by no means the only places on Curacao to have Dutch names, as the island's history and culture are closely entwined with what today is the Netherlands.
The earliest inhabitants were Arawak Indians who lived there more than 6,000 years ago. They were followed by Spanish explorers who arrived in 1499, seeking gold and other treasure. Finding none, they included Curacao on their country's list of islas inutiles ("useless islands").
But the Dutch who showed up were after something else. Attracted by Curacao's deep-water port, they took over the island in the early 17th century, and it became a colony of the Dutch West India Company. That launched Curacao's long tradition as a trading center, including the slave trade, that helped make it one of the most prosperous islands in the Caribbean.
Trade also was responsible for attracting immigrants from around the world. That created an ethnic melting pot that today includes people of more than 50 nationalities.
One way in which this diversity manifests itself is language. While Dutch is the official means of communication, Spanish and English also are widely spoken.
Many residents also converse in Papiamentu, which originally was developed by slaves. It's a mixture of Dutch, Spanish, African, Portuguese and Caribbean Indian dialects, with touches of other languages thrown in for good measure.
Some Dutch settlers built stately plantation homes and used slave labor to grow sugar cane, corn and indigo. Most of these land huizen (land houses), which date back to the mid-17th century, were perched on hills within sight of others in case help was needed during a slave revolt or calamity.
A number of them have been restored, and today serve as restaurants, art galleries and museums.
Whimsical Willemstad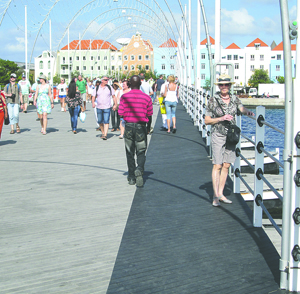 Pedestrians cross Willemstad's Queen Emma Bridge, which links the city's two main neighborhoods and can swing open to allow boats to pass. Some call Curacao "the best-kept secret" in the Caribbean.
Photo by Victor Block
The island's rich history may be explored in many ways. The obvious starting point is Willemstad, the storybook capital of the island. Given its rich past and architectural treasures, it was named a UNESCO World Heritage City in 1997.
The architecture is one well-deserved claim to fame. A number of buildings feature a tropical adaptation of 17th-century Dutch design, often adorned with fanciful gables, arcades and columns. Adding to the whimsical scene is a virtual fruit salad of peach, raspberry, mango and other pastel colors with which many structures are painted.
That eye-catching chromatic explosion is attributed to a governor general of the island who suffered migraine headaches that he blamed on the glare of white paint. In 1817, he decreed that only pastel colors could be used. According to some accounts, the fact that he owned a paint factory in Holland may also have played a part in his decision.
The Technicolor setting of Willemstad is best seen on foot. The two main neighborhoods, Punda and Otrabanda ("the other side"), are linked by the Queen Emma Bridge — one of three spans that were named by the Dutch after monarchs.
Because the pontoon Queen Emma Bridge swings open to allow ships to pass, it is affectionatly nicknamed "the Swinging Queen." The other two are the Queen Juliana Bridge over the harbor, which at 200 feet is the highest span in the Caribbean, and Queen Wilhelmina Bridge.
Close to the Queen Juliana Bridge is a "floating market" which doesn't really float. Because Curacao has such an arid climate, much of the fresh produce is transported from Venezuela in small wooden boats. Hence the name. The fruit, vegetables, fish, some handicrafts and other items are sold from stands that line the dock next to where the vessels are moored.
Of more historic interest is the Mikve Israel-Emanuel Synagogue, which was built in 1732 and lays claim to the honor of the oldest synagogue in continuous use in the Western Hemisphere.
The sand that covers the floor is said to symbolize the wandering of Israelites in the desert following the Exodus, and also to recall the way that sounds of worship were muffled during the Inquisition period, when Jewish people had to pray in secret.
The congregation uses Torahs that are more than 300 years old, and keeps in protective storage several others that date back to the 15th century. A small but interesting museum in the courtyard displays scrolls, bibles and other religious objects.
A number of other little museums are gems in terms of their collections. The Curacao Museum provides an overview of the island's lifestyles and customs. Exhibits range from geological history and the first Indian inhabitants, to the arrival of Europeans, and include examples of thatch-roof slave dwellings and 19th century mansions.
The piece de resistance in our sightseeing sojourns was the museum at the Sonesta Kura Hulanda Village & Spa. A major focus of that eclectic collection is the history of slavery — including the slave trade, Africans in Latin and North America, and abolition. It contains the largest African collection in the Caribbean.
We found especially moving the full-size replica of the hold of a ship in which captured slaves were transported to the New World in appalling overcrowded conditions. It demonstrates dramatically how people were crowded onto wooden platforms where they could hardly sit, much less stand, to be taken from their homeland to their new lives as slaves in a distant and different place.
An off-road adventure
It doesn't take long after leaving Willemstad to encounter a very different environment. In contrast to the multicolored hues of the city, much of the surrounding landscape is barren and dry, the victim of sparse rainfall.
Undulating hills are blanketed by rock outcrops and cacti that grow as tall as trees. In a few places, the terrain more closely resembles a moonscape than a Caribbean island.
Our ride on all-terrain vehicles allowed Fyllis and me to get off-road to explore hidden nooks and crannies that no car can reach. We also took to foot in Christoffel Park.
We followed that stroll with a refreshing dip in the sea. The beach from which we swam was pleasant enough and, unlike many on other Caribbean islands, virtually deserted. Maybe, we concluded, there's something good to be said for Curacao's low profile as an inviting Caribbean vacation destination.
If you go
For guests at the Sonesta Kura Hulanda Village & Spa, the setting and accommodations become part of the Curacao experience. The 82 rooms are furnished with antiques and hand-carved mahogany and teak pieces, and the walls are adorned with hand-painted designs by local artisans. Transportation is provided to the resort's beach-front sister property.
The room rate for a three-night winter package on select dates is $600. For more information, log onto www.kurahulanda.com.
The Santa Barbara Beach & Golf Resort offers a more traditional setting, with golf, tennis and spa facilities, seven restaurants and lounges, three swimming pools and a beach.
Rates begin at $219 during the winter high season and fall to a budget-stretching $139 during summer. For more information, call (855) 590-2266 or log onto www.santabarbararesortcuracao.com.
To lunch with locals, head for the Plasa Bieu (Old Market), a covered space located at Waaigat Punda, where several vendors prepare lunch in open kitchens and some menus are written on chalk boards.
The choices at Ivonne's Place range from beef and chicken to stewed goat meat. Fish filet with rice and peas costs $12 and is large enough to serve two people. For more information, call (599) 9-524-8529.
In addition to restaurants at the Santa Barbara resort that range from fine dining to beach and pool eateries, Boca 19 (19th hole) is a fun and funky spot where the owner greets first-time guests like old friends. In addition to familiar fare like the Boca Burger and fresh fish, there are local favorites like goat stew with prunes and olives ($14). For more information, call (599) 9-840-1075 or log onto boca19.com.
The least expensive roundtrip airfare from BWI in mid-January is $842 on American Airlines.
For more information, call the Curacao Tourist Board at 1-800-328-7222 or log onto www.curacao.com.