Travel
Eclectic New Orleans endures and entices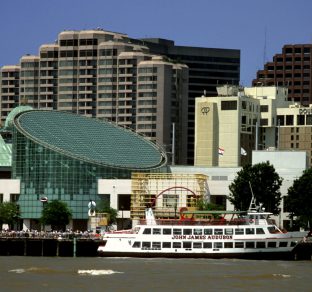 Just after the Deepwater Horizon well blowout started spewing crude oil across the Gulf of Mexico in April, New Orleans native Joe Kimbrell had reason to moan. "We don't need this. Why can't we just relish being the Super Bowl champs?"
Southeastern Louisiana, with New Orleans its heartbeat, has been battered time and again— Hurricane Katrina, Mississippi River floods, Formosa termite invasions, and then, the ruptured well that sent over 200 million gallons of oil onto Gulf shores and into the state's cherished wetlands.
But this time the Crescent City may have dodged a bullet. The actual well is 100miles from New Orleans, and the city has not been directly fouled. Its seafood is testing safe, city promoters insist. Conventioneers still descend, chefs create mouth-watering gourmet dishes, and jazz reverberates through the French Quarter at all hours.
The resilience and enduring spirit of the people of New Orleans are part of its persona. "We may have a bit of insanity, but we never grow old," touts a video about the city's most famous festival, Mardi Gras.
Colorful characters
When I got to my B&B in the French Quarter in May and awaited a key, I perched on a rickety wooden chair street-side and was soon joined by my next door "neighbor" who emerged for a smoke.
He was a scraggly fellow in a sleeveless, dingy undershirt and loose-hanging jeans. We heard a long tooting whistle.
"That's the paddle boat coming in," he explained, as colorful characters of every age meandered along the sidewalk and the sweet aroma of baking beignets wafted by.
It was a fitting introduction to New Orleans — the Big Easy, a place where you can go from the seedy to the sublime in an instant.
Here at the foot of the Mississippi River in a filled-in swamp, the humidity seems to nourish a fusion of cultures and a zany mix of people with a boundless joie de vivre.
In Jackson Square, I met two guys, one whose entire body, head to toe, was painted silver; the other was painted gold. Another fellow claimed to be a duplicate (not a twin) of Muhammad Ali and wanted to shed his bathrobe for a fisticuff.
It can seem a bit surreal. Maybe it's because the "Mighty Muddy" Mississippi— a river that drains 41 percent of the United States and is unpredictable — lurks untamable and presumably restrained by a levee.
Maybe it's the backdrop of vapors emanating from the slow-moving, steamy bayous that ripple through the region and the gangly bald cypresses draped in dangly Spanish moss.
Taking in the French Quarter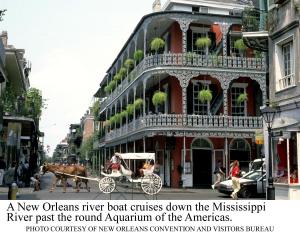 The vibrant core of New Orleans is the French Quarter, Vieux Carré (old square), 66 blocks of jazz clubs, boutiques, restaurants, shops, art galleries and homes.
Visitors can be amused for hours just walking the streets. A stroll on Bourbon Street can be a bacchanalian experience worth doing once. There seem to be mini-fests always going on somewhere, with blues oozing out of windows and doorways.
Jackson Squareis a magnet for musicians, buskers, clairvoyants, mystics, dancers, artists, transients, tricksters, odds and ends of people and many curiosity seekers.
Some say you could see alligators crossing the square at one time. These reptiles aren't far away, and they once scampered through the area's towns.
The architecture bespeaks the rich mix of cultures — Spanish, French, German, French Acadian, Cajun, Creole and native American — that have made New Orleans the gumbo that it is.
Wrought-iron and cast-iron work decorate balconies and fronts. Double-shotgun houses and Creole cottages are crammed side by side along narrow streets. Tucked-away inner courtyards beckon.
The $15 French Quarter Walking Tour, starting at the 1850 House, 525 St. Ann St., is an informative introduction to the Quarter's quirks and history.
There are also tours for every taste, including architecture, history, food, music, ghosts and voodoo. There's a "rebirth" tour on which you can see the levee that breached and areas devastated by Hurricane Katrina.
Cemetery tours explore the area's unique burial methods. Because New Orleans is below sea level, a grave would fill with water quickly and caskets would float up. So most burials are above ground, and the city's dearly departed rest in vaults.
Quintessential cuisine
"We live to eat. We've never heard of counting calories," Baton Rouge native Whitney Breaux, told me as I downed a two-inch high, spongy bread pudding, after dining on crab claws and catfish Orleans, fried filets with crawfish étoufeé.
Food is central to the identity of the City of Chefs. The cuisine combines Cajun, Creole, French, Italian, African and Caribbean dishes from hole-in-the-wall dives to high-end restaurants.
In more than 1,000 restaurants, chefs master distinctive dishes like red beans and rice, gumbo, boudin, crab boil, jambalaya, oysters Bienville, various étoufeés, pralines, beignets, king cakes, po-boys and muffulettas. Paul Prudhomme, founder and head chef at K-Paul's Louisiana Kitchen, elevated spicy blackened fish to fame here.
A good introduction to eating is the Court of the Two Sisters' jazz brunch, where you can tickle your palate with famous New Orleans dishes from a bounteous buffet. At restaurants like Antoine's, Commander's Palace, Galatoire's, Broussard's and Pierre Maspero's you'll rarely go wrong.
Check out the back window of the Café du Monde, open 24-7, and you'll see the chef flinging dough into oil en route to becoming mouth-watering beignets.
All that jazz
Jazz seems to seep from every crevice, but in truth, there's a wide range of music here, including zydeco, Cajun, R&B, bluegrass, rockabilly, reggae and rock 'n' roll. Among the greats who have called New Orleans home are Louis Armstrong, Pete Fountain, Fats Domino, and Ellis, Wynton, Delfeayo and Jason Marsalis.
The New Orleans Jazz National Historical Park offers a self-guided walking tour of jazz sites in the French Quarter. Visit www.nps.gov/jazz. A good nightspot for authentic N'awlins' jazz is Snug Harbor at 626 Frenchmen St., www.snugjazz.com.
There are many museums. For history and local culture, try the Museum Cabildo, which boasts Napoleon's 1821 death mask made 40 hours after he died.
The Presbytere has an excellent Mardi Gras exhibit, including filmed interviews with locals, who explain New Orleans arcana like krewes (organized groups that participate in Mardi Gras parades or balls), king cake (colorful cakes served at Mardi Gras), and the "art form" of building floats.
The 100-year-old St. Charles streetcar rumbles along a 13-mile loop and is a convenient way to visit the Garden District, a 13-block area of sumptuous antebellum mansions amid subtropical foliage that evoke the Deep South.
Down in the bayou
Getting out of the city and into southeastern Louisiana's swamplands offers a broader context and saturation in all that is Louisiana. Spanish moss droops eerily from the cypress and tupelo trees, and alligator eyes peek out just above the water. Winding through the bayous with the critters croaking, buzzing, scampering and slithering showcases a key part of the fabric of southern Louisiana.
About 30 minutes out of town, in the National Park Service's Barataria Preserve, you can explore 20,000 acres of swamp and forest on foot or by canoe. Visit www.nps.gov/jela/barataria-preserve.htm. Fifty-seven miles from New Orleans, and well worth a day trip, is the Cajun Man's swamp tour near Houma. The drive there is a tour of small town Louisiana, burgs largely dependent on oil and fishing, endeavors not incongruous to locals.
In his two-hour pontoon ride, Ron "Black" Guidry rattles on about the native flora and fauna and is often tailed by his two "pet" alligators, who at the sound of the boat, speed over for a chicken snack.
Guidry plays a guitar and Cajun accordion and treats passengers to tunes, including one about a Louisiana lass who ran off with a Yankee rascal from Baton Rouge. Another titled "Colinda," begins "All on, let's dance, your mother is not here to chaperone."
"The great white egrets come around when they hear me sing," Guidry quips. Pretty soon, everyone is singing "You Are My Sunshine," written by a revered former Louisiana governor, Jimmie Davis. Reservations are highly recommended. Call (985) 868-4725.
If you go
Visit the New Orleans tourism office at www.neworleanscvb.com for information on lodging, restaurants, museums, tours and other services.
AirTran offers non-stop flights from BWI Marshall Airport starting at $169 round-trip in mid-October.
Decide if you want to stay in the French Quarter or near it. Staying in it means you might be "treated" to revelers all night.
Two hotels on the edge of the Quarter, but accessible on foot to major sites, are the Hotel St. Pierre, 911 Burgundy St. (1-800-654-0224, www.FrenchQuarterInns.com, $79 to $169 per night) and the Best Western at 920 North Rampart St, (504-524-3333, www.bestwesternlouisiana.com, $119 per night).