Arts
Finding a lot to laugh about in Spamalot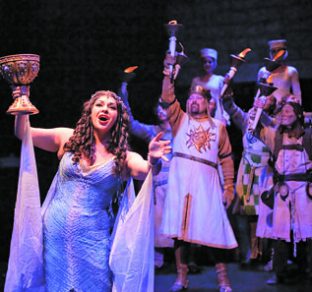 The Lady of the Lake, played by Priscilla Cuellar, raises the Holy Grail, found after a long, comic quest in Spamalot, now playing at Toby's Dinner Theatre in Columbia. In the background, the Knights of the Round Table (led by Lawrence B. Munsey playing King Arthur) pay tribute.
Photo by Kristine Christiansen
Rubber chickens, Vegas, disco and gay marriage in Camelot? Richard Burton would not be amused. But the current musical Spamalot at Toby's Dinner Theatre is two letters and five decades removed from the venerated 1960 Broadway production.
And audiences are not just amused, they guffaw and snort with laughter at every double entendre, every pun, no matter how puny, and every fart joke.
This is, after all, Camelot by way of Monty Python, the British (low) comedy group. As the program notes, the musical is "lovingly ripped off from the motion picture Monty Python and the Holy Grail." The show title is plucked from a line in the movie: "We eat ham, and jam and Spam a lot."
The Holy Grail film premiered in 1975. Three decades later, the Broadway production of Spamalot won three Tony Awards, including the award for Best Musical.
Spamalot's book and lyrics are by Monty Python writer and actor Eric Idle, with music by Idle and John du Prez, who has composed scores for numerous movies, including A Fish Called Wanda.
King Arthur legend retold
Spamalot is based very loosely on the King Arthur legend, complete with a nascent Knights of the Round Table (which the King rounds up throughout the show), a search for the Holy Grail, and romance with the lovely Guinevere, referred to for most of the show as the Lady of the Lake.
Arthur is aided by his pretend horse Patsy, played by an actor who mimics the clip-clop of a horse's hooves by knocking two coconut shells together.
The show's numerous catchy musical numbers start off with "Fisch Schlapping Song," which entails much slapping in the face with fish by residents of a Finnish village. Wait, the show is supposed to be about England not FINland. Let the puns begin!
Another fun song is "I Am Not Dead Yet," with perhaps the world's first zombies. The show takes place in the year 932, after all. In what appears to be a cart piled with bodies ravaged by the plague, the undead suddenly bounce up and start singing.
Standout performers
The Lady of the Lake, played by Priscilla Cuellar, enters the show in a sea green gossamer dress, seaweed clinging to her hair, with a posse of skimpily clad cheerleaders, aptly named the Laker Girls.
Cuellar is the show's standout performer, hamming it up one minute, and unleashing her powerful voice the next in songs like "Come With Me."
Cuellar, who won a Helen Hayes award for her work in Toby's production of Legally Blonde, draws the attention of the audience in every scene she's in. In fact, after a number of scenes go by without her, she even gets to lament her absence in a song, "What Happened to My Part?"
It is The Lady of the Lake who presents a swaggering King Arthur with Excalibur, the sword given to the man meant to rule England.
Lawrence B. Munsey plays King Arthur with a slap-happy buffoonery. He attempts to invade a castle with a large wooden rabbit in the style of a Trojan horse, only to discover he failed to secret any of his knights inside.
He even manages to turn the show's perky song about death, "Look on the Bright Side of Life," into a laugh when he's unable to whistle the chorus with the rest of his men.
And what story of Camelot is complete without a Sir Lancelot or Sir Galahad? These parts are ably played by David Jennings and Nick Lehan. Like many other actors in the show, each portrays several different parts.
If you like your comedy broad, there is a lot of humor here. The audience member sitting next to me laughed pretty much non-stop through the whole show. "It's stupid humor," he said. "But it's so funny."
There's also the requisite political incorrectness here and there. For example, there's a scene in which a band of scoundrel knights demands that King Arthur put on a Broadway musical. He replies that he can't because you need Jews for a successful Broadway show. The song "You Won't Succeed on Broadway" includes a number of Fiddler on the Roof parodies, and Arthur sets off in search of Jews.
In addition to the animated actors relishing every easy laugh, another laudable part of the production is the costumes. The show includes change after change of clothes, from drab peasant gear, to skin-tight purple disco-style bell bottoms, to a half dozen brides in teeny lace dresses. Costume coordinator Munsey (yes, King Arthur) has done a stellar job.
(By the way, at Toby's the actors also serve as waiters before the show and during intermission. Their tips make up a large part of their pay.)
The music from a small orchestra, comprised of keyboards, violin, drums trumpet and guitar, provides a rich accompaniment to the songs.
Unfortunately, the microphones worn by the actors sometimes muffled the punch lines of the jokes, occasionally diluting what surely would have been a funnier scene if you heard every word.
Spamalot ends with a reprise of the stirring anthem, "Find Your Grail." And if your grail is to have an evening filled with slapstick humor, then you've found what you're looking for in Spamalot, where you'll almost certainly laugh a lot.
Spamalot continues through March 23 at Toby's Dinner Theatre, 5900 Symphony Woods Rd., Columbia.
Ticket prices, which include an all-you-can-eat buffet, are $53 Sunday through Thursday evenings and Wednesday matinees. The price on Friday evenings is $54.50, Saturday evenings cost $56, and Sunday matinees are $51.
In addition to the regular buffet entrees of steamship round, roast turkey breast and baked Virginia pit ham, there is also a Spamalot special called Sir Loin of Loaf (meatloaf with mushroom gravy).
For tickets or more information, see www.tobysdinnertheatre.com or call (410) 730-8311 or 1-800-888-6297.