Cover Stories
Finding freedom on two wheels
Ira Loux's motorcycle mania began in his teens, when he would ride a dirt bike on the back roads surrounding his family's home in the Poconos.
Loux, now 52 and a software consultant living in Baltimore County, said he didn't ride for many years after that because he didn't have the financial resources.
But about 12 years ago, he decided "I needed a toy for me," and began hitting the road on his Harley every weekend. "Riding is an excuse to go to different places, and for getting away with friends," he said.
Loux and his riding buddies often travel up Falls Road to Brown's Orchard, where they stop for a glass of cider and catch up on the week's doings.
He has also taken longer trips, down the Blue Ridge Parkway to Tennessee, from upstate New York to Vermont, and from Las Vegas to Utah and Nevada.
For Loux, the appeal of riding is the "different state of mind" he experiences when on his bike. "There's no GPS, no maps, no radio, no heater, no air-conditioning. It's just you, the sound of the bike, and the elements. Riding is my toy and my escape," he said.
More boomer bikers
With their "Who me? I'm not getting older" mentality, it's not surprising that baby boomers make up a majority of motorcyclists. Today, boomers outnumber younger motorcycle owners two to one.
That's actually down from 2003, when there were four times as many boomer owners. But many older riders have "aged out" of riding.
Meanwhile, ownership among the younger crowd has skyrocketed in recent years, in part due to a series of popular cable TV shows about motorcycling and in part due to rising gas prices that have made motorcycles more attractive as a means of transportation.
Some boomer bikers, like Loux, have been riding nearly all their life, while others have come to the sport recently.
Janet Weber, for example, is a relative newcomer. Weber, 55, an advertising and marketing professional who lives in Baltimore City, learned to ride so she could accompany her boyfriend, Towson insurance salesman Paul Burke.
"This is pretty new for me," she said. "I was never a great fan of motorcycles, but Paul is a very safe driver."
Though motorcycling is primarily a male sport, more women are joining the guys on the road. In fact, according to the Motorcycle Safety Foundation, more than 4 million women in the U.S. know how to ride.
Burke, 62, rode when he lived in California as a young man. He gave it up while raising his family, but several years ago, the riding bug bit him again.
Now he and Weber — Burke on a Harley and Weber on a BMW, both clad in their helmets and leather jackets — will ride on the weekends, sometimes out to Friendly Farms, sometimes down to Berkeley Springs, W. Va.
"It feels like flying," said Burke. "It's different from riding in a car. When you're on a bike, you're more present with nature…it's very freeing."
Motorcycles go mainstream
There may once have been a stereotype of motorcyclists as "toughs" or "hoodlums," but that has changed.
In Eric Barshop's motorcycle club, MCV, the 25 members — the youngest of whom are in their 40s — include a mix of people, from blue-collar workers to business owners and professionals. Barshop, 55, is a CPA.
Barshop used to ride about 20 years ago, but only returned to riding regularly about three years ago. Now he rides every weekend and sometimes during the week, joined by his riding friends, and often by his wife, Amy Stein.
"The best set of friends I've ever had have come through riding," he said. "I can't remember what I did before I rode every weekend. This is more fun than I've ever had."
Barshop has put about 40,000 miles on his Honda Gold Wing in the last three years, riding to such destinations as Ocean City, Deep Creek Lake, the Shenandoah Valley and down Skyline Drive. On travels out west, he has rented bikes and ridden through Yellowstone.
To Debbie Thompson and her husband, Gary, motorcycles are one more activity they can share together. The Marriottsville couple first started riding in the '70s.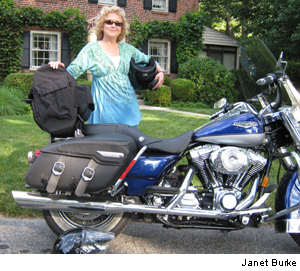 "We were young and a lot of our friends rode then, too," said Debbie, 56. While raising their daughter, the Thompsons enjoyed traveling in a motor home, and were also avid boaters.
About 11 years ago, Gary decided he wanted to ride motorcycles again, and Debbie took a safety course so she could accompany him.
"I got the bug, and I've been riding ever since," Debbie said. Both the Thompsons ride Kawasaki cruising bikes so they can go on long-distance rides. "Riding is a great way to get away from people and explore unknown places," she said.
Safety concerns
Motorcycle riding can be dangerous, of course, although Loux, Barshop, Burke and Weber all emphasize the importance of safety while riding.
Still, the numbers can be frightening. The National Highway Traffic Safety Administration reports that motorcyclist fatalities have been increasing for every age group, with a larger increase among riders 50-plus.
The University of Michigan Transportation Research Institute (UMTRI) found that the number ofMichigan motorcyclists 45-plus killed in crashes nearly quadrupled from 2001 to 2005, even as the crash rate declined among younger riders.
"As people age, their bodies become more fragile and their chances of dying as a result of a crash increase," said UMTRI researcher Lidia Lostyniuk.
Of course, the sense of risk is part of what makes motorcycling attractive to some.
"What else do I enjoy? I think there is a little danger in riding a motorcycle, well out of my normal workday comfort zone," said Burke. [It's something] "perhaps a little on the edge that I don't find in other aspects of my life. It gives me a heightened sense of awareness."
At the same time, there are limits to how much risk sensible boomers will take on their bikes. "You can't go around the Beltway at 100 miles per hour," said Loux. He noted that neither he nor any of his friends has ever been involved in a motorcycle accident.
"You need to be a skilled rider," agreed Barshop, who advises newcomers learn to ride on a small bike so they can learn to control the weight of the machine under them.
Barshop works to hone his safety practices, because he wants to keep riding for a very long time.
"To me, riding means freedom," he said. For those interested in buying their own set of wheels,Popular Mechanics suggests keeping these questions in mind:
Are you an experienced rider? Don't buy a motorcycle until you've taken a course and become licensed so you can ride legally.
What type of riding do you intend to do? The kind of bike you would buy for recreational use might be different from the kind you would use for your daily form of transportation.
How much do you want to spend? You can buy used or new, and spend anywhere from $5,000 to $35,000 or more. Determine your budget before going shopping.
Staying safe on the road
To be a safe rider, the Motorcycle Industry Council offers these tips:
Get trained and licensed. Take a Motorcycle Safety Foundation Rider Course(www.msf-usa.org) and ride legally with certification from the Department of Motor Vehicles.
Wear protective gear. Wear head-to-toe motorcycle-specific safety apparel and a helmet manufactured to the standards set by the Department of Transportation.
Don't drink and ride. Never use alcohol or other drugs when riding.
Ride within your limits. Don't ride faster or further than your abilities allow.
Be a lifelong learner. Go to training classes annually to brush up on skills and knowledge.