Arts
Gallery celebrates local artist's long career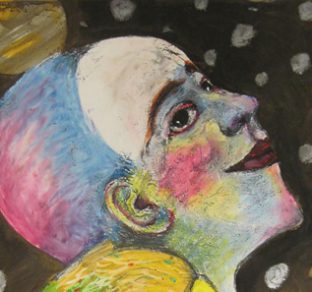 Born in Baltimore in 1926, Joan Erbe grew up in Windsor Hills on the West Side. Her father, a coffee salesman, often took her to circus side shows, where father and daughter were soon on a first-name basis with many of the circus "characters."
When at home, her mother always encouraged her to create, and when young Joan would sigh, "I'm bored," her mother would order Joan to her room with the admonition, "You can't come out until you do some artwork!"
Erbe took her mother's words to heart and has been "doing" artwork ever since. Sometimes referred to as the "Grand Duchess of Baltimore Painters," Erbe and her long and illustrious career are being celebrated through Feb. 27 at the Fleckenstein Gallery in Hampden.
The exhibit, called "Characters & Curiosities," is an extensive — though not all-encompassing — look at Erbe's works, from the subtly colored oil paintings created in the 1960s to the vibrantly hued acrylics painted from the 1980s to the present. The exhibit also includes many of Erbe's watercolors, etchings and collagraphs.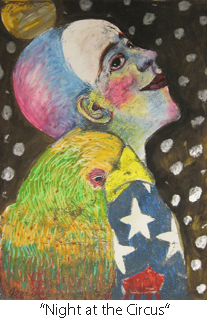 Revisiting the circus
The colorful — literally as well as figuratively — and curious characters Erbe encountered as a child when her father took her to the sideshows at the circus, as well as when she visited other family members and their artistic and theatrical friends, gave her a lifetime's treasure trove of subject matter. From these she developed her distinctive style.
You will see the child's perspective still very much in evidence in paintings such as "Bearded Lady" or "Side Show," for example. Her love of circus animals was apparent early on: One of her paintings of elephants was published in the Baltimore Sun when she was just 8 years old.
Erbe studied at Maryland Institute College of Art (MICA) and soon developed into a prolific artist, working in a variety of media and exhibiting nationally and internationally.
She had her first solo exhibit at the Baltimore Museum of Art in 1966, and since then has had more than 60 solo shows around the country, in museums, galleries and cultural institutions such as the Corcoran Gallery and the Library of Congress.
Her work has received many awards and been acquired by numerous museum, corporate and private collections. Since the 1990s Erbe has been represented regionally by Gomez Gallery, the Heineman Myers Gallery in Bethesda, and currently at Fleckenstein Gallery.
A sense of whimsy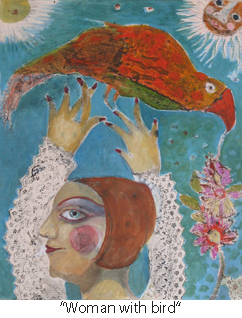 Whether in black and white, pastels or colors, Erbe's works all share the same sense of whimsy and an almost primitive style. Her rounded, exaggerated figures bring to mind the paintings of figurative Colombian artist Fernando Botero who, born in 1932, is of the same generation as Erbe.
Erbe doesn't necessarily credit any particular painter as an inspiration, but has said that she is intrigued by the patterns in Matisse's work, as well as the colors in the art of Mexican painters. So it's no surprise to gallery owner Terrie Fleckenstein that Erbe's works make repeated use of skeletons and reflect her interest in their inherent design, especially the skulls and the rib cage.
"Joan has always had an active imagination and has spent her life constantly creating," said Fleckenstein.
Erbe is no longer as prolific as she once was, but she's still as "feisty" as ever, as is her artwork, said Fleckenstein. In addition to her own work, Erbe currently teaches a group of professional women artists at the Myerberg Senior Center in the Pikesville/ Mt. Washington area.
The Fleckenstein Gallery is located at 3316 Keswick Rd. It is open Tuesday through Friday from 11 a.m. to 7 p.m. and Saturday from noon to 5 p.m. For more information on the exhibit, call (410) 366-3669 or visit www.fleckensteingallery.com.