Housing
Going to live with your kids? Be flexible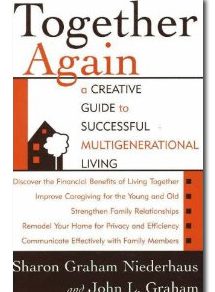 When Mike Repak's father passed away, he and his wife considered moving his mother, Maria — then 88 and suffering from mild dementia — into an assisted-living facility near them.
But instead, the couple decided they wanted Maria to live with them and their two teenagers. "It was going to be a big adjustment for her without Dad around," said Repak, now 53. "We wanted her to feel like she was part of a family."
The Repaks built an addition to their home, with a living room, bedroom and bathroom. The couple and the kids often ate with Marie in her living area. "It was nice for our children to see that families can take care of their members," said Repak, whose mother spent the last two years of her life with them.
The couple hired a home health aide to make Maria's meals and take her to doctor's appointments while they were at work.
Twentysomething "boomerang" kids who are moving back home seem to get all the headlines. Less recognized is another trend: seniors moving in with their adult children and even their grandchildren.
Twenty percent of individuals 65 and older lived in a multigenerational household in 2008, up from 17 percent in 1990, according to the Pew Research Center.
Melding households can be a positive experience for everyone. The family can bond while playing games and eating meals.
"Look at this as an opportunity," said Amy Goyer, AARP's family expert. "You have a chance to enjoy your mom or dad in their later years. This is a way for children to know their grandparents in a way they wouldn't otherwise."
Factors to consider
But before moving in with your adult son or daughter, you'll need to decide whether you'll feel comfortable living in someone else's home. You'll no longer rule the roost as you did when your child was a child.
"Do you get along? You may love someone, but do you like them?" said Sharon Graham Niederhaus, co-author of Together Again: A Creative Guide to Successful Multigenerational Living (M. Evans & Co., $17).
Also imagine day-to-day life with grandchildren, and maybe pets. "If you have no tolerance for noise, do you want to move into a house with children or teenagers?" asked Jennifer Prell, president of Silver Connections, an elder-resource network in Cary, Ill.
Meanwhile, the adult child needs to be prepared for the drain of time, energy and possibly money that could come with having one or two parents move in. The new arrangement could also put a strain on their marriage.
And if a parent needs caregiving, you'll all need to be realistic about what that entails. "Families generally underestimate the amount of care that Mom is going to require," said Kerry Peck, an elder-law attorney in Chicago. "Even if Mom moves in relatively healthy, that could change overnight."
Before making a decision, the two generations should discuss all the issues — from privacy concerns to the division of chores. Goyer suggests sitting down and asking, "What are everyone's expectations? What are you uncomfortable about?" Once the families are combined, meet regularly to air any concerns.
If Mom likes to cook but her son-in-law runs the kitchen, perhaps she can cook on weekdays while he cooks on weekends.
Maybe Dad gets a TV in his room, so the adult children — or the teens — can use the family room to watch their favorite programs.
Perhaps you prefer a light meal at 5 p.m., while your daughter-in-law and son eat a big dinner at 7 p.m. In that case, plan to eat one meal together each week.
Establish boundaries
The adult child needs to set boundaries. For instance, is Grandpa allowed to tell the teenage son to turn off the TV and do his homework? And what if the teenage son talks back to Grandpa?
The older parent, too, must set limits. Maybe Grandma is glad to babysit once a week, but she doesn't want to become a granny nanny.
And she's likely to make friends or find a close companion. "Granny might not move in and want to start knitting," said Donna Butts, executive director of Generations United, a membership group. "She may want to go dancing or have a male friend."
Consider creating a private entrance. Or perhaps Mom can schedule her bridge games when the kids are at school.
Hit the money issue head on. "Have a candid conversation with Mom or Dad," said Thomas Scanlon, a certified public accountant. "Are they able to sustain themselves? Or will the child need to subsidize some of their expenses?"
It's likely that a parent who has sold a house will be able to pay expenses. Together you should determine a fair amount for the parent to pay for meals, utilities, cable costs and phone bills, and even for a home addition.
"It makes the parent feel not as much as an intruder, but a partner in the space," said Ronald Fatoullah, an elder-law attorney in New York City.
Another issue is figuring out what to do with the parent's furniture and other possessions. "If a senior moves into a son or daughter's house and tries to take it over with their stuff, there's going to be a problem," said Prell.
A parent should consider putting his or her possessions in storage for a six-month trial period of living with the adult child.
The adult child can hire a geriatric-care manager to assess the home as well as the kind of care an aging parent may need. Find a care manager through the National Association of Professional Geriatric Care Managers at www.caremanager.org.
Excerpted from Kiplinger's Retirement Report.
© 2011 Tribune Media Services