Arts
Holiday happenings to enjoy around town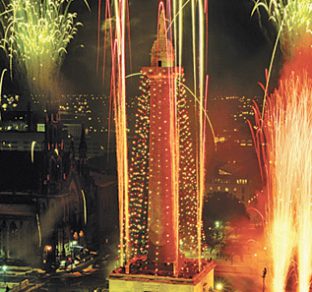 Whether you celebrate Christmas, Chanukah, Kwanzaa or the winter solstice, 'tis the season to enjoy the festivities that come along this time of year. Here's our annual round-up of selected holiday doings in the area.
Nov. 26 to 28
The annual three-day Kennedy Krieger Festival of Trees is a wonderland of one-of-a-kind decorated trees, fairyland forests, gingerbread towns and toy train gardens. You'll also find more than 100 craft boutiques, a silent auction, holiday treats and activities for the family.
The festival benefits the Kennedy Krieger Institute and is held in the Cow Palace at the Maryland State Fairgrounds in Timonium, Friday and Saturday, from 10 a.m. to 9 p.m. and Sunday, 10 a.m. to 6 p.m. Admission is $10; $8 if tickets are purchased online at http://festivaloftrees.kennedykrieger.org. Call (443) 923-7300 for more information.
Nov. 27
An old-fashioned tree-lighting ceremony in Catonsville kicks off the holiday season at the Catonsville Fire Department at 6:30 p.m. Refreshments, seasonal music and fireworks usher in Santa's arrival, so bring any little ones you know. Call (410) 744-3256.
Through Dec. 18
The Christmas Market and Craft Show at the Agriculture Center in Westminster features juried crafts, Christmas decorations, baked goods and gourmet food gifts. Shop 'till you drop from 8 a.m. to 2 p.m. Call (410) 848-7748.
Nov. 26-Jan. 3
Your favorite train buff will want to visit the Holiday Festival of Trains at the B&O Railroad Museum, 901 W. Pratt St., for this annual choo-choo extravaganza. Admission to the museum is $14, adults; $12, those 60+, $8, children 5 to 12. Call (410) 752-2490 for details.
Nov. 26-Jan. 7
More trains are at the Shops at Kenilworth in Towson at "Making Tracks to Kenilworth for the Holidays," an annual display of more than 92 feet of model trains, animations and hundreds of favorite holiday — and Baltimore — characters. The display is open during mall hours. While there, don't forget the train displays in Stebbins Anderson. Call (410) 321-1909 or www.theshopsatkenilworth.com for more information.
Dec. 2
The annual lighting of Baltimore's own Washington Monument is an annual tradition. Enjoy live entertainment, refreshments and a fireworks finale, beginning at 5:30 p.m. Call 1-877-BALTIMORE or visit www.promotionandarts.com.
Dec 4
B'nai Israel Congregation celebrates Chanukah with latkes, kosher munchies, a Chanukah sing along, klezmer music and children's activities at 6 p.m. The cost is $15 per family or $5 per person. The synagogue is located at 27 Lloyd St. Call (410) 732-5454 for more information.
Dec. 4
Fells Point celebrates an "Old Tyme Christmas" with wandering carolers and the arrival of St. Nick by — what else in this waterfront neighborhood? — tugboat. Call (410) 675-8900 or find out more at www.fellspointmainstreet.org.
Dec. 4
Not to be outdone, Baltimore County welcomes in the season with its own tree lighting ceremony beginning at 6 p.m. at Olympian Park, near Towson Circle. Fun and festivities include a Kris Kringle Parade; Santa's arrival by fire engine; tree lighting ceremony; opening of Santa's Workshop at the Old Hutzler's on Towson Circle with reindeer, Beau & Tinsel; and a book signing by Michael J. Lisicky, author of Hutzler's: Where Baltimore Shops at Barnes & Noble.
Dec. 4
Baltimore's harborfront celebrates the holidays on Dec. 4 at 6 p.m., when more than 50 pleasure boats make their way from the Inner Harbor to Fell's Point, festooned with holiday lights and other colorful decorations in the "Baltimore Parade of Lighted Boats." More information is available at www.fpyc.net.
Dec. 5
Folksbiene New York National Yiddish Theatre, the longest-running professional theatre in America, brings their troupe for a return engagement at the Weinberg JCC for a Chanukah performance of Makht a Tsimes! (Make a Fuss!) on Dec. 5 at 3 p.m. Tickets are $20 for JCC members and $30 for non-members. The JCC is located at 5700 Park Heights Ave. For reservations, call Jana at (410) 542-4900, ext. 621.
Dec. 5
The streets of Hampden usher in the holiday season with the Mayor's Annual Christmas Parade featuring marching bands, dance and step teams, the Baltimore Marching Ravens, Harley Davidson motorcycles, equestrian units, the Boumi Temple performers, floats, and some distinctly Baltimore performers and amusements. The parade culminates with the arrival of Santa Claus on 36th Street — otherwise known as The Avenue, 'hon!
And you can enjoy Hampden's own "Miracle on 34th Street" through Jan. 1. With its Christmas lights strung across the street, inflatable snow globes, musical trains and blinking angels, this sparkling annual display just gets better — and more over the top — every year. For more information, visit www.christmasstreet.com.
Dec. 10 to 12
Hampton National Historic Site invites you to spend the holidays with them this year. Kick off the season with a visit to the park between Friday, Dec. 10 and Sunday, Dec. 12 for the traditional Yuletide Weekend. The Hampton Mansion, built in 1790, was once the largest house in the United States. Enjoy its seasonal decorations through the New Year. Holiday crafts, carriage rides and storytellers are just part of the fun-filled schedule. Visit www.nps.gov/hamp for more information.
Dec. 11-12
It's not Christmas without a Nutcracker, and the Moscow Ballet's Great Russian Nutcracker fills the bill with more than 40 Russian dancers, gorgeously designed original costumes and breathtaking sets. Pirouette down to the Hippodrome Theatre to enjoy this traditional holiday spectacle. For tickets, which start at $60, visit www.broadwayacrossamerica.com.
Dec. 24
The holiday season is about both giving and receiving, and at this year's annual Mitzvah Day at least 600 volunteers, organized by Jewish Volunteer Connection, will work together on behalf of the community on Christmas Eve.
Volunteers will go to soup kitchens and visit hospital patients and nursing home residents at more than a dozen sites around Baltimore. To register, visit Jewish Volunteer Connection's website at www.jvcbaltimore.org, and click on the link to Mitzvah Day registration.
Dec. 29
Celebrate the spirit of Kwanzaa with a presentation by the Kùlú Mèlé African Dance and Drum Ensemble at the Reginald F. Lewis Museum of Maryland African American History and Culture, 830 E. Pratt St. Performance begins at 6:30 p.m. Tickets are $7 for museum members and children 12 and under; $10 for non-members. Call (443) 263-1800 or visit www.africanamericanculture.org for more information.
Dec. 31
Baltimore's annual New Year's Eve Spectacular at the Inner Harbor counts down to 2011 with live music and a spectacular fireworks display. Call 1-877-BALTIMORE or visit www.promotionandarts.com.
From all of us at the Beacon, have a happy, healthy and fun-filled holiday season!