Arts
Iconic "Grease" oozes with happy nostalgia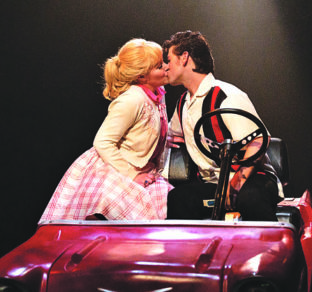 Good girl Sandy meets bad boy Danny in the nostalgic musical "Grease," now playing at Toby's Dinner Theatre through July 28.
Photo by Jeri Tidwell
After nearly 50 years, it seems Grease is still the word. If you don't believe me, head to Toby's Dinner Theatre and check out their production of the musical. If you don't leave singing or humming one of the songs, check for a heartbeat.
The show dates back to its off Broadway opening in 1971, with book, music and lyrics by Jim Jacobs and Warren Casey. In 1972, it opened on Broadway and ran for 3,388 performances before closing in January 1980.
Some of the actors who have played the lead, greaser Danny Zuko, include John Travolta, Richard Gere and Patrick Swayze.
In 1978, a very successful film was released with Travolta and Olivia Newton John in the lead roles. The soundtrack was the second-bestselling album of the year. The song "Hopelessly Devoted to You" picked up an Oscar for Best Original Song. The budget for the film was $6 million, yet it grossed $395 million.
Toby's version, as directed by Mark Minnick, strays a bit from the original but still captivates patrons of all ages. Everyone from seniors to teenagers were in the audience.
Minnick told me there have been at least seven versions of Grease. All of them stick to the basic themes — the romance between Danny and Sandy, the angst of growing up, and the desire to fit in at the fictitious Rydell High.
Back by popular demand
Toby's has produced Grease before, more than a decade ago. Why do it again? "It's an iconic and nostalgic show that people want to see. It helps them remember happy times," Minnick said. "It is your perfect summer fare, and I think it makes people smile inside and out."
The evening starts with a buffet dinner, with as much food as you want. Some of your choices for this show include Cha-Cha chicken (named for the character Cha-Cha), shrimp, barbecued ribs, tilapia, steamship round, a salad bar, veggies, corn on the cob and ice cream.
While coffee and tea are included, specialty drinks from the bar and additional desserts can be ordered from your waiter. Tables are waited on by the actors, and your tip constitutes a good part of their take-home pay, so keep that in mind.
After the meal, emcee Robert Biedermann appears on stage with the pre-show announcements. He welcomes groups, acknowledges birthdays and anniversaries, and sets the house rules (please remain in your seat during the show), all in a humorous way. If you're a regular at Toby's, you know Robert. You can also see him perform in some of the shows.
As music director, Ross Scott Rawlings expertly directs a live orchestra playing above the stage, which isn't as common in dinner theaters as you might think. Many of the theaters utilize tracks, but as you'll see, live music sounds much better.
Cool cats
In the lead role of Danny is Matt Hirsh, who has performed at Toby's before in shows including Newsies, 1776 and The Addams Family. Though he can't compare to Travolta, Hirsh has good pipes and smooth moves.
Sandy is played by Nicki Elledge, another Toby's veteran who was in Beauty & The Beast. Her singing style brings warmth to the character, especially in the number "Hopelessly," and she shows range with "Summer Nights."
Maggie Dransfield is so full of energy as Rizzo, the alpha female of the Pink Ladies, that it almost makes you tired to watch her.
Paul Roeckell was a cool Kenickie (and my waiter), and Decarlo Raspberry (love that name) as Johnny Casino had the crowd rocking with "Born to Hand Jive."
Reservations are a must, as Toby's seems to be sold out just about every night. In case you plan to bring younger members of the family, be aware that the musical includes some mildly suggestive material. Although the risqué lines will most likely go over the heads of young ones, if this were a movie it would have a PG-13 rating.
Performances are Tuesday through Sunday nights with matinees Wednesday and Sunday. Ticket prices range from $47.50 (12 and under) to $66.50. Group rates (for 15 or more) are available.
For tickets call (410) 730-8311 or go to tobysdinnertheatre.com. Grease runs through July 28. It will be followed by Mamma Mia, running August 1 to September 8.