Features
If it's so much fun, is it work?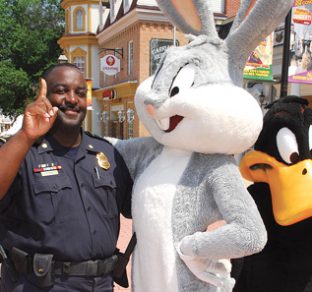 Imagine spending half the year with roller coasters on the horizon, the smell of funnel cakes in the air, and Bugs Bunny as one of your closest friends.
Ruth McDonald enjoys just that as a seasonal employee at Six Flags America in Upper Marlboro, Md. At age 84 she is the park's oldest employee, showing workers one-fifth her age the ropes each year as the summer season swings into high gear.
Most mornings, McDonald, known to staff as Miss Ruth, can be found at the park's front gate scanning visitors' tickets. Some days she fills bins throughout the park with maps that guide visitors from the Early American-themed shopping area called Main Street 1776, to the sedate carousel and antique cars in the Olde Boston area, before the park gives up all historic pretense and plunges into thrill rides in Gotham City and the Hurricane Harbor water park.
"It's just so much fun coming here every day," McDonald said, gesturing toward costumed Daffy Duck and Bugs Bunny characters just inside Six Flags' gates.
McDonald, who retired from a career at Safeway nearly 20 years ago, spent the first decade of her retirement traveling the world. But the Harwood, Md., resident missed the camaraderie of the workplace — and the salary.
So when a recruiter for Six Flags came to a local senior center 10 years ago, she decided to give a whirl to working at the theme park.
"I put my rocking chair away and have enjoyed working again so much," she said. "People can't believe I do all that I do — although I did stop riding the roller coaster when I turned 80."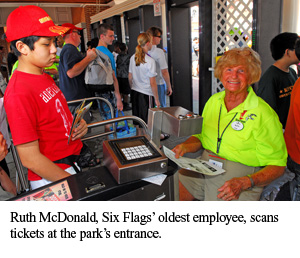 Older workers valued
McDonald is one of 78 Six Flags seasonal employees who are over age 50 this year. That's just a drop in the bucket of a workforce made up of 2,000 workers primarily in their teens and 20s.
"The over-50 demographic is definitely one we'd like to add to," said Cutter Matlock, Six Flags America's director of administration. "Their knowledge, their breadth of experience, their maturity, their work ethic — that's huge.
"I think our attendance issues are far fewer with our seasoned employees [than young adults]. They understand you can't get away with showing up randomly or late to work."
Older workers are also particularly valued when issues arise with park guests, Matlock said. "Their age and maturity carries a little bit of weight itself if there's a heated situation. They've been around the block. They know what they're doing."
Matlock said Six Flags targets older adults for employment in radio advertisements and recruits at senior centers and groups for older adults, such as the National Active and Retired Federal Employees Association (NARFE).
Pay starts at minimum wage, but can climb quickly, Matlock said. Most seasonal workers are paid by the hour. They generally work five days a week during the summer months, and on weekends in the spring and fall — seasons in which the park isn't fully open.
Charles Reed, 50, took the job of security supervisor at Six Flags three years ago after working as a manager at Sears.
"My favorite thing about the job is the people. Everyone is so friendly," he said. "If you're going to be shy, you're not going to last very long at a theme park."
Reed also said that older workers bring maturity to the job "and they're good at thinking on their feet."
Perks of the park
Employees get free passes, and all three of his kids — ages 19, 4 and 2 — enjoy visiting the park with their dad, said Reed, who lives in Landover Hills, Md. Depending on their seniority, employees also get passes to bring guests.
For Lauretta Pridgen, a clerk in Six Flags' warehouse, loop de loop roller coasters with daunting names like the Mind Eraser and scary rides like the Tower of Doom are a thing of the distant past. But she and her husband still enjoy visiting the park on her days off.
"I love the park when I'm not working. Fourth of July last year, I felt we were like little kids in the park. I like the shows, especially," said Pridgen, who is 63 and lives in Landover, Md.
Pridgen worked as a systems accountant at the State Dept. for 33 years, before retiring in 2004 to care for her mother.
"I always said when I retired I never wanted to sit at home. I wanted to do something I liked," Pridgen said. So she looked into working at Six Flags, which is close to where she lives.
Pridgen, who has worked at Six Flags for two years, started out in the parking lot toll booths and scanning tickets at the park entrance.
"My love was being a greeter, talking to kids," she said. But standing all day "was a little taxing on my knees," not to mention the relentless heat and humidity of Washington in the summer. "Some days we'd pray for rain," she said.
So Pridgen applied for the warehouse opening when it came up. In that job she handles merchandise sold in the park's stores and does data entry.
Mentoring young employees
She also enjoys working with the park's younger employees.
"When I first started I thought, 'Mothers and grandmothers are taking these kids' jobs!' But [the young workers] really need us here as mentors. They don't know what to do in a work environment. I encourage them to stick to the rules," she said.
At the same time, Pridgen said that "the people I work with are unusually nice, unusually helpful. You wouldn't really expect that from a lot of younger people."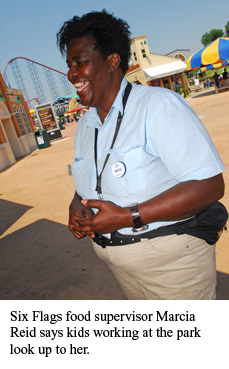 Marcia Reid, 53, a food supervisor agrees. "The kids look up to me," she said. At the same time, Reid said, she learns from them as well. "Every day I learn more. It's a challenge. I love it."
Reid, who is a hair stylist in the off season, also enjoys the job because her daughter works at the park in retail.
Frances Steburg worked in the federal government for 40 years, retiring from the Social Security Administration. She heard about jobs at Six Flags at a NARFE meeting.
"I said, 'Oh what the heck? Let's see.' This was stepping outside of my box," Steburg recalled. That was in 2006, and she is still working at the park.
Steburg, who lives in Bowie, works in cash control, handing out till bags to the various concessions each day. She also likes to think of herself as kind of an ambassador for Six Flags.
"Some people have the image that it's kind of a rough and tumble park, and I say, 'Get that image out of your mind.' This is a beautiful place that gets international visitors. I've met people from France, Germany, Russia, all over."
She also enjoys her younger coworkers. "They don't believe I'm 62," she said.
"When I first started here I worked with 17- and 18-year-olds and they'd say, 'Miss Frances, we're going to stay afterwards when we get off work. Come on, we'll do the rides.' I'm like, 'I'm sorry, honey, I can't do the rides anymore'," she said.
But Steburg credits them with helping her return season after season. "Like everyone else, you have your little aches and pains, but working kind of makes you forget," she said. "Working with young people keeps me young."
Six Flags is still hiring seasonal workers, who will be needed both this summer and in the fall as students head back to school, according to Matlock.
To find openings and apply for jobs, you'll need to use the Internet. Six Flags does not accept paper applications. Go to www.sixflagsjobs.com.