Arts
Innate creative urge drives late-life artist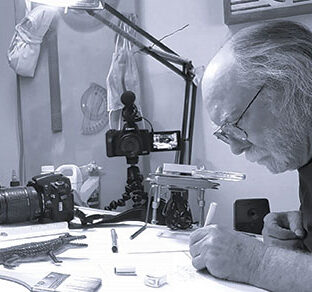 Painter Craig Haupt began his professional career as an artist when he was in his 50s. His latest solo exhibition runs at the Katsea Gallery at Towson Commons from Nov. 2 to Dec. 1.
Photo courtesy of Craig Haupt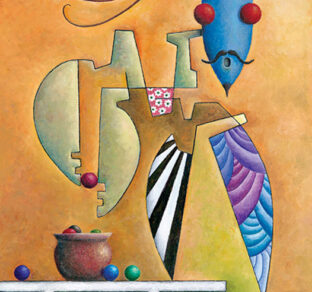 Haupt calls this work "Yes, Almost Full."
Fantasy, surrealism and whimsy infuse the paintings, drawings, prints, storybooks, YouTube videos and soon-to-be-released films of Baltimore artist Craig Haupt.
Haupt, 74, whose exhibition of oil paintings opens November 2 at the Katsea Gallery in Towson, said his art is influenced by masters like Salvador Dali, Paul Klee, Wassily Kandinsky and Pablo Picasso.
"These artists gave me confidence in the style of art I was pursuing," Haupt said in an interview with the Beacon. "They also opened me up in different ways of using my shapes and colors that in some cases strengthened my approach.
"I didn't find myself needing to copy them — just to learn from them," said Haupt, who had the first exhibition of his artwork in 2008 at the age of 59.
Fellow Baltimore artist Karen Trimble, who paints still lifes and landscapes, told the Beacon she admires Haupt's "whimsical works of art. His paintings are unique, fun, colorful, sometimes amusing and always completely original."
Before turning to art full-time, Haupt worked as a draftsman, carpenter and cabinetmaker.
Art on the web
Besides the show at the Katsea Gallery, Haupt's art can also be viewed at the Highlandtown Gallery in Baltimore and, of course, in this day and age, on several websites.
While some "complete purists" in the art field might snub social media, nowadays it is the way for artists to get attention, Haupt said.
"For me, social media is the way to make people aware of my art and when I'm going to have a show," he said.
While a great artist like Picasso worked 18 hours a day and would not be interested in displaying his works online, Haupt pointed out, perhaps "Van Gogh, who had poor sales of his art at first, might have considered it if it existed in his time."
On his website (craiglhaupt.com), Haupt notes that his latest exhibit features his "fourth fictitious twin brother," Hauptcee Haupt. The imaginary twin is a "'tongue in cheek' storyline created from a recent art publication snafu that published my name backwards. Haupt Craig instead of Craig Haupt. Just having a little fun with it."
Haupt noted online that the Katsea show features several new Hauptcee Haupt oil paintings.
Haupt created a backstory for his alter ego: "After his year of fame as an artiste, he'll return to his fictitious family in Blue Ridge, Georgia, and continue working in his trade as a plumber and part-time librarian," according to the artist's website.
From draftsman to artist
Haupt, a Baltimore native, attended City College High School and Baltimore Community College, as well as Essex and Towson colleges.
Haupt hasn't always been a fantasy-type artist. When he was in his early 30s, he took a job drawing houses for a realtor.
"I even did a few commissions of pen-and-ink drawings of peoples' homes," Haupt said in an email. "I am good at it, but the style didn't satisfy me in the way the style of fantasy/whimsy, using lines and shapes that were taking place, did. The doodles and sketches I use have opened up endless designs to explore."
Haupt said his creative instinct is innate. "My desire to create art," he has written, "has been internal from birth. Always have, always will."
He writes short stories, too, and self-published a book. He also films himself doing art, preparing for art shows and even baking cookies. Haupt has posted more than 100 of these videos, which he calls his "Art Stuff" series, on YouTube.
"This creative process," Haupt noted, "feeds me, keeps my mind active — and I wouldn't have it any other way."
Completing a work of art, he said, "soothes the soul." And watching others' reactions to his work brings him joy, too.
"My emotional reward is when the viewer has mentioned that my whimsical works have added a smile to her or his face."
Craig L. Haupt's solo exhibition is at the Katsea Gallery, 1 W. Pennsylvania Ave., Suite 107, Towson, until Dec. 1, 2023. A free Opening Night reception will be held on Thursday, Nov. 2, from 5 p.m. to 8 p.m. 
For more information, see katseagallery.com or call (443) 794-6118.