Arts
Let's put on a concert in the barn!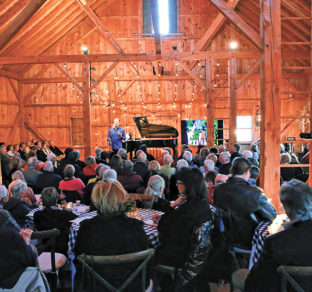 Small audiences can enjoy live classical music performances in a refurbished barn in Phoenix, Maryland. As its website states, "The Steinway Series at Silo Hill is hassle free — no parking issues, no long lines, no dressing up — this is a barn, after all!"
Photo by Jeffrey Higdon/Eastport Films
Imagine being able to listen to your favorite classical musicians, while sipping wine and enjoying light fare, all without having to dress up, fight for parking, or maneuver around hundreds of other people.
In a barn located in the spacious farm country of Phoenix, Maryland, 22 miles from Baltimore, Steinway Series at Silo Hill has room for around 100 guests.
Since 2016, it has hosted four concerts a year from September to May with famous musicians such as Baltimore jazz artist Cyrus Chestnut, violinist Joanna Kaczorowska and opera singer Frederica von Stade.
Unfortunately, due to the pandemic, Silo Hill had to reschedule its two spring concerts — which were to feature pianist Jenny Lin as well as bass violinist William McGregor with pianist Young-Ji Kim — for 2021.
For its planned reopening this September, to make distancing possible, the venue is considering performing concerts twice, each time with half the usual number of patrons, or possibly moving the concerts completely outdoors.
"We're going to make this work," president Carolyn Black-Sotir said.
A new type of concert
In 2014, Black-Sotir, 63, decided she wanted to create an intimate, comfortable concert venue, reinventing the way people experience live classical music.
And it's all for a good cause: raising funds for Parkinson's disease research and support services for patients. Both of Black-Sotir's parents suffered from the disease.
"Somehow music reaches some part of a person's soul or brain that is unreachable by other means," Black-Sotir said. "I think it's therapeutic no matter what state of health."
Black-Sotir and her husband, Michael Sotir, moved into their home on the 100-acre property in 2013. They were immediately drawn to the large, wooden post-and-beam barn built by Amish artisans from Pennsylvania.
"We thought the barn deserved a nobler purpose," Black-Sotir said.
They wanted it to eventually host musical concerts, so her husband, a builder, began to add bathrooms and a kitchen serving area.
Then Black-Sotir sat down with friends Ernest Ragogini, the former music department chair of Notre Dame of Maryland University chair, and Matthew Bachman, pianist and manager of Baltimore's Steinway Piano Gallery.
"We were afraid live concerts were going to be a dying art," Black-Sotir said. So, the trio decided to create a new kind of atmosphere, one that was accessible, casual and comfortable. Black-Sotir would use her barn as the venue, and Bachman would provide Steinway grand pianos.
In October 2016, their dream became a reality when opera singer Frederica von Stade took to the stage. Since then, "We have had sellouts for every single concert" until the coronavirus lockdown, Black-Sotir said.
Family-style atmosphere
Excited for the reopening, Stephen Wilcoxon, 76, has been attending concerts in the intimate barn venue since it opened.
Wilcoxon and his wife attended the first concert in 2016. "As we went to more and more of them, it just became like our private little concert hall," Wilcoxon said.
Living only 10 minutes away, it wasn't hard for Wilcoxon to become a regular, which is very common.
Another consistent attendee, Carl Behm, loves the intimacy of the concert hall. "It's like being in someone's living room surrounded by people who quickly become your friends," Behm said.
Aspasia Oosterwijk, 61, credits the intimate, familial environment to not only the fellow attendees, but also to Black-Sotir.
"Besides being so incredibly talented herself as a soprano, [Black-Sotir] is just so warm and welcoming," Oosterwijk said. "You want to surround yourself with people like this."
In addition, Oosterwijk praises all the hard work Black-Sotir and the volunteers put into the seasonal decorations, and how close attendees can get to the performers. "It's genuine; it's alive; it's right there in front of you," she said.
Oosterwijk has made an effort to expand the Silo Hill family, bringing neighbors, friends, her daughters (who are in their 20s) and even her 91-year old mother, who doesn't have Parkinson's disease but often participates in music therapy.
"If you could see how [the performance] lit up her face," Oosterwijk said of her mom. "It was beautiful."
The Parkinson's connection
Many of the attendees have a personal connection to Parkinson's disease, and praise Silo Hill's greater calling.
Two of Wilcoxon's friends have had Parkinson's disease. "I don't care how much they charge for the ticket," he said. "It's going to hopefully cure that damn disease."
Behm, 78, also has several friends with Parkinson's. "It's one of the reasons why we make a donation to Silo Hill above and beyond the tickets," he said.
Behm, together with his wife, also volunteered to help at the November 2019 concert, serving food and wine and helping to clean up afterward.
As a perk, they got to meet the musicians, violinist William Terwilliger and pianist Andrew Cooperstock, who comprise the duo known as Opus Two.
Musicians like Opus Two often reduce their performance fees to Silo Hill to help the organization raise more funds for Parkinson's research. "I think the artists have been inspired by what we're trying to accomplish here," Black-Sotir said.
Each year, Silo Hill has picked a Parkinson's-related project to receive its donation. In 2016, it was a study by Johns Hopkins University and the Maryland Association of Parkinson's Services (MAPS) on the effects of community singing on Parkinson's patients.
This past year, Silo Hill donated to a boxing program run by MAPS in Baltimore, as studies have shown the benefits of boxing-like exercise for mitigating the effects of Parkinson's disease.
The Steinway Series at Silo Hill is planning to re-open on Sat., Sept. 26 from 4 to 6 p.m. with opera singer Andrew Owens. Concert tickets cost $50. Visit steinwaysilohill.org for more information or to buy tickets.