Travel
Live it up like the rich in the Berkshires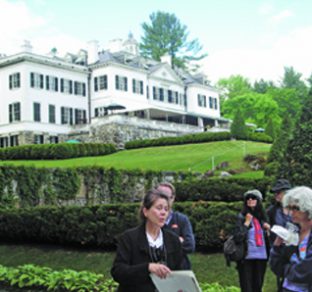 Writer Edith Wharton designed her home in Lenox, Mass., built in 1902 and called the Mount, using the principles in her book, The Decoration of Houses. It features hardware imported from France and marble baseboards from Italy. The house and gardens are open for public tours.
Photo by Glenda C. Booth
LENOX, Mass. — A century ago, writer Edith Wharton wrote of this town in Massachusetts, "Lenox has its own tonic effect on me, and I feel like a new edition, revised and corrected."
Wharton's guest at the time, novelist Henry James, concurred: "I am very happy here, surrounded by every loveliness of nature and every luxury of art, and treated with a benevolence that brings tears to my eyes."
Lenox, in the heart of the Berkshire Mountains in western Massachusetts, has long attracted writers, artists, performers and vacationers.
The Berkshires, part of the Appalachian mountain chain, still intoxicate and rejuvenate, whether you are meandering along the Housatonic River, climbing 3,491 feet up Mount Greylock, poking around 32 quaint towns, admiring fall foliage or enjoying the arts.
The Berkshire region stretches from Connecticut's northern border to Vermont's southern border and 40 to 50 miles from west to east. If you drive without stopping, you can travel from bottom to top in an hour and a half — but you'll want to stop.
Here you'll find a gentle melding of the bucolic and the cultural. En route as I rounded a curve on Route 23, I was startled by a black bear standing on its hind legs, front paws planted on the guardrail, evidently poised to cross the road.
Only seven percent of the region is considered to be developed, and half of that is residential. The area is particularly famous for its outstanding performance venues, like Tanglewood and Jacob's Pillow, as well as theater, art, yoga retreats and fine cuisine.
A little over two hours from New York City and Boston, the Berkshires were a favorite summer retreat and playground for the aristocracy in the Gilded Age, when the barons of business erected multi-roomed behemoths that they called "cottages." Think Carnegies, Vanderbilts and Westinghouses.
These lavish, late 19th century manses today offer a glimpse into how the rich got away from it all — all except conspicuous consumption, that is.
Today, you too can get away by exploring picturesque towns, visiting the mansions, hiking verdant trails, imbibing mountain air, and mellowing out on a local gin, named Ethereal.
Great Barrington
Great Barrington, population, 7,000, exudes small town charm. It's a compact, walkable village of cafes, boutiques and eclectic architecture, including a Gothic Revival church, a Queen Anne-style mansion, a 19th century storefront and a saltbox house. Friendly staff at the visitor center, at 362 Main St., will load you up with a walking tour brochure and local lore.
A marker in front of the courthouse honors the first open resistance to British rule in America. Here in 1774, 1,500 unarmed men obstructed court business to protest British edicts, according to the Great Barrington Historical Society (www.gbhistory.org).
The town was also the first in the world to enjoy electric streetlights and electric lights in homes, another historic marker states. In 1886, William Stanley demonstrated how to use alternating current for commercial purposes and proceeded to light 20 businesses on Main Street. His electrical products manufacturing business evolved into General Electric.
Another first: a statue fronting town hall honors Mum Betts, the first slave to successfully sue for her freedom. She was awarded 30 shillings in damages in 1781 and helped end the slave trade in Massachusetts.
Her great-grandson, William Edward Burghardt (W.E.B.) Dubois (1868-1963), the famous civil rights activist, scholar and cofounder of the NAACP, is honored by a midtown garden near his birthplace. He was the first African American to graduate from Harvard.
The Housatonic River Walk along the west bank of the river offers a touch of the wild right in town. Dubois wrote that the Housatonic was "the lifestream of the town." He also wrote, "That river of my birth was golden because of the woolen and paper waste that soiled it. The gold was theirs, not ours; but the gleam and glint was for all." It still gleams and glints today.
Passenger trains once brought New York performers to the Mahaiwe Performing Arts Center, a 1905, restored vaudeville theater known for good acoustics. It's hosted Broadway shows, silent movies, "talkies" and concerts.

Norman Rockwell lived the last 25 years of his life in the quintessential New England village of Stockbridge, MA. This wintertime panoramic photo of main street (also painted by Rockwell) shows the Red Lion Inn (just to the right of center), which dates back to 1773.
Stockbridge Chamber of Commerce
Stockbridge
Stockbridge, another picture postcard town, is immortalized in the 1965 Arlo Guthrie song, "Alice's Restaurant." You may remember the 18-minute musical monologue about a hippie and his friend, who dump a Volkswagen minibus-load of trash off a cliff near Stockbridge before falling prey to Officer Obie. The actual Alice's Restaurant is now in a new incarnation called Theresa's.
Trinity Church, where Alice and Ray actually lived and hosted the Thanksgiving meal in the song, is now known as the Guthrie Center. Arlo performs there several times a year. He says he sings his famous song every 10 years, and he'll sing it again in 2015, the song's 50-year anniversary.
Today, Stockbridge is more artsy-preppy than counterculture. But it still lacks stop lights and strip malls. It's an iconic New England village — steeples, picket fences and all — truly Rockwellian.
In fact, Norman Rockwell was himself a local. He painted Main Street in 1967, and the town looks just as it did then. Rockwell lived in Stockbridge for the last 25 years of his life, and died in 1978.
The Norman Rockwell Museum (www.nrm.org) houses the world's largest collection of his original art, including 321 Saturday Evening Post covers, 100,000 photographs, letters and other mementos.
A chronicler of 20th century Americana, Rockwell produced 60 years of art depicting the everyday and the ordinary with painstaking attention to detail — a youngster's shoelace is untied, a six-year-old is missing a tooth, a toe is bandaged, an elderly woman has a wrinkled neck, a couple in counseling grimaces. Visitors can learn more by visiting his studio behind the museum.
For some outdoor recreation, visit the Berkshire Botanical Garden (www.berkshirebotanical.org), open until Oct. 13. It showcases 15 acres of native and non-native plants, a wetland garden, willow wattle fencing, a solar greenhouse and a children's garden, complete with chickens and a coop.
To learn how the wealthy vacationed in the Gilded Age in those summer "cottages" — some with 75 to 100 rooms and acres of manicured gardens — take a house (and/or garden) tour of Naumkeag. It was the elegant summer home of the Choate family.
Joseph Choate was Ambassador to England and built the house in 1885. It and features rare Chinese porcelain, family portraits by John Singer Sargent, a decorative entrance to the Chinese garden called the Moon Gate, and eight acres of landscaped gardens.
"Stockbridge is the best of America, the best of New England," observed Rockwell.
Source of literary inspiration
The scenic beauty and tranquility of the Berkshires inspired several American literary giants, including Herman Melville, William Cullen Bryant and Edith Wharton. Touring their homes invites you into the psyches of those engaged in "a disquieting profession," as Wharton described it.
At Wharton's home in Lenox, the Mount, you'll learn that in the summers from 1901 to 1911 Edith Wharton wrote by hand, perched up in bed all morning, before becoming sociable around the mansion and grounds she designed.
Born into wealth, she created what she called "a spacious and dignified house," incorporating hardware from France, marble baseboards from Italy, and electricity from George Westinghouse next door. Her three acres of gardens reflect her passion for European landscape design — a series of outdoor "rooms," which, as she directed, possess "a charm independent of the seasons."
The Mount is one of the few National Historic Landmarks dedicated to women. On Sundays and Thursdays, visitors can learn about those who made the mansion tick on "backstairs tours" a la "Downton Abbey."
Herman Melville finished Moby Dick at Arrowhead, an 18th century farmhouse in Pittsfield (www.mobydick.org). "I have a sort of sea-feeling here in the country," he wrote "…I look out of my window in the morning when I rise as I would out of a porthole of a ship in the Atlantic."
Ever wonder how and where Daniel Chester French designed and built the 19-foot statue of President Abraham Lincoln in Washington's Lincoln Memorial? The answer: at Chesterwood (www.chesterwood.org), the sculptor's country home and studio near Lenox and Stockbridge, a place he described as "heaven on Earth."
The final Lincoln monument was shipped in 28 pieces to Washington, D.C., for assembly. At Chesterwood, you can see a miniature Lincoln monument, models and tools of the artist and his clever invention — a trap door in the floor and railroad tracks to move big sculptures outside so he could work in the sunlight. Chester (1850-1931) also sculpted the allegorical figures on the fountain in Washington's Dupont Circle.
Also worth visiting in the region:
Tanglewood (www.bso.org), in Lenox, is the region's famous outdoor musical venue, home to the Boston Pops in the summer. The last performance this year was Tony Bennett on August 31. You can still drop by and imagine throngs captivated by world-famous performers.
Ventfort Hall, in Lenox, now houses the Museum of the Gilded Age. J.P. Morgan's sister, Sarah, vacationed in this Jacobean Revival-style, 28-room mansion.
Hancock Shaker Village (www.hancockshakervillage.org) in Pittsfield, honors the 350 brethren and sisteren who lived there in the 1870s and practiced "hands to work, hearts to God." Today, it's a living history museum of crafts, heritage breeds of livestock and historic buildings (20 in all).
Think big when visiting MassMOCA (www.massmoca.org) in North Adams. A museum of contemporary art in a 19th century factory, it features very large art works in spacious galleries.
The Clark (www.clarkart.edu), in Williamstown, has a world-class collection of European and American paintings, sculpture and decorative arts from the Renaissance to the early 20th century, including French Impressionists, Winslow Homer and John Singer Sargent.
If you go
Driving distance to the Berkshire region is about 375 miles from downtown Washington. The closest airports are in Albany, N.Y. (45 miles), and Hartford, Conn. (90 miles). In early October, roundtrip flights from area airports to Albany start at $215; rates to Hartford start at $106, both on US Airways.
The Berkshire region was one of the first to promote farm-to-table cuisine and offers world-class dining, but not at New York City prices, said Lindsey Schmid, tourism official.
Berkshire locals love to tout their culinary "trails"— beer and cider, cheese and charcuterie (www.berkshirefarmandtable.com/taste-trails). You can sample hormone-free chevre, Berkshire blue cheese, nose-to-tail sausages and solar-brewed beer.
Other foodie adventures:
• Soco Ice Cream, made in Great Barrington, claims it has "mended broken hearts, curbed tantrums and helped end days on a sweeter note."
• Robin's Candy in Great Barrington, makes vintage candies, some classic, some whimsical, even Boston Baked Bean candy, all served with a free toothbrush.
• Catherine's Chocolates (Motto: "One Sweet Deal") in Great Barrington, has been selling sumptuous treats since the 1920s, like fudge, truffles and cordial-stem cherries.
• The Berkshire Mountain Distillers in Great Barrington handcrafts spirits like Ethereal Gin, Berkshire Bourbon and Ragged Mountain Rum.
In Great Barrington, the Castle Street Café specializes in small plates, local cheeses and calves liver glazed with pearl onions. The Neighborhood Diner serves notable lamb burgers, eggplant fries and fried green beans.
Lodging
To experience the decadence of life in the Gilded Age, consider staying at Blantyre (www.blantyre.com), in Lenox. The 117-acre, former summer estate was built to resemble a castle. Promoters say you can "experience the life and service of a bygone era." The least expensive room is $600 a night.
In Stockbridge, consider the Red Lion Inn, a prominent town fixture since 1773, and host to six U.S. presidents. The inn has 100 individually-decorated rooms, a collection of Staffordshire china, colonial pewter, and some 18th century furniture. The long front porch lined with rocking chairs is a relaxing spot to watch small-town life unfurl. Room prices in October start at $155 for two. Visit www.redlioninn.com.
Other options:
• Rookwood Inn (http://rookwoodinn.com, Lenox, B&B in a Victorian house, a former tavern. Rooms, $185 and up.
• Racebrook Lodge (www.rblodge.com), Sheffield, a rustic getaway. Rooms, $110 and up.
• Days Inn, Great Barrington, basic, adequate and very convenient for walking about town. Rooms are $101.
For information on each town or area:
• Berkshires Visitors Bureau, www.berkshires.org
• Southern Berkshire Chamber of Commerce, www.southernberkshirechamber.com
• Pittsfield, www.discoverpittsfield.com
• Great Barrington, www.greatbarrington.org, www.townofgb.org, https://gbhistory.org
• Stockbridge, www.stockbridgechamber.org
Upcoming events
• Gilded Age Weekend, Lenox, Sept. 13-14, celebrates the mansions of the late 1800s, www.lenox.org
• Fresh Grass, North Adams, Sept. 19 to 21, bluegrass music, https://freshgrass.com
• 35th Annual Apple Squeeze, Lenox, Sept. 27-28, harvest festival, www.lenox.org
• Hancock Shaker Village's Country Fair, Pittsfield, Sept, 27-28, hancockshakervilllage.org
• Berktoberfest, Pittsfield, Oct. 5, local brews promoted, www.downtownpittsfield.com
• Housatonic Heritage Walk at Chesterwood, Stockbridge, Sept. 20 and Oct. 4; Oct. 13, pumpkin carving, www.chesterwood.org
• Fall Foliage Festival, North Adams, Oct. 6, www.fallfoliageparade.com
• Historic House Tour, Great Barrington, Oct. 11, www.gbhistory.org
• Harvest Festival, Stockbridge, Oct. 10 to 12, Berkshire Botanical Garden (www.bershirebotanical.org)
• Williamstown Film Festival, William-stown, Nov. 5-9, www.williamstownfilmfest.com
• Musical tribute to Woody Guthrie, by his son, Arlo Guthrie, Nov. 22, Mahaiwe Performing Arts Center, Great Barrington, www.mahaiwe.org