Housing
Memory care communities address need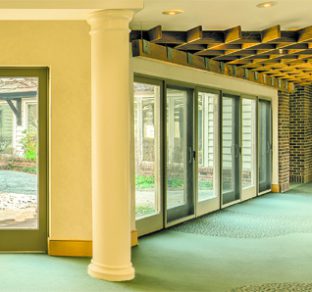 The enclosed garden at the Sylvestery allows patients with memory impairments to explore the outdoors in a secure environment.
Photo courtesy of the Sylvestery
Last March, Pat Oliver knew it was time to find his mother, Evelyn, a new home.
For the past year, Evelyn had been living in a private assisted living home that wasn't helping her cope with her Alzheimer's. She wasn't engaged or active, and the family often saw the home's residents "just sitting in front of the TV," Oliver said. The community was also open and therefore ill-suited for someone at a risk of wandering away from the home unsupervised. The family was worried about her safety.
Oliver eventually decided to move his mom to Olney Assisted Living, where the team created a customized and focused memory support program for her.
What is memory care?
Memory care is a type of long-term skilled nursing specifically geared to patients with Alzheimer's disease, dementia and other types of memory problems. Private units usually provide 24-hour supervised care within a separate wing or floor of an assisted living or nursing home setting. Some communities are emerging specifically and solely for memory care.
Residents may live in semi-private apartments or private rooms, and have structured activities that are designed for those with memory impairment.
Because memory care requires a larger staff-to-resident ratio and additional training, monthly fees are usually higher than at other assisted living communities. Costs may vary, depending on level of care needed, size of room, whether a room is private or semi-private, and geographical location of the community.
In general, memory care offers 24-hour supervised care with meals, activities and health management for residents. The basic services usually offered include:
• Private or semi-private rooms
• Daily meals
• Housekeeping and laundry service
• Medication management
• Exercise and physical therapy programs
• Social programs and activities
• 24-hour staffing and personal assistance
As our population continues to age, memory care housing is becoming increasingly more prevalent, and with it, an emphasis on making this specialized housing more welcoming and home-like for residents and family alike.
"Caring for your loved one is a long-term partnership of trust and commitment," explained Melissa Stewart, Olney Assisted Living executive director. "Together we will create a very special place for your loved one to live with dignity, honor, respect, and love. Your family becomes our family."
Here is a brief sampling of memory care options in Maryland, Virginia, and the District of Columbia. To learn more about these and other facilities you will see in the Beacon, call or visit them.
Olney Assisted Living
16940 Georgia Ave.
Olney, MD 20832
(301) 570-0525
www.olneymemorycare.com
Olney Assisted Living offers customized "memory care by design" for its residents. Its Montessori-based approach emphasizes meaningful activities, and the residents enjoy group singing, support groups and structured, familiar routines, which provide more opportunity for personal independence.
Each private room houses photos and mementos to serve as visual reminders and to help with recognition and identification. Similarly, residents and their loved ones are encouraged to furnish the rooms with furniture and accessories from home to make it feel more recognizable.
The building's design mimics a real-life neighborhood, with "four distinct houses" surrounding a community "neighborhood square," "where residents enjoy arts and crafts in the studio, entertainment in the neighborhood center, clinical services in the health center, and cosmetic services in the beauty and barber shop," explained Christina Green, director of marketing and community relations.
Each neighborhood features "visual reminders and décor" to help residents find their way and ease anxiety. They also have a living room, electric fireplace, covered outdoor patio and gardening beds, and a dining room where meals are served family style.
Residents have access to a 24-hour nurse for health and medication management, and enjoy Mediterranean-inspired meals, which are approved by a registered dietician and recommended for those with memory loss.
The public is invited to an open house on Saturday, July 16 from 10 a.m. to 2 p.m., where people can tour the final neighborhood opening for residents. To RSVP, call (301) 570-0525.
The City Club at Residences at Thomas Circle
1330 Massachusetts Ave. NW
Washington, D.C. 20005
(202) 628-3844
The Residences at Thomas Circle, a Continuing Care Retirement Community (CCRC), offers independent living, assisted living, skilled nursing and memory care. Its Montessori-based memory care neighborhood, called the City Club, is located on the second floor of the 10-story building.
The community is under new ownership by Meridian Senior Living and is currently in the process of establishing a new Montessori Moments in Time program, explained marketing director Matt Johnston. The program should be up and running in a few months.
The new program emphasizes "purposeful living, an individualized life engagement program, education, health and wellness, and family connections," he said. It aims to provide residents with the highest level of independence possible for them.
Johnston also says the single-floor, intimate environment allows residents and staff to forge a close working bond. Residents have the added benefit of becoming very familiar with their surroundings.
There are currently 19 rooms in the City Club, and residents have a choice of private or companion suites. Groups perform daily exercise, go on outings, and regularly meet with youth groups so residents can stay engaged and meet new people. They can also spend time in the shared dining room, café, tea room, barbershop, and TV and movie room.
The community provides three meals per day, healthy snacks, assistance with daily living, and access to a visiting podiatrist, occupational therapist and onsite nurse 24 hours a day.
The Sylvestery
1728 Kirby Road
McLean, VA 22101
(703) 970-2700
www.vinsonhall.org/memory-support
Vinson Hall, a military-affiliated continuing care retirement community, offers assisted living at Arleigh Burke Pavilion and private memory care at the Sylvestery to all members of the community. Only its independent living apartments are restricted to those with a military or certain Federal government affiliations.
Vinson Hall opened the Sylvestery across the street from the main campus in 2003 with 36 private suites. It serves those needing all levels of memory care, from residents with high cognitive functioning to those whose dementia or Alzheimer's has progressed into advanced stages.
Activities are based on level of functioning and interest. Residents often meet in small groups of three or four for gardening, games or conversation. Many also benefit from exercising in the gym, engaging in stretching, weightlifting or cardio on the treadmill.
There are also regular visits from professional entertainers, parties, cookouts and off-campus visits to restaurants and local attractions.
Residents who are less ambulatory are brought to the open sitting and community areas to avoid isolation. "They should be visually seeing what's going on, even if they aren't processing it," explained David DeClark, director of marketing.
The building layout is based on a "continuous walkway," which encourages residents to move around and feel comfortable. There are no sharp turns, which can confuse those with dementia, and many openings lead out to secured "wander gardens."
Residents can also spend time in the aquarium or sensory oasis, which offers lights, sounds and touchable items to help achieve a sense of calm and peace.
The community provides transportation, meals, snacks, laundry, housekeeping, in-house audiology and therapy, medication management and assistance with daily living.