Features
Mind your own business, kids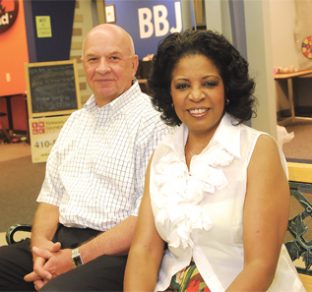 The little town has a lovely central square surrounded by shops with well-known logos above their doors. There's a local bank, radio station, office supply, pizza shop, newspaper, insurance agency and more.
Each day, the 100 or so "employees" who arrive around 9 a.m. to run the show in all these businesses are 5th and 6th grade students from public schools throughout Baltimore.
Welcome to BizTown. An ingenious, hands-on experience run by Junior Achievement of Central Maryland inside its Owings Mills office.
With the help of numerous volunteers, many old enough to be their grandparents, more than 24,000 elementary school students spend a day at this facility every year, emerging with a better understanding of what the work world is really like.
The local BizTown is one of only a couple dozen such facilities around the U.S. created by Junior Achievement (JA), the worldwide nonprofit dedicated to teaching students about business.
Kids who get to spend a day at BizTown have already experienced a four-week curriculum prepared by JA but taught by their regular teacher. Students learn about the different roles employees play in companies, as well as how to keep a checkbook, make a deposit, and prepare and keep a budget.
The goal is to expose them to the basics of financial literacy, work readiness and the concept of entrepreneurship — what JA calls "the economics of life."
"As students strive to create a balanced budget, they begin to understand the value of money, and make the connection between hard work, education, and their future earnings," said Kaitlin Bowman, JA's Capstone Director.
In 1957, JA brought its first programs to Baltimore, in which groups of high school students spent one evening a week running their own miniature companies under the tutelage of volunteer local businesspersons.
The students raised their operating capital by selling stock, selected and made their own products, and sold them door-to-door, ending the year by paying off their "investors" with any profits of the operation.
McCormick & Company, Black & Decker, BGE, First National Bank, WITH-FM and Northrop Grumman were among the program's early supporters.
Over the years, JA dropped the year-long high school program and focused on in-school programs with experiential components like BizTown for elementary school students and one called Finance Park for middle schoolers. Only recently has the organization revived the high school business model.
"We believe every child deserves an education in economics and finances in order to inspire and prepare them for success in a global economy," said Bowman.
Volunteers are key
The staff at JA gives much of the credit for the program's success to the volunteers of all ages who help run BizTown and help teachers in the classroom. Some are alumni of JA from their own school days. Others are just "giving back" while they continue to work, or during retirement.
Karen Gibbs, for example, has had a lifelong passion for finance from the time she was 3 years old and ran her own cardboard "corner store."
Gibbs' entire career has revolved around financial literacy — from her days as a financial strategist for Dean Witter Reynolds, to her years as a television host and anchor for CNBC, Fox News Channel and PBS's "Wall Street Week with FORTUNE."
Now she is the principal at The Gibbs Perspective, a consultancy concerned with the education of, and advocacy for, the individual investor.
"When you are financially responsible and secure, you have both freedom and peace of mind," said Gibbs, 59.
Believing that financial responsibility begins in childhood, Gibbs proudly lends her expertise to BizTown as a regular volunteer. She also uses her celebrity status to help promote the organization, attract volunteers and generate donations.
"Taking part in a program like BizTown helps give students the tools they'll need to be successful as they get older," Gibbs said.
Another volunteer supported program, JA in a Day, brings both retired and active business professionals to local schools to teach interactive, age-appropriate lessons. Volunteers follow lesson plans developed by JA, but incorporate their real-life experiences into the curriculum.
According to Bowman, it takes more than 3,000 volunteers to help JA of Central Maryland achieve its mission, and they are always looking to add to their roster. Numerous opportunities exist, including classroom, BizTown, special events and administrative volunteer positions.
Leaders get involved
A vice president with Baltimore Life Companies, Al Homiak has not only served on the JA Board of Directors for the past four years, but has also taken a team of co-workers to BizTown and been a JA in a Day instructor in some of Baltimore's inner city schools.
"I learned as much — if not more — from them as they learned from me," said the 61-year-old Westminster resident of his young students.
The role JA plays in the financial education of young people is invaluable, Homiak believes. "There are too many folks today who are in financial difficulties, often of their own making," Homiak said.
"People don't understand the concept of budgeting, and it's important for young people to understand simple financial elements that will help them get by in this world."
Bob Burdon, president and CEO of the Annapolis and Anne Arundel County Chamber of Commerce, agrees. Burdon served on the JA Board in the early '90s when he was the publisher of the Baltimore Business Journal. He is now working with JA in Anne Arundel County to expand its offerings to schoolchildren there.
"When you bring real-life business experience into the classroom, you show kids the skills they need to succeed, not only in business, but as productive and responsible citizens," he said.
Burdon, 56, has been impressed with how JA has evolved through the years, and points to programs such as BizTown as an indication of how innovative the organization is. "Junior Achievement is on the forefront of bringing financial education to young people," he said.
"Whether you give financially or with your time, it's important to pay back to the community what you have received," Gibbs said.
JA volunteers must agree to sign and abide by the organization's Volunteer Conduct Policy and participate in a training orientation prior to beginning their work with students.
For more information on volunteering with Junior Achievement, call (443) 394-7211 or visit online at www.jamaryland.org.