Travel
Nepal offers visitors unique experiences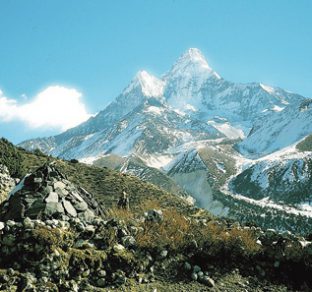 The setting resembled a stunning picture postcard come to life. Soaring, snow-capped mountains provided a backdrop for green-clad terraces carved out of steep hillsides.
In fields below, men and women wearing a rainbow of colorful clothing bent low to pick golden shoots and tie them into huge bundles, which they carried to a rickety wooden wagon pulled by a pair of water buffalo.
Scenes like this, and others equally stunning, combine to make Nepal a destination that surpasses its already intriguing image as a place of unsurpassed natural beauty and fascinating lifestyles.
The small country, about the size and shape of Tennessee and tucked between India and Tibet, is home to eight of the 10 highest mountains in the world, including fabled Everest and the magnificent Annapurna range.
Touches of western technology and culture stand in stark contrast to life in remote rural areas, which in many ways is reminiscent of medieval times. Women wearing multihued saris walk hand-in-hand with children dressed in jeans and T-shirts sporting "I love New York" and other incongruous messages.
A spiritual nation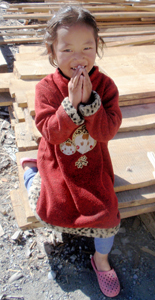 Nepal is also a nation where religion is as much a part of everyday life as eating and breathing. While about 90 percent of the people are Hindu, and most of the rest are Buddhist, over 2000 years the line dividing those faiths has virtually disappeared. Many believers hold the other religion's shrines as sacred, and worship the gods of both.
Around-the-clock prayer, reverence and ritual exceed expressions of faith I have encountered anywhere else. Spiritual beliefs and religious commitment provide solace for people who are among the poorest in the world, with a per capita annual income below $500.
As one man observed, "America has financial riches. In Nepal, people have spiritual wealth."
The natural place to begin a visit is Kathmandu, the political, financial and cultural capital where about 10 percent of the approximately 29 million Nepalese live. It doesn't take long to experience many of the contrasts that abound throughout the country, as well as sensory overload.
The sing-song cry of street vendors selling vegetables, spices and multicolored fabric is echoed by the occasional mooing of a sacred cow wandering serenely along the streets. Animals vie with cars and motorcycles whose constantly honking horns add to the din, along with Pedi cabs and pedestrians weaving through the traffic.
The oldest neighborhood is a maze of cobblestone back streets lined by tiny shops and small shrines, some erected and maintained by individual families. They are miniscule imitations of elaborately carved and gaily painted ancient temples, pagodas and monuments said to be the largest collection of religious architecture in the world.
The biggest concentration of shrines is in Durbar Square, a Magic Kingdom-like jumble of more than 50 temples and other structures built over centuries in a variety of styles. They're adorned by statues of humans, animals, gods and goddesses fashioned from stone, gold, silver and other materials.
This other-worldly setting, both sacred and to me somewhat Disneyesque, is echoed not far away. Patan and Bhaktapur, two ancient sister cities to Kathmandu, each has its own Durbar Square, which rivals that of its nearby relative in splendor if not size.
Trekking through varied terrain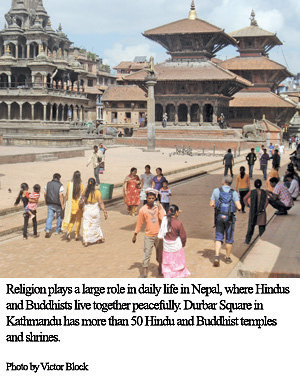 Venturing outside the three vibrant communities that share the Kathmandu valley introduces you to a very different, if no less intriguing, world. Remote villages that dot the countryside resemble living museums little changed from centuries past.
Their narrow streets are crowded with people going about their daily chores much as generations of their forebears did. Most eke out a living growing rice, wheat, maize and other staples of the diet.
Depending upon where you are, the scenery also offers a constantly changing tableau. In the north, near the border with Tibet, the rugged Himalayan mountains loom overhead. Their jagged peaks, blanketed year-round by deep snow and ice fields, glint in the sun.
Further south is the mid-mountain region, where peaks that elsewhere would rate as giants are relegated to second-class status by the towering Himalayas.
Southern Nepal comprises the Terai, a subtropical belt of low-lying plains, wetlands and fields, where much of the nation's grains and vegetables are grown.
Travel throughout the country also provides introductions to people who are as ethnically diverse as the terrain. Counts of the number of cultural groups that comprise the native population range from 35 major categories to more than 100 smaller subsets that speak over 90 languages and dialects.
Many ethnic groupings are concentrated in specific locales and are identifiable by their dress and customs. My two-day trek led through tiny villages inhabited by some of those minorities.
The hike did not come close in terms of time or challenge to the two most popular routes — around the Annapurna massif, or the longer journey to the Mount Everest base camp perched at 17,700 feet.
Even so, walking at an altitude of nearly 9,000 feet, following long stretches of stone paths clinging to steep hillsides, was challenge enough. Two fellow trekkers elected to ride ponies that carefully picked their way along the rock-strewn route.
It didn't help that winds blowing up to 40 miles per hour swept down the valley, tearing hats off heads and sunglasses from faces. Some gusts were so strong that narrow glacier-melt waterfalls plummeting down mountainsides were actually blown back up toward the peaks where they originated.
An elephant ride in the jungle
I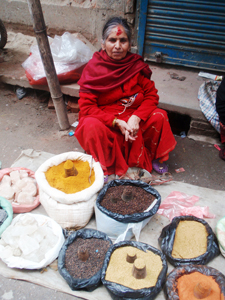 n contrast to ice-clad mountain tops, the grasslands and forests of the fertile Terai area are home to an abundance of wildlife. Elephants, tigers, leopard, rhinoceros and wild boar are among residents of the region that roam jungle-like stretches, while monkeys chatter in the trees overhead.
Crocodiles and alligators lie hidden in stream waters. The habitat also attracts nearly 600 lowland species of birds, especially near rivers and ponds.
A dozen national parks and reserves have been set aside in Nepal to provide protected areas for endangered and other animals. Chitwan National Park in the Terai lowlands, designated a UNESCO World Heritage Site, is best known.
As if the opportunity to view a Noah's Ark of wildlife in its natural habitat weren't enough, an unusual mode of transportation through the jungle renders animal sightings almost a bonus. Elephants line up like so many taxicabs, standing patiently as four passengers clamber up a ladder and take their place on a wooden platform strapped to each beast's broad back.
Then, guided by their handler, the massive pachyderms amble into the dense jungle, nimbly stepping over fallen logs and gently traversing muddy bogs.
In that setting, the unlikely ringing of a cell phone sounded almost surreal. Notified of a rhino sighting nearby, our driver guided us to the spot, but by the time we arrived, the elusive creature had slipped — or, rather, crashed — back into the forest cover.
Birds and the occasional crocodile were sighted during a gentle 45-minute river ride in a long canoe fashioned from the trunk of a kapok tree. We also spotted trails left by rhinos that came to the river to drink, elephant footprints along the shoreline, and a woman draped in a multi-color sari doing her laundry.
More exciting to our guide were sightings of the yellow-headed whitetail, red-vented bulbul and other birds whose names I found as exotic as their appearance.
Disappointment over our failure to encounter a rhino, preferably from a distance as far as I was concerned, was more than outweighed by the kaleidoscope of sights and sounds that overwhelmed my senses during every waking hour in Nepal.
The magnificence of Mother Nature at her very best vies for attention with women wearing a rainbow of graceful multi-hued garments.
People toiling in fields from dawn to dusk display a serenity emanating from their strong sense of spirituality. Tiny shrines built by families as testament to their strong belief stand in the shadow of immense, ornately decorated temples and monuments that attract throngs of worshippers.
Those pictures and others will linger long in my memory. So will the grace and gentle humor with which the people, despite facing many hardships, deal with life. Asking at a tiny airport how late the plane for which I was waiting, already an hour overdue, might take off, I was told, "Whenever it does, it will be on time."
Stopping during my trek to inquire about the distance to the next town, a fellow hiker who has visited Nepal many times told me that she once had asked an elderly peasant the same question. In response, he good naturedly replied, "If you don't stop talking and start walking, you'll never get there."
After visiting this fascinating destination, my advice is that if it's at all possible, do what it takes to get there yourself.
When to go, and with whom
Good times to visit Nepal are October and November, the beginning of the dry season, and February through May, when that period is ending. It can be chilly during December and January at higher altitudes, and the monsoon season is June through September.
A number of special events will take place during 2011, which has been designated as Nepal Tourism Year. They will include festivals, cultural programs and reopening of recently restored temples.
Given its remote location, challenging terrain and often basic tourism infrastructure outside the larger cities, Nepal is a destination that lends itself to group travel. A set itinerary, organized transportation and luggage handling are among many conveniences that ease the way.
Myths and Mountains, the tour company with which I went, demonstrated a degree of flexibility that also enhanced the experience. Just one example of that was arranging for box lunches to eat on the bus when a delayed flight could have caused us to miss inviting sightseeing opportunities.
Another plus is that the company focuses its trips on providing deep insight into the culture and customs of countries it visits, and exposure to secluded villages and activities that many visitors miss.
Myths and Mountains offers a choice of tours to countries throughout Asia and South America. The price for its trips to Nepal begin at $2,295 for groups as small as two people.
An added bonus is that traveling with Myths and Mountains supports its READ Global charitable arm, which has helped to open 50 libraries throughout Nepal, plus others in India and Bhutan.
In additional to regular library functions, these establishments serve as community resource centers offering a long list of activities ranging from pre-natal care, day care and early childhood education to adult literacy programs, women's empowerment and micro-financing.
The centers are planned and built with major involvement by volunteers in each community, who also operate businesses —such as a small furniture factory, meal catering, goat raising and an ambulance service — that provide financial support to each enterprise.
For more information, log onto www.mythsandmountains.com or call 1-800-670-6984.
For tourism information, go to https://ntb.gov.np/, the site of the Nepal Tourism Board.
Victor Block is a Washington, D.C.-based travel writer.