Arts
New alarms warn park-goers of lightning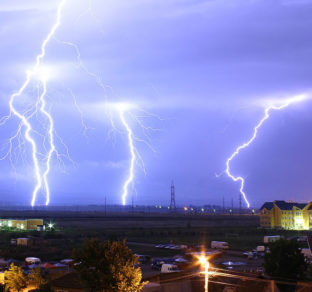 Photo by Mircea Madau
If you're in a park in Howard County this summer and thunder rumbles, you may hear a low, baritone siren and see a strobe light flashing.
Such lightning sirens with strobe lights will be placed in regional parks throughout Howard County by early summer, according to John Marshall, the county's park bureau chief.
The eight regional parks with new lightning alarm systems are Blandair, Cedar Lane, Centennial, Rockburn Branch, Troy, Savage, Schooley Mill and Western Regional.
Howard County Parks and Recreation is leasing the alarms from a company called Earth Networks. "Our location accuracy is about 200 meters or so, which is really pretty accurate," Earth Networks Chief Marketing Officer Anuj Agrawal said.
If lightning is detected within 10 miles of a Howard County park that has the alarm system, the horn will sound for 15 seconds alerting individuals to seek shelter.
"The horn will be heard by some homes around the parks, but the key is that it will only go off when the park is open," Marshall said. "So, when a storm comes in at 2 in the morning, you're not going to hear the horn."
A strobe light will continuously flash until the weather-monitoring service has determined the danger is no longer imminent and initiates an "all clear" sound three times.
In addition, staff members at the parks will be alerted if lightning occurs within a 15-mile radius via a smartphone app or their laptops.
Staff and volunteer training will begin in April for education on the lightning alarm systems for summer camps, organizations and clubs. Signs will also be posted near devices for the general public.
The lightning alarm system is currently in use at the Bob Lucido fields of Covenant Park in Howard County, as well as at the Germantown sports facility fields in Montgomery County.
Howard County residents may recognize similarities in structure between the lightning alarm system and the flood detection alarm system being used in Ellicott City.
The park alarms will be tested once a month during non-severe weather days.